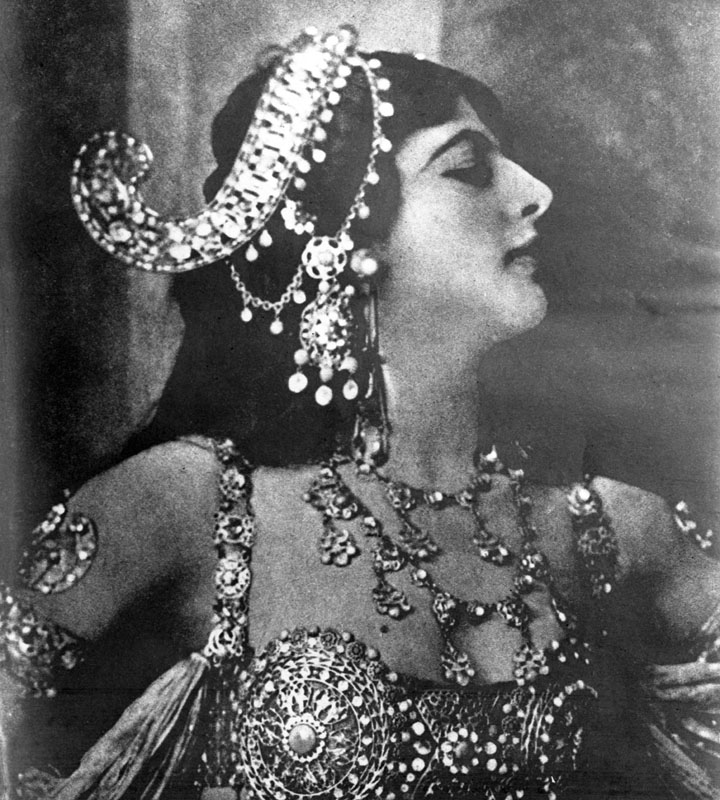 Mata Hari
On the bridge we spot a woman on tip-toe,
in a bid to catch what is left of the light.
The bronze holds her steady – to silence
the jangle of bracelets and belts.
She presents her best angle;
chin raised to the December sky,
hands held in dramatic pose,
and looks back over her shoulder
at a barge disappearing from sight.
This was the view from her father's shop,
where she tried on hats and pouted
at her own reflection in the glass.
© Stephanie Conn
Picture 10169205, unattributed photograph, 1905, image copyright Mary Evans
Stephanie Conn was born in Northern Ireland in 1976. She worked as a primary school teacher and developed and taught the literacy programme Passport to Poetry.  In 2013, Stephanie graduated from the Creative Writing MA at the Seamus Heaney Centre, Queens University, Belfast. Stephanie's poetry has been published internationally.  She is a former Poetry Ireland 'Introductions' poet.  Her work has been shortlisted in competitions including the Patrick Kavanagh Award and Red Line Poetry Competition; highly commended in the Doire Press, Fool for Poetry and Mslexia Poetry Pamphlet competitions and the Gregory O'Donoghue Poetry Competition; and placed third in the Dromineer Poetry Competition.  In 2015, Stephanie won the Funeral Services NI Poetry Prize, the Yeovil Poetry Prize and the inaugural Seamus Heaney Award for New Writing.  In 2016, she won the Poetry Business Poetry Pamphlet Competition.  Her debut collection The Woman on the Other Side was published by Doire Press in March 2016. Her pamphlet Copeland's Daughter was published by Smith/Doorstep in June 2016.