Warning
: include(topMenuBar.php): failed to open stream: No such file or directory in
/home/domains/maryevans.com/docs/poetryblog.php
on line
78
Warning
: include(): Failed opening 'topMenuBar.php' for inclusion (include_path='.:/usr/share/php') in
/home/domains/maryevans.com/docs/poetryblog.php
on line
78
Warning
: include(topFullWidth.php): failed to open stream: No such file or directory in
/home/domains/maryevans.com/docs/poetryblog.php
on line
79
Warning
: include(): Failed opening 'topFullWidth.php' for inclusion (include_path='.:/usr/share/php') in
/home/domains/maryevans.com/docs/poetryblog.php
on line
79
Warning
: include(poetrySideBar.php): failed to open stream: No such file or directory in
/home/domains/maryevans.com/docs/poetryblog.php
on line
81
Warning
: include(): Failed opening 'poetrySideBar.php' for inclusion (include_path='.:/usr/share/php') in
/home/domains/maryevans.com/docs/poetryblog.php
on line
81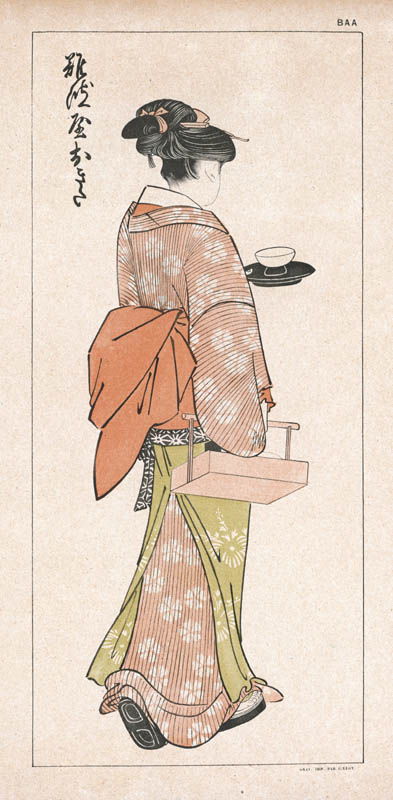 Proverbs
Harada O-kinu of The Storm in the Night
was cherry-fresh; her shaved eyebrow
borrowed violet from the rainbow's edge
the day she was sold to a pawnbroker.
She redeemed herself, shaving bamboo
into his sticky rice. The son of Osaka,
they say, ruined himself because of food.
The headsman served Takahashi O-den
with his cutter's bill. She had murdered
for her lover, indebted over his brocade.
He left her in the cemetery, her haiku
cut in stone. A public lavatory stands
by her grave now. The son of Kyoto,
they say, ruined himself over clothes.
Hanai O-ume was a theatre woman
who became the subject of a play:
from geisha saving for a teahouse
to the pimp eyeing her up there …
By willows, in a fine soft rainfall,
she cut his lights. The son of Edo,
so they say, ruined himself looking.
© Ian Duhig
Picture 10122785, print by Kitagawa Utamaro, early 19th century, image copyright Mary Evans
Ian Duhig has written seven books of poetry, most recently The Blind Roadmaker  (Picador 2016), a Poetry Book Society Recommendation shortlisted for the Roehampton, Forward Best Collection and TS Eliot Prizes. A former homelessness worker, Duhig still works with socially excluded groups but in a more creative writing capacity, He has worked with a wide range of artists in other media and is currently engaged in two projects involving music. He writes prose as well and contributed to Comma's Refugee Tales II released this year. A Fellow of the Royal Society of Literature and a Cholmondeley Award recipient, Duhig has won the Forward Best Poem Prize once and the National Poetry Competition twice.