Warning
: include(topMenuBar.php): failed to open stream: No such file or directory in
/home/domains/maryevans.com/docs/poetryblog.php
on line
78
Warning
: include(): Failed opening 'topMenuBar.php' for inclusion (include_path='.:/usr/share/php') in
/home/domains/maryevans.com/docs/poetryblog.php
on line
78
Warning
: include(topFullWidth.php): failed to open stream: No such file or directory in
/home/domains/maryevans.com/docs/poetryblog.php
on line
79
Warning
: include(): Failed opening 'topFullWidth.php' for inclusion (include_path='.:/usr/share/php') in
/home/domains/maryevans.com/docs/poetryblog.php
on line
79
Warning
: include(poetrySideBar.php): failed to open stream: No such file or directory in
/home/domains/maryevans.com/docs/poetryblog.php
on line
81
Warning
: include(): Failed opening 'poetrySideBar.php' for inclusion (include_path='.:/usr/share/php') in
/home/domains/maryevans.com/docs/poetryblog.php
on line
81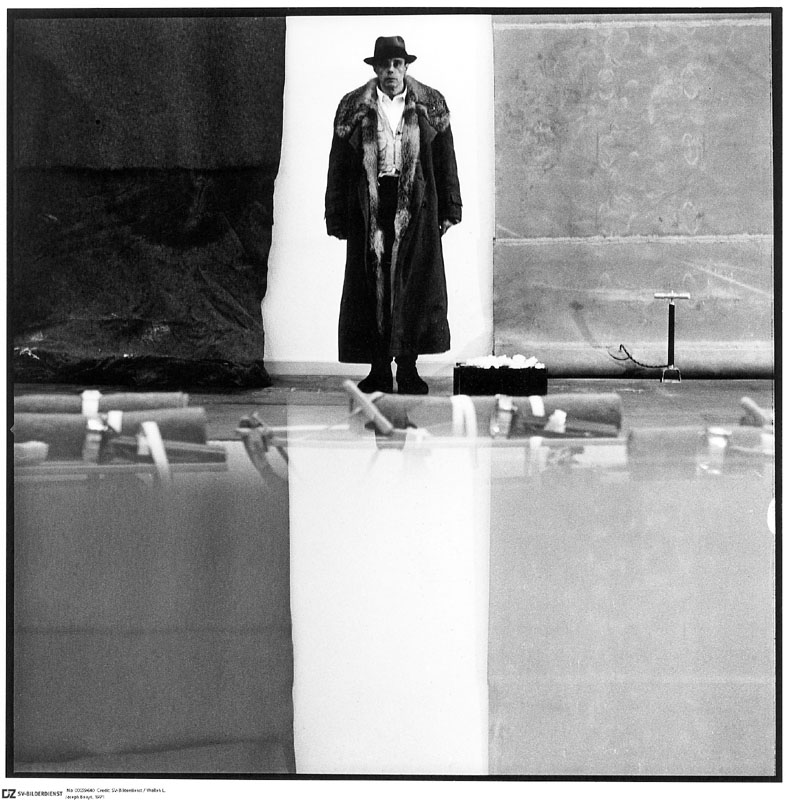 Beuys Don't Cry
I wear this coat as nothing else will suit.
The cold arrives after redwings, berates
old bones, judders us all. I wear this coat
with collar turned up, precisely like its
forerunners: the best came from Burton
which my dad hadn't worn since the Sixties;
he handed it down to me in '81 –
my Post-Punk coat, with cotton, capacious
pockets. Every autumn, I couldn't put
off, not even till October, the time
to pluck it from the cloakroom and ease it
over my Harlequin school uniform.
I wear this coat as a doppelgänger –
for Beuys's felt–fat waxwing-gatherer.
© Matthew Paul
Picture 10413954, photograph, 1971, image copyright Mary Evans / Suddeutsche Zeitung
Matthew Paul's collection The Evening Entertainment was published by Eyewear Publishing in 2017 and he is a participant on the Poetry Business Writing School programme. He blogs at matthewpaulpoetry.wordpress.com and tweets @MatthewPaulPoet. Matthew is also the author of two collections of haiku – The Regulars (2006) and The Lammas Lands (2015) – and co-writer/editor (with John Barlow) of Wing Beats: British Birds in Haiku (2008), all published by Snapshot Press. He co-edits Presence haiku journal and has contributed to The Guardian's 'Country Diary' column.