Warning
: include(topMenuBar.php): failed to open stream: No such file or directory in
/home/domains/maryevans.com/docs/poetryblog.php
on line
78
Warning
: include(): Failed opening 'topMenuBar.php' for inclusion (include_path='.:/usr/share/php') in
/home/domains/maryevans.com/docs/poetryblog.php
on line
78
Warning
: include(topFullWidth.php): failed to open stream: No such file or directory in
/home/domains/maryevans.com/docs/poetryblog.php
on line
79
Warning
: include(): Failed opening 'topFullWidth.php' for inclusion (include_path='.:/usr/share/php') in
/home/domains/maryevans.com/docs/poetryblog.php
on line
79
Warning
: include(poetrySideBar.php): failed to open stream: No such file or directory in
/home/domains/maryevans.com/docs/poetryblog.php
on line
81
Warning
: include(): Failed opening 'poetrySideBar.php' for inclusion (include_path='.:/usr/share/php') in
/home/domains/maryevans.com/docs/poetryblog.php
on line
81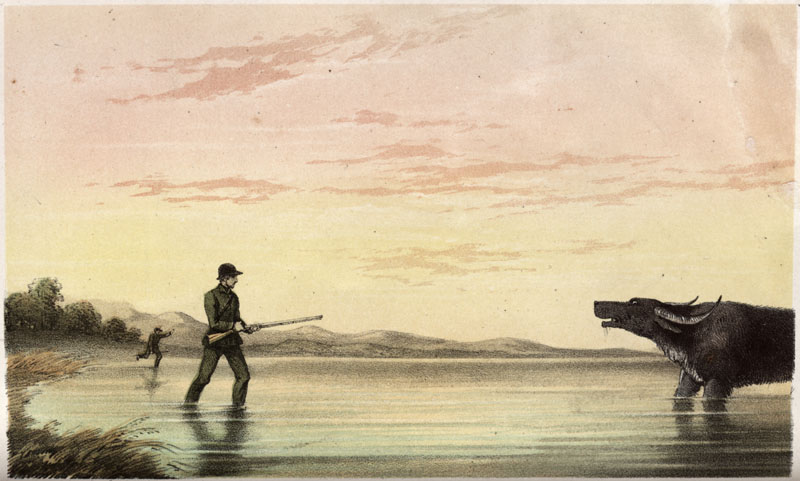 Nuwara Eliya
Nuwara Eliya is a town in the mountains of Sri Lanka where Samuel White Baker, artist and big game hunter, set up an agricultural community from where he brutally slaughtered many hundreds of animals.   
The shore holds no footprints
where the big game hunter
once stood knee-deep in the lake,
the buffalo cornered,
its bellowing about to unecho
with its blood in the water.
The sum of the breath
of all the creatures he hunted
is now dust
on tusk and horn
or bone fragments
buried under scrub.
The prey was the island,
its land a trophy.
Its edges always uneasy –
always pounded by currents
at cross-purposes
full of separations,
divisions,
invasion, colonisation
bedded down
in the pestle and mortar of water.
© Rebecca Gethin
Picture 10546836, illustration by Samuel White Baker, 1854, image copyright Mary Evans / King's College Archives
Rebecca Gethin lives on Dartmoor in Devon. She had two pamphlets published in 2017: All the Time in the World by Cinnamon Press (who also previously published her full collection and two novels) and A Sprig of Rowan by Three Drops Press. She has been a Hawthornden Scholar and has had a Pushcart nomination. She edited A Poetry of Elephants, an anthology of poems to raise  money for DSWT, an elephant orphanage in Kenya which was shortlisted for a Saboteur Award. She currently runs the Poetry School Seminar in Plymouth every month. Her website is www.rebeccagethin.wordpress.com