Warning
: include(topMenuBar.php): failed to open stream: No such file or directory in
/home/domains/maryevans.com/docs/poetryblog.php
on line
78
Warning
: include(): Failed opening 'topMenuBar.php' for inclusion (include_path='.:/usr/share/php') in
/home/domains/maryevans.com/docs/poetryblog.php
on line
78
Warning
: include(topFullWidth.php): failed to open stream: No such file or directory in
/home/domains/maryevans.com/docs/poetryblog.php
on line
79
Warning
: include(): Failed opening 'topFullWidth.php' for inclusion (include_path='.:/usr/share/php') in
/home/domains/maryevans.com/docs/poetryblog.php
on line
79
Warning
: include(poetrySideBar.php): failed to open stream: No such file or directory in
/home/domains/maryevans.com/docs/poetryblog.php
on line
81
Warning
: include(): Failed opening 'poetrySideBar.php' for inclusion (include_path='.:/usr/share/php') in
/home/domains/maryevans.com/docs/poetryblog.php
on line
81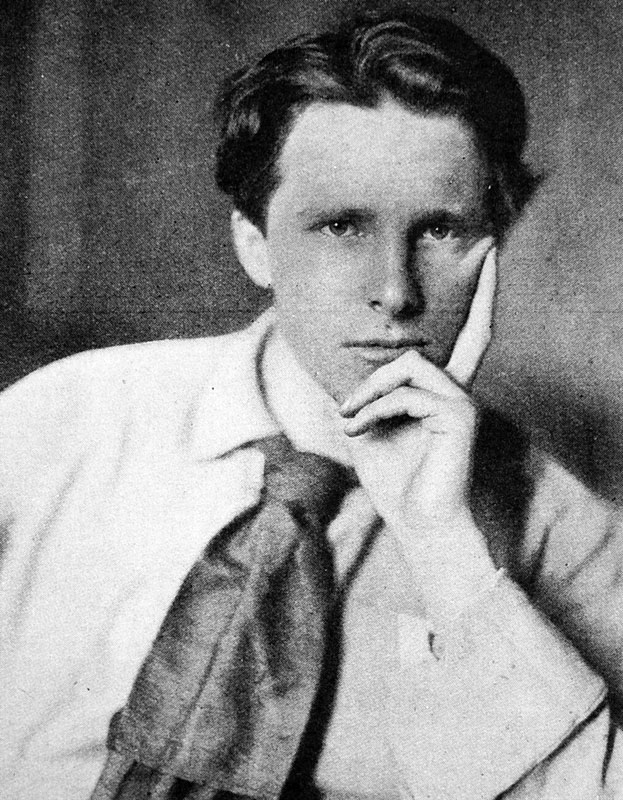 Only this of me
Tris Boukes Bay, Skyros, 23 April 1915
The sun in the west
dropping behind a mountain,
the dark following
from the east,
keeping its distance,
knowing it must win,
and the sea
cool, deep,
indifferent.
In the end
a rectangle of iron and marble
shows where they stopped.
Thirty minutes climb
with their awkward load
through rocks and trees.
An hour's digging,
lower the body
into the trench.
Ram the cross
into the dirt
above his head.
Stand back,
shout the order,
fire in the night.
Turn away,
shouldering spades,
pickaxes, guns.
Not the first
or last
to be forsaken.
Password.
Row out
to the city of ships
glittering in the bay.
Sail at dawn,
the sea road that
Achilles took,
north east
for the Dardanelles.
© Chris Hardy
Picture 10220346, photograph, circa 1915, image copyright Mary Evans / Illustrated London News
Rupert Brooke died on his way to Gallipoli. He was buried by his friends on the Greek island of Skyros: most of them also didn't survive WW1. His grave is a silent, remote spot above the bay where the fleet anchored. Brooke and his friends were classical scholars, enthralled to be returning to the land of Troy: Achilles, the hero of the Iliad, went from Skyros to the Trojan war.
Chris Hardy has travelled widely and now lives in London. His poems have been published in Stand, Tears in the Fence, The Dark Horse, The Interpreter's House, The North, The Rialto, ink sweat and tears, the compass magazine and many other places. He is in LiTTLe MACHiNe (described by Carol Ann Duffy as 'The most brilliant music and poetry band in the world'), performing their settings of well-known poems at literary events in the UK and abroad. His fourth collection, Sunshine at the end of the world, was published in August 2017 by Indigo Dreams. Roger McGough said about the book: 'A guitarist as well as a poet Chris Hardy consistently hits the right note, never hits a false note', and Peter Kennedy, in London Grip says, 'Chris writes vivid, expository poetry often heavy with portent and mystery. Each of these poems is a story as beautifully muscular and slippery as an eel'.