Warning
: include(topMenuBar.php): failed to open stream: No such file or directory in
/home/domains/maryevans.com/docs/poetryblog.php
on line
78
Warning
: include(): Failed opening 'topMenuBar.php' for inclusion (include_path='.:/usr/share/php') in
/home/domains/maryevans.com/docs/poetryblog.php
on line
78
Warning
: include(topFullWidth.php): failed to open stream: No such file or directory in
/home/domains/maryevans.com/docs/poetryblog.php
on line
79
Warning
: include(): Failed opening 'topFullWidth.php' for inclusion (include_path='.:/usr/share/php') in
/home/domains/maryevans.com/docs/poetryblog.php
on line
79
Warning
: include(poetrySideBar.php): failed to open stream: No such file or directory in
/home/domains/maryevans.com/docs/poetryblog.php
on line
81
Warning
: include(): Failed opening 'poetrySideBar.php' for inclusion (include_path='.:/usr/share/php') in
/home/domains/maryevans.com/docs/poetryblog.php
on line
81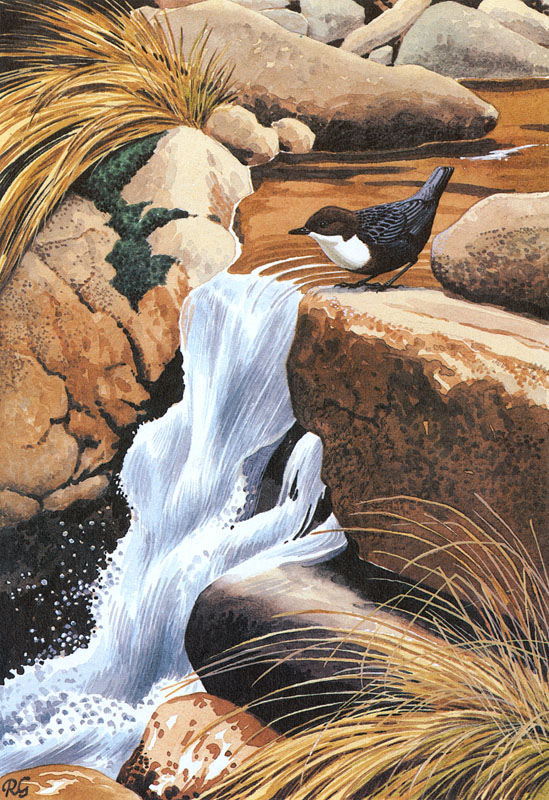 Nourishment
The only thing is glass –
Between me and the force
Of water, crashing
Against the boulders.
Picking up beetles:
Insect larvae, molluscs;
Whilst dropping off
Nourishment in minerals.
The male dipper sits
On his rock-cafe –
Watchful and waiting
To wade the tapestry.
In this small slit of time;
My thirst is quenched
My senses caressed,
Every pearl soothed.
I'm in my element
In the silent fall,
And my spirits rise;
As the dipper dives.
The cafe owner opens
The window to the noise;
Silence falling into
The water-fall,
Crashing the lazy bay-
Window of thought.
© Helen Harrison
Picture 10057243, watercolour by Robert Gillmor, image copyright Mary Evans / Robert Gillmor Collection
Originally from the Wirral in England, born to Irish parents, Helen Harrison has been living in Ireland most of her adult life. She was awarded funding during 2014 from The Arts Council of Northern Ireland for a seven-day course studying poetry at The Poets House in Donegal. She has read poetry on The Creative Flow, Dundalk FM, and at various venues around Ireland. Many poems have appeared in journals and magazines. While a person who enjoys the rural life and growing flowers and herbs and foraging from the wild, she often gets the travel bug and writing is inspired by these journeys. Her first collection of poetry, The Last Fire, was published by Lapwing in 2015. Some of her poetry can be found here: http://poetry4on.blogspot.ie/