Warning
: include(topMenuBar.php): failed to open stream: No such file or directory in
/home/domains/maryevans.com/docs/poetryblog.php
on line
78
Warning
: include(): Failed opening 'topMenuBar.php' for inclusion (include_path='.:/usr/share/php') in
/home/domains/maryevans.com/docs/poetryblog.php
on line
78
Warning
: include(topFullWidth.php): failed to open stream: No such file or directory in
/home/domains/maryevans.com/docs/poetryblog.php
on line
79
Warning
: include(): Failed opening 'topFullWidth.php' for inclusion (include_path='.:/usr/share/php') in
/home/domains/maryevans.com/docs/poetryblog.php
on line
79
Warning
: include(poetrySideBar.php): failed to open stream: No such file or directory in
/home/domains/maryevans.com/docs/poetryblog.php
on line
81
Warning
: include(): Failed opening 'poetrySideBar.php' for inclusion (include_path='.:/usr/share/php') in
/home/domains/maryevans.com/docs/poetryblog.php
on line
81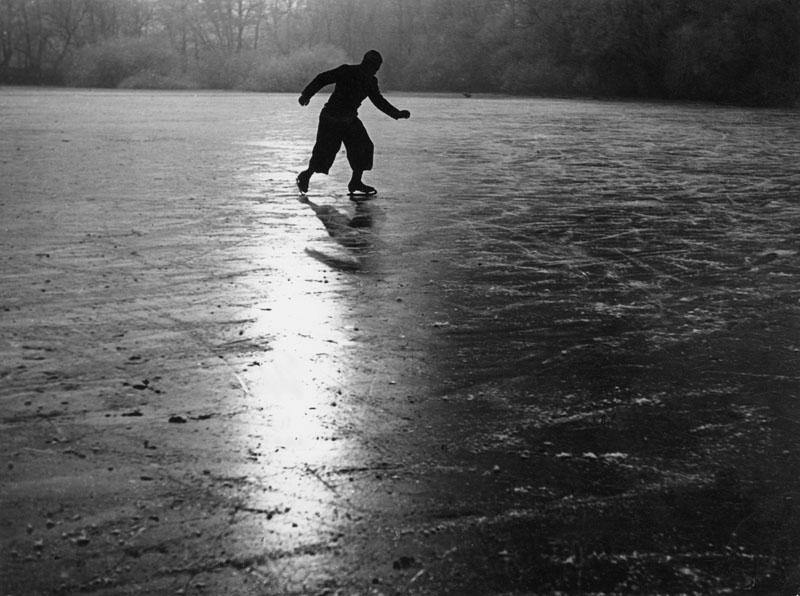 Skating Alone
The clean cut of my blades through the ice pleases my ear and makes
A thin powder beside the two parallel lines which I see
As I curve automatically into a figure of eight.
I admire the motif, repeat it again and again
Until the emotion released cools in the mist of my breath.
This frozen lake is grey, like the sky, except where my skates slice,
Leaving their trail with its ruffle of fondant adjacent.
Far away at the margin, trees blossom with snow, dots moving
Under them, muted. No sound can I hear but of my own making
Leaning into the lunges, or should I say slides, quickly now
As I follow the impulse to glide on down the river.
What if I follow my whim, let it take me on to the sea?
© Vivien Freeman, from the novel Rose Alleyn, 2017
Picture 10184106, unattributed photograph, 1950s, image copyright Mary Evans / Mustograph Collection
Vivien Freeman grew up in North London and studied History of Art at the University of East Anglia. She then settled in Ware, Hertfordshire, with her two children and their father. In Ware Vivien studied Creative Writing with the writer and artist, Frances Wilson, a dear friend. She went on to teach Creative Writing herself for many years and is a published poet and novelist. Her historical novel, Rose Alleyn, set in the year 1900, was published in 2017 and is available as a Kindle download at Amazon. Her work recently appeared in a poetry anthology, The Tree Line (Worple Press, 2017), in support of The Woodland Trust. She is a script reader with a leading agency and is also a grandmother. She now lives in the Vale of Glamorgan with her husband, the poet John Freeman.