Warning
: include(topMenuBar.php): failed to open stream: No such file or directory in
/home/domains/maryevans.com/docs/poetryblog.php
on line
78
Warning
: include(): Failed opening 'topMenuBar.php' for inclusion (include_path='.:/usr/share/php') in
/home/domains/maryevans.com/docs/poetryblog.php
on line
78
Warning
: include(topFullWidth.php): failed to open stream: No such file or directory in
/home/domains/maryevans.com/docs/poetryblog.php
on line
79
Warning
: include(): Failed opening 'topFullWidth.php' for inclusion (include_path='.:/usr/share/php') in
/home/domains/maryevans.com/docs/poetryblog.php
on line
79
Warning
: include(poetrySideBar.php): failed to open stream: No such file or directory in
/home/domains/maryevans.com/docs/poetryblog.php
on line
81
Warning
: include(): Failed opening 'poetrySideBar.php' for inclusion (include_path='.:/usr/share/php') in
/home/domains/maryevans.com/docs/poetryblog.php
on line
81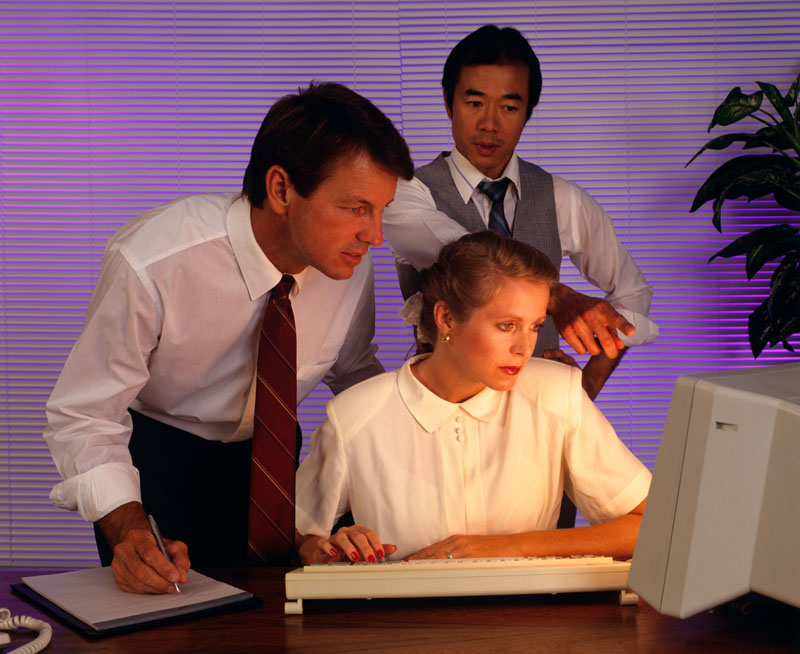 1990
Draw the blinds and pour more coffee, pore over
the numbers with sticky digits, munching donuts.
We analyse the causes of childhood in a slimming
vest and Peter-Pan collar, fat ties, broad shoulder
pads, and puffy sleeves, crunch whole kilobytes
of data shuffled between ever-harder floppy disks.
We blow dust from clackety keyboards with tinned air.
Jotting and pointing, we lay wastepaper to rest,
request a screaming printout on a perforated,
green-striped page. It's all the rage in silicone
these days to plump our figures, quicken the books.
To err is human, to cover up requires a screen.
Who knows? One day this whole computer thing
might crash the marketplace, and go mainstream.
© Robert Peake
Picture 10985092, photograph by T del Amo, 1990s, image copyright Mary Evans / Classic Stock
Robert Peake is an American-born poet living near London. He created the Transatlantic Poetry series, bringing poets together for live online readings and conversations. His film-poems collaborations have been widely screened in the US and Europe. He is a poetry surgery tutor for the Poetry Society in Hertfordshire, and writes for the Huffington Post. His collection Cyclone is forthcoming in July 2018 from Nine Arches Press.