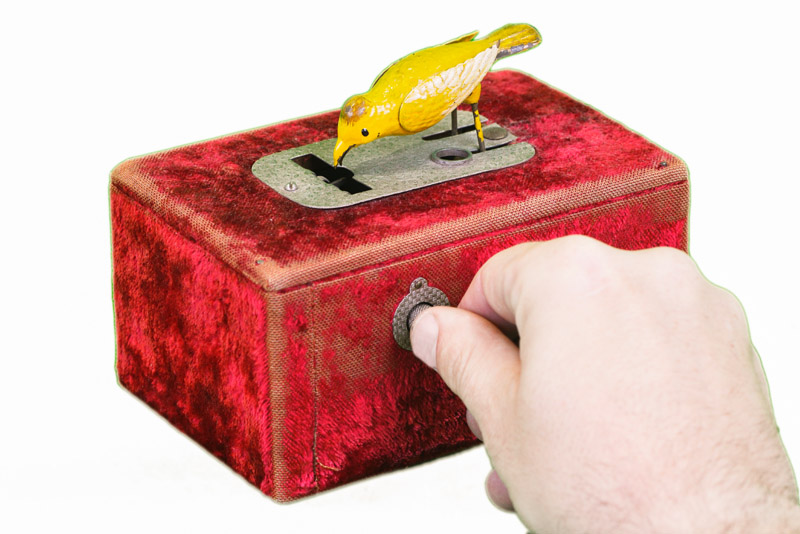 A Nest of Pins
The yellow budgie tilts towards the slot as if
it is dipping its beak in a pond for twigs
or tapping the dust for stones. It shunts obediently
forwards and back on thin metal legs, opens
and closes its mouth like a girl who has something to say
and then silenced plunders the dark.
Knowing I'll need to offer my fledgling daughters
more than these petticoats and doilies sewn
on long lamp-lit evenings, I build a nest of pins.
They complain their beds are cold and sharp,
they glitter in pierced skins so I teach them as they grow
to mine the structure for tools to steady and mend,
keep oak and beech well-rooted in the earth,
hold all the fallen fragments of the forest together.
© Tess Jolly
Picture 11041376, photograph of an original object, image copyright Mary Evans / Maurice Collins Collection
Tess Jolly works as a library assistant and facilitates creative writing workshops for children. Her poems have appeared in many UK poetry magazines. She has been commended in the Four Counties Poetry Competition, the Stanza Poetry Competition, the Barnet Arts Poetry Competition and twice in the Mslexia Women's Poetry Competition. In 2015 she was awarded joint second place in the Stanza Poetry Competition run by The Poetry Society and was the winner of the Hamish Canham Prize for her poem 'Goldfields'. Her first pamphlet, Touchpapers, was released by Eyewear Publishing in 2016, and her second pamphlet, Thus the Blue Hour Comes, by Indigo Dreams in 2017.