Warning
: include(topMenuBar.php): failed to open stream: No such file or directory in
/home/domains/maryevans.com/docs/poetryblog.php
on line
78
Warning
: include(): Failed opening 'topMenuBar.php' for inclusion (include_path='.:/usr/share/php') in
/home/domains/maryevans.com/docs/poetryblog.php
on line
78
Warning
: include(topFullWidth.php): failed to open stream: No such file or directory in
/home/domains/maryevans.com/docs/poetryblog.php
on line
79
Warning
: include(): Failed opening 'topFullWidth.php' for inclusion (include_path='.:/usr/share/php') in
/home/domains/maryevans.com/docs/poetryblog.php
on line
79
Warning
: include(poetrySideBar.php): failed to open stream: No such file or directory in
/home/domains/maryevans.com/docs/poetryblog.php
on line
81
Warning
: include(): Failed opening 'poetrySideBar.php' for inclusion (include_path='.:/usr/share/php') in
/home/domains/maryevans.com/docs/poetryblog.php
on line
81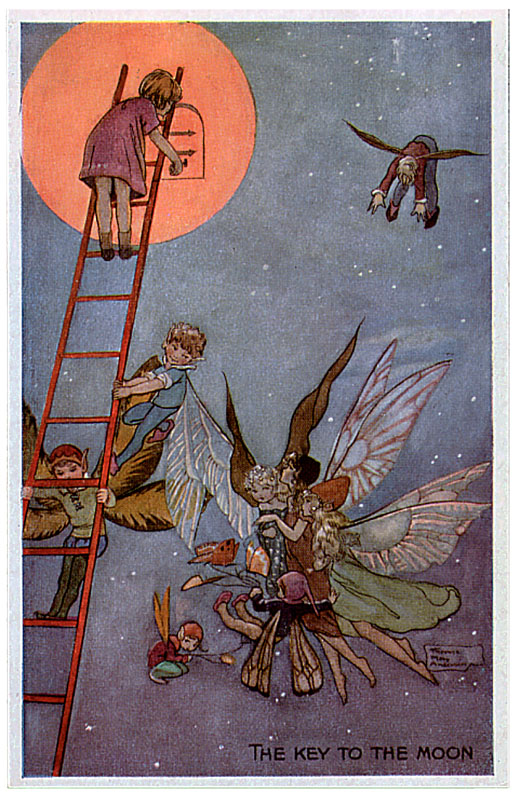 The Second Colour of the Rainbow
but the last on my list –
the unloved plastic camping plates,
stupid ice-pop stains around boys' lips,
the bridesmaid's dress that wasn't blue
like the bigger girls',
a beach ball I couldn't catch.
Years later, I skipped
the sacral chakra in yoga meditations,
turned from trees studded with fruit
like lightbulbs in that square in Portugal.
But then, when I said yes to one final trip,
I saw it through the bedroom window –
where the sun had risen that day,
a vast harvest moon now hauled itself
from the sea's dark, pushed
through heavy air, forced that colour
up into a sky that thought it was over.
I called you from your shower to see.
'Look!' I said, one hand a gesture
to the view, the other held out to you.
My lips opened on it.
Orange.
© Dawn Gorman
Picture 10421761, illustration by Florence Mary Anderson, circa 1920, image copyright Mary Evans / Peter & Dawn Cope Collection
Dawn Gorman's pamphlet This Meeting of Tracks was published in the Pushcart Prize-nominated four-poet Mend & Hone (Toadlily Press, 2013). She devises and runs community arts events in the UK, including the reading series Words & Ears, which takes place monthly in Bradford on Avon, and periodically elsewhere, including the Edinburgh Fringe – where she was also a poet in residence in 2015 and 2016. Her work has appeared in journals including Iota, Magma, The Rialto, The Interpreter's House and Under the Radar, and numerous anthologies. She collaborates widely – the Orchestra of the Age of Enlightenment and 250 schoolchildren wrote a symphony based on her poem 'Replenishment', and the overture, devised as a film poem, appeared at the Cannes Short Film Festival. She has an MA in Creative Writing from Bath Spa University.