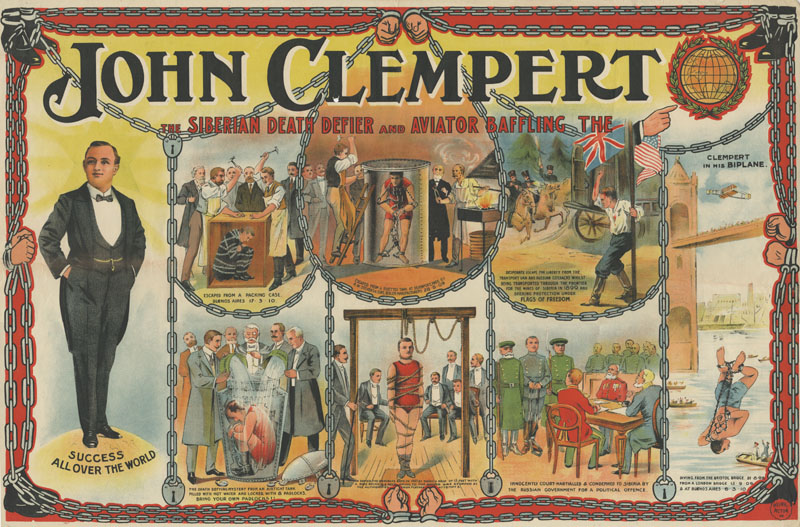 The Original Captain Boomerang's Death-Defying Stunts
Ladies and gentlemen:
it's not the escape which sets me free
but the entire surrender. As always
there is no body double
and no apparatus,
the lumber and chock which keep you rooted there
will vanish, in a trice.
Released into that forgetfulness
holding my breath for another count of ten
I work my strategy out.
You see, in practice
when engaged with any airtight fiendish device
it's no different to the Nailed-In-
Packing-Crate Mystery
or the Upside Down Barrel Plunge.
It's a hard one this time.
Sir, you are amazed
I should survive these incredible feats. Let me tell you
it takes a special kind of person
to become a genuine fake. The simple fact is
I cannot be killed —
the crowd believes it's impossible
but I know everything is true.
We are always conjuring on the edge of death, ladies and gentlemen.
I have studied my subject and I know its ways.
There's no exit from that sealed casket.
I do not enter this compact lightly
and you have every reason to be afraid,
not on my account
but for yourselves, for wanting to see such blood.
You await the wrong turn, the failure
of my dextrous digits,
the mistaken breath that loses me.
Perhaps it will happen tonight and you were there
when the great illusionist never returned
and you yourselves became history.
Well, we'll see.
Ladies and gentlemen, I stand before you
as clean as a shelled egg.
There's nothing up my sleeves.
Let me show you how it's done:
one
two
three
© Rennie Parker
Picture 10252718, poster, early 20th century, image copyright Mary Evans / Harry Price Collection
Rennie Parker is a poet based in the Midlands, usually published by Shoestring Press. She has performed at open mics and regional festivals for several years now, and her work has appeared in magazines since 1987. Her critical study The Georgian Poets was published by the British Council/Writers and their Work series in 1999, and there is prose fiction available on Kindle. Further details are on poetry pf and Rennie Parker's Bookstop blog.