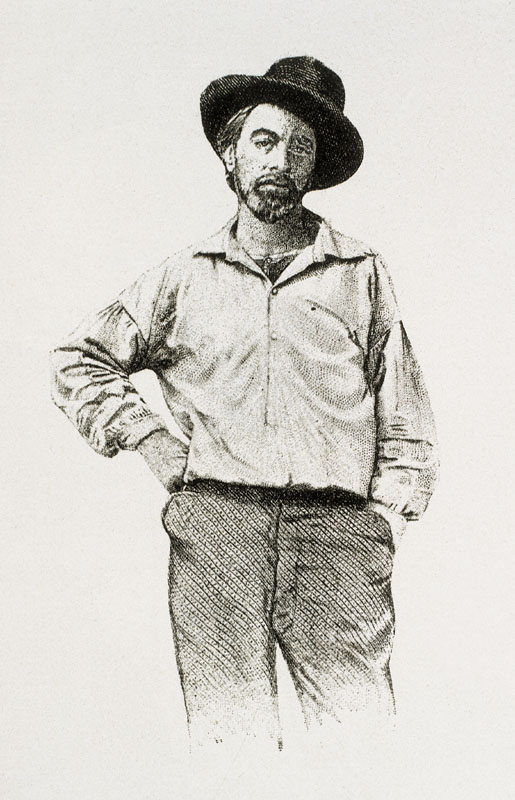 Walt
You, with your jaunty smile your hat on one side
that wide brimmed smile blowing you over the Hempsteads.
You, with your blackthorn stick and stride
your billowing voice lamenting the parting of seabirds
You with your arms like happy windmills.
Waving to the sea, the land, the railroads and soldiers.
You, with your laughing beard, baring your chest
as you make your way round the boundaries of oceans.
You, Walt Whitman, of the long line and tumbling somersaults
of tender poetry with your working man's hands and mystery
in the digging of graves and gardens, the planting of trees here
on your beloved Paumanok, this fishtailed Long Island
buried deep in your heart of lobsters and clams
the King James bible walking with each step you make
as you mark the bounds, smiling as you see someone
you resemble: a woman cradling a child, an old man, a prophet
a hobo, a wanderer. You Walt, pray to the sea and the air as I do
bending your knees to better understand the blades of grass.
© Geraldine Green, published in The Other Side of the Bridge, Indigo Dreams, 2012
Picture 10210243, engraving, circa 1855, image copyright Mary Evans / Iberfoto
Creative writing tutor, poetry editor and associate editor of Poetry Bay, UK poet Geraldine Green has two full collections, The Other Side of the Bridge and Salt Road, both published by Indigo Dreams, and four pamphlet collections. Widely anthologised in the UK, US and Italy, her work has been translated into Bulgarian and Romanian. 2015 saw her celebrating 10 years of poetry tours across America, including readings at the Walt Whitman Birthplace, Long Island; alongside Beat poet Michael McClure in Oakland, San Francisco; Woody Guthrie Festival, Okemah, Oklahoma, and many others events kindly organised by New York poet and colleague George Wallace. In 2011 she gained a PhD in Creative Writing Poetry from Lancaster University titled 'An Exploration of Identity and Environment through Poetry'. Her new collection, Passing Through, was recently published by Indigo Dreams. Geraldine blogs at Salt Road.