Warning
: include(topMenuBar.php): failed to open stream: No such file or directory in
/home/domains/maryevans.com/docs/poetryblog.php
on line
78
Warning
: include(): Failed opening 'topMenuBar.php' for inclusion (include_path='.:/usr/share/php') in
/home/domains/maryevans.com/docs/poetryblog.php
on line
78
Warning
: include(topFullWidth.php): failed to open stream: No such file or directory in
/home/domains/maryevans.com/docs/poetryblog.php
on line
79
Warning
: include(): Failed opening 'topFullWidth.php' for inclusion (include_path='.:/usr/share/php') in
/home/domains/maryevans.com/docs/poetryblog.php
on line
79
Warning
: include(poetrySideBar.php): failed to open stream: No such file or directory in
/home/domains/maryevans.com/docs/poetryblog.php
on line
81
Warning
: include(): Failed opening 'poetrySideBar.php' for inclusion (include_path='.:/usr/share/php') in
/home/domains/maryevans.com/docs/poetryblog.php
on line
81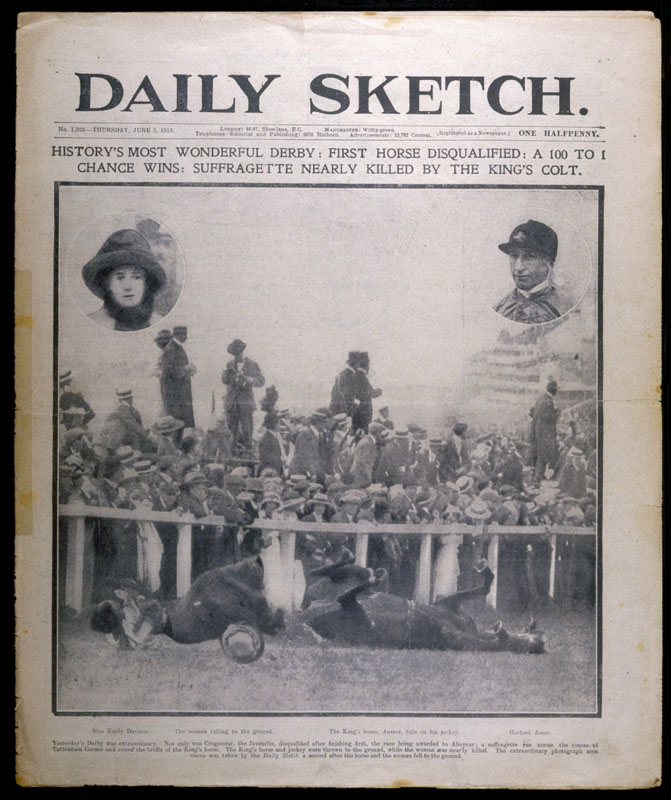 Camera obscura
Emily Wilding Davison, June 1913
The reason for your being here
is out of sight. They can't be seen –
your Cause's colours sewn inside
your decent coat: white, violet, green.
The camera sees the moment
you began to die:
the jockey, trim in silks, is doll-like
on the grass and seems asleep;
his mount is spraddled on its back;
its useless hooves flail at the sky.
Your spinning, flower-trimmed hat
is stopped, distinct, mid-flight;
your hair's still not come down;
you're frozen, inches from the ground;
your boots are neatly buttoned,
take small steps on the arrested air.
You're stopped in time. No sound,
no texture, no sour odour
of bruised grass and earth. Just
silence and the alchemy of light.
How did you comprehend
the shock of heat, huge muscle, hair,
in that white moment
when the dark came down?
The camera cannot tell;
it's business neither truth nor lies.
It shows a fallen horse. A woman falling. A crowd
in hats and blazers staring down a long perspective;
the field intent upon the distant fairy icing
grandstand. The waving flags. The finish line.
Until the image blurs, dissolves in silver flowers,
it's there on celluloid in shades of grey;
the camera only says that in that instant
you are dying, and everyone has looked away.
© John Foggin
Picture 10023249, photograph in the Daily Sketch, June 1913, image copyright Mary Evans
John Foggin lives in Ossett, West Yorkshire. His work has appeared in The North, The New Writer, Prole, and The Interpreter's House, among others, and in anthologies including The Forward Book of Poetry (2015, 2018). He publishes a poetry blog, The Great Fogginzo's Cobweb. His poems have won first prizes in The Plough Poetry (2013, 2014), the Camden/Lumen (2014) and McLellan (2015) competitions respectively. In 2016 he was a winner of the Poetry Business International Pamphlet competition judged by Billy Collins. He has authored four pamphlets/chapbooks: Running out of Space and Backtracks (2014), Larach (Ward Wood Publications, 2014) and Outlaws and fallen angels (Calder Valley Poetry, 2016), and two collections, Much Possessed (smith|doorstop, 2016) and Gap Year, co-authored with Andy Blackford (SMP Publications, 2017). His latest pamphlet, Advice to a Traveller, was published by Indigo Dreams (2018).