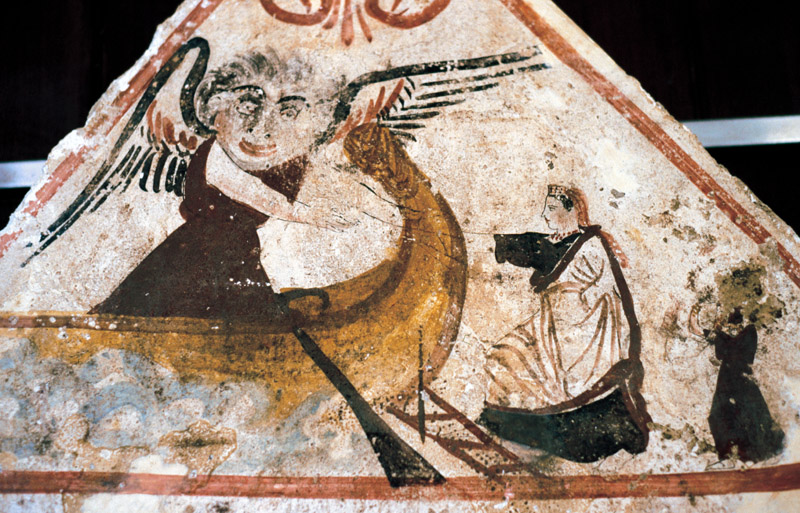 The Ferryman
You can spit out the coins love laid so carefully
upon your tongue. Forget your hampers, cherries,
furtive ladybirds. This man will take no bribes,
no coded messages. His job is to steal you away
from shoreline and kisses. With each push
of the skiff, you grow less, know less,
and when you throw your wedding ring
overboard, you can't recall what those white
circles on your fingers mean.
And now the last necessity, language itself,
starts to fall away, shaken from a cloth of sky
which spills out stars, sonnets, sentences.
Perhaps you wait, in the long silence,
for that somewhere better you have always
dreamed of, lived for.
But the ferryman, with his hooked nose,
steers you to marshes where you must relinquish
all your thought of heaven, and let everything go.
Everything.
© Rosie Jackson
Picture 11026749, painted Lucanian tombstone, circa 350 BCE, image copyright Mary Evans / Thaliastock
Rosie Jackson lives in Frome and runs creative writing workshops. Her poetry pamphlet What the Ground Holds (Poetry Salzburg, 2014) was followed by her first collection The Light Box (Cultured Llama, 2016) and her memoir The Glass Mother (Unthank, 2016).  Her poetry has been published in Acumen, Ambit, Frogmore Papers, Scintilla, Tears in the Fence and other journals and anthologies, set for GCSE, and used for a large copper sculpture in the grounds of a Dorchester hospital. Rosie has taught at the University of East Anglia, UWE, and runs courses at Cortijo Romero, Spain. In 2017 she was a Hawthornden fellow and won the Stanley Spencer Poetry competition run by Cookham Festival for her poem 'The Heaven that Runs through Everything.' She has collaborated with Devon poet Graham Burchell on a book of poems about Spencer, Two Girls and a Beehive. www.rosiejackson.org.uk