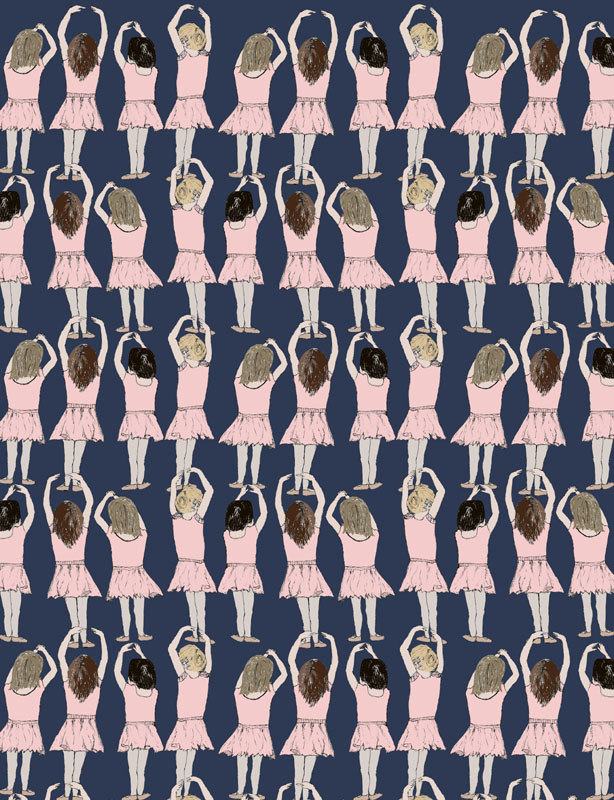 A Conga of Ballerinas
Thirty of them – Ava the second – girls
three to five years, in tutus paler than
boiled shrimps, shoulder-straps, flesh of their shoulders
baby-dimpled. I hear the long line tinkle
with nine-carat earrings, bracelets from Argos,
the row of lights down the church-hall catch gold.
What will their lives be in the century
that's theirs now? My niece sent me this image
that predators would click on if they could:
repeat-flesh, flock of rosy flamingos –
is there a reserve of self-preservation
to keep bright faces still enthused and safe?
Linked in the Conga, they snake with the crowd,
and if these girls, novices, turned from flesh,
no longer pink confectionery on
the outside or the inside, the race would
end, wouldn't it, no more heart-ache or babies?
Why does the line – Ava's broad grin – seem sad?
© Dilys Wood
Picture 12016636, design by Tess Hines, 2018, image copyright Mary Evans / Tess Hines Designs
Dilys Wood founded Second Light Network of Women Poets in 1994. Her collections are Women Come to a Death (Katabasis, 1997) and Antarctica (Greendale Press, 2008).  She has co-edited Second Light's ARTEMISpoetry and the following anthologies of women's poetry: Fanfare (2015), Her Wings of Glass (2014), Images of Women (Arrowhead Press, in association with Second Light, 2006), My Mother Threw Knives (Second Light Publications, 2006), Making Worlds (Headland with Second Light, 2003) and Parents (Enitharmon Press, 2000).  ARTEMISpoetry is a bi-annual poetry magazine in which all poetry, reviews and articles are by women solely concerned with women's poetry.