Warning
: include(topMenuBar.php): failed to open stream: No such file or directory in
/home/domains/maryevans.com/docs/poetryblog.php
on line
78
Warning
: include(): Failed opening 'topMenuBar.php' for inclusion (include_path='.:/usr/share/php') in
/home/domains/maryevans.com/docs/poetryblog.php
on line
78
Warning
: include(topFullWidth.php): failed to open stream: No such file or directory in
/home/domains/maryevans.com/docs/poetryblog.php
on line
79
Warning
: include(): Failed opening 'topFullWidth.php' for inclusion (include_path='.:/usr/share/php') in
/home/domains/maryevans.com/docs/poetryblog.php
on line
79
Warning
: include(poetrySideBar.php): failed to open stream: No such file or directory in
/home/domains/maryevans.com/docs/poetryblog.php
on line
81
Warning
: include(): Failed opening 'poetrySideBar.php' for inclusion (include_path='.:/usr/share/php') in
/home/domains/maryevans.com/docs/poetryblog.php
on line
81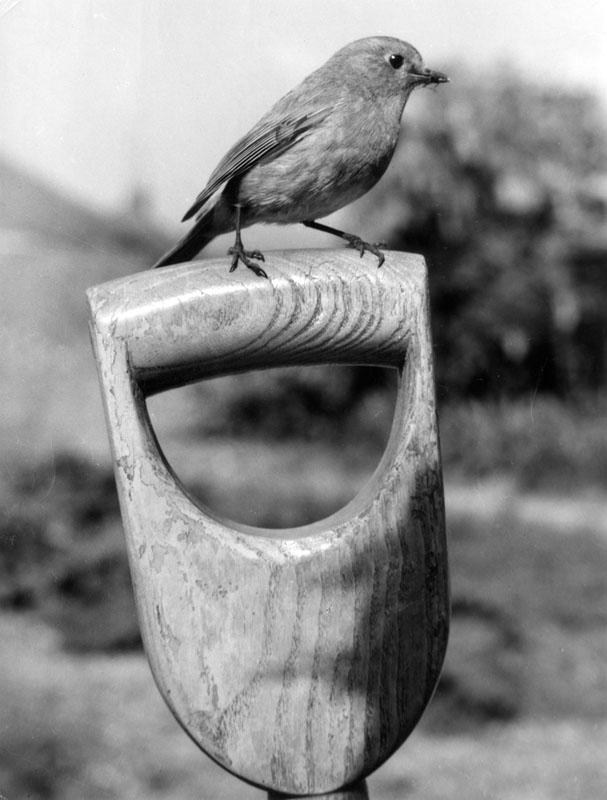 The Spade
You flitted
through frosty air,
landed on the handle,
watched me watch you.
Father's spade,
still immersed in stony soil,
proud, unyielding to wind,
hail and flurries of snow.
The gap for his calloused fingers,
a wide grin, as if it remembered
those special times and secrets.
No one dared move it indoors,
to the dusty jumble of musty shed.
The handle smooth
as a fuchsia breeze in summer,
a baby's cheek,
a mink thistle head,
gone to seed.
Like the dandelions.
Clocks blowing,
a tumble in the gentle wind,
tick, tock.
© Lorraine Carey
Picture 10145623, unattributed photograph, 1930s, image copyright Mary Evans / Mustograph Collection
Irish poet and artist Lorraine Carey has had work widely published in the following: Prole, Atrium, The Lake, The Blue Nib, Poethead, Marble Poetry, The Honest Ulsterman, Epoque Press, Sixteen, Live Encounters and Picaroon among others. A runner up in both the Trocaire/Poetry Ireland and The Blue Nib Chapbook Competition 2017, her artwork and photography have featured in Three Drops From A Cauldron, Dodging The Rain, Riggwelter Press, North West Words and Olentangy Review. Shortlisted in the 2018 Sixth Bangor Poetry Competition, she has contributed poetry to several anthologies and is an advocate for the promotion of mental health awareness, with two articles published on the website A Lust for Life, an award-winning Irish wellbeing movement. Two poems were also featured in Please Hear What I Am Not Saying, an anthology for mental health. Her debut collection, From Doll House Windows, is published by Revival Press.