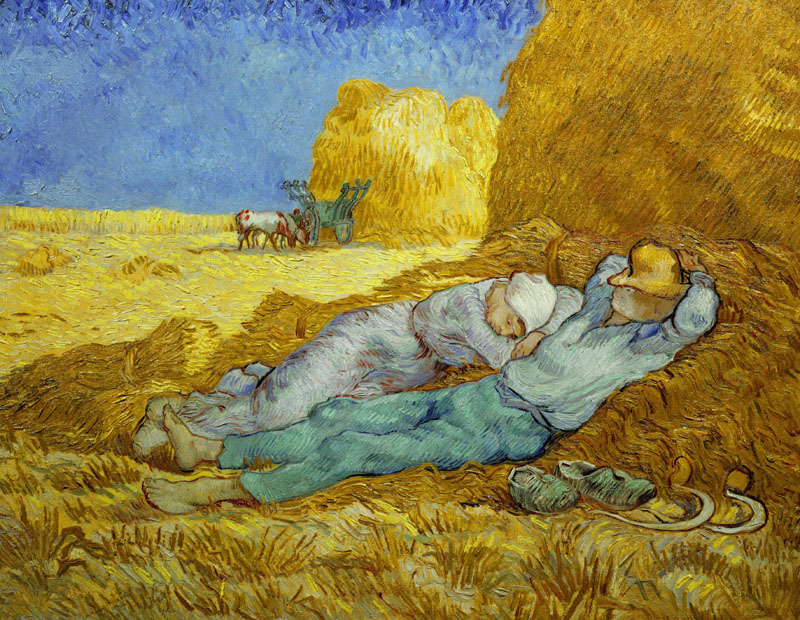 Azure
The harvest noon – the sun's polished
disc above broad fields of yellow.
Half of the day's work is done.
She falls asleep, curled by his side.
He stretches up, thinking of the bread
slices they'll butter for children.
Tired by the richness of wheat, they rest,
two pieces in a puzzle of ancient wisdom.
Solemn among rolling waves of wheat ocean
she had picked the first stems, a fistful,
pleated into a figurine, placed high on the fence
overlooking the fields. She learned it
from her mother, her mother before her.
Mother before mother, back to that first
handful of grain, droplets of milk and honey
spilled in an offering to the Goddess.
After measured strides of the harvest
working in consort under the sky's eye,
wide open in the expanse of the azure –
they breathe the earthy scent of the grain.
Noon rays dance on the dry straw
silenced by the blades of their sickles.
They moved together, they rest together –
blessed by the white gold of silence.
© Maja Trochimczyk, 2014, revised 2017
 Picture 10241912, The Siesta (after Millet) by Vincent van Gogh, 1890, image copyright Mary Evans / Imagno
Maja Trochimczyk, PhD, is a Polish American poet, music historian, photographer, and author of six books on music, most recently Frédéric Chopin: A Research and Information Guide (2015).  Her seven poetry volumes include two anthologies, Chopin with Cherries (2010) and Meditations on Divine Names (2011), as well as Rose Always, Miriam's Iris, Into Light, and two prizewinning books based on Polish experiences of WW2: Slicing the Bread (2014) and The Rainy Bread (2016). A former Poet Laureate of Sunland-Tujunga, she is the founder of Moonrise Press and Board Secretary of the Polish American Historical Association. Hundreds of her poems, articles and book chapters have appeared in English, Polish, and other languages. She has read papers at over 80 international conferences and received many awards from Polish, Canadian and American institutions, for example the American Council of Learned Societies, the Polish Ministry of Culture, PAHA, McGill University, and the University of Southern California.  trochimczyk.net