Warning
: include(topMenuBar.php): failed to open stream: No such file or directory in
/home/domains/maryevans.com/docs/poetryblog.php
on line
78
Warning
: include(): Failed opening 'topMenuBar.php' for inclusion (include_path='.:/usr/share/php') in
/home/domains/maryevans.com/docs/poetryblog.php
on line
78
Warning
: include(topFullWidth.php): failed to open stream: No such file or directory in
/home/domains/maryevans.com/docs/poetryblog.php
on line
79
Warning
: include(): Failed opening 'topFullWidth.php' for inclusion (include_path='.:/usr/share/php') in
/home/domains/maryevans.com/docs/poetryblog.php
on line
79
Warning
: include(poetrySideBar.php): failed to open stream: No such file or directory in
/home/domains/maryevans.com/docs/poetryblog.php
on line
81
Warning
: include(): Failed opening 'poetrySideBar.php' for inclusion (include_path='.:/usr/share/php') in
/home/domains/maryevans.com/docs/poetryblog.php
on line
81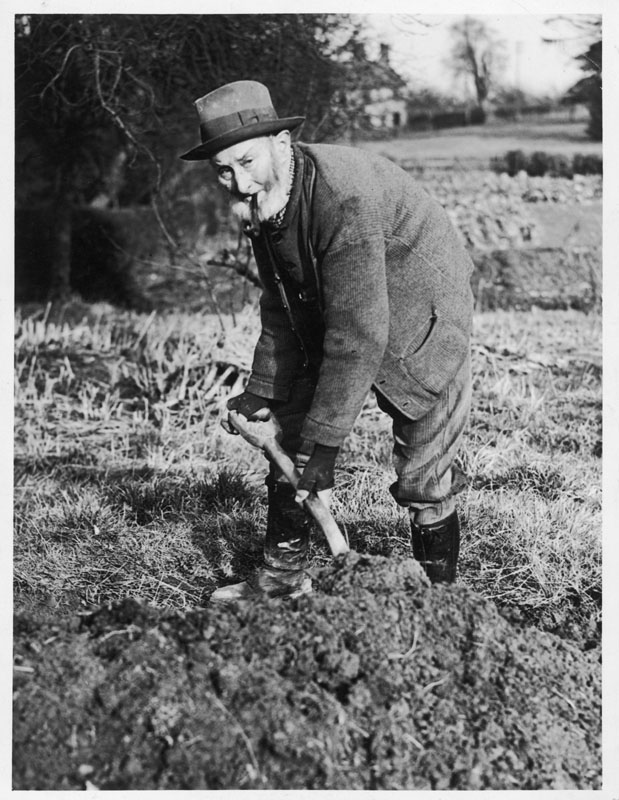 Still Life
There's redshank growing through the handle
of the spade he gave me, propped
against the garden wall because it proved
too heavy; a man's weight – the grip carved
for the width of a man's fingers, the shaft
measured for the length of a man's leg.
The wood has bleached to grey after
a year's abandonment to rain and sun,
the ash grain coarsened and split, the
metal rusted, and the linseed odour
of his garden shed, long gone.
Now it's become a retro image
on a card for Father's Day. My careless
weed sprouting where his hand should be,
some of his well-dug earth clinging to the blade.
© Kathleen Jones
Picture 10015666, unattributed photograph, circa 1930, image copyright Mary Evans
Kathleen Jones is an English biographer and poet living in the Lake District. She has published three pamphlets of poetry, most recently Mapping Emily (Templar Poetry, 2017), and two full collections, Not Saying Goodbye at Gate 21 (Templar Poetry, 2011) and The Rainmaker's Wife (Indigo Dreams, 2017). She has also published several award-winning biographies, including Catherine Cookson: The Biography (Time Warner, 2000) and Margaret Forster: A Life in Books (The Book Mill, 2016), and two novels.