Warning
: include(topMenuBar.php): failed to open stream: No such file or directory in
/home/domains/maryevans.com/docs/poetryblog.php
on line
78
Warning
: include(): Failed opening 'topMenuBar.php' for inclusion (include_path='.:/usr/share/php') in
/home/domains/maryevans.com/docs/poetryblog.php
on line
78
Warning
: include(topFullWidth.php): failed to open stream: No such file or directory in
/home/domains/maryevans.com/docs/poetryblog.php
on line
79
Warning
: include(): Failed opening 'topFullWidth.php' for inclusion (include_path='.:/usr/share/php') in
/home/domains/maryevans.com/docs/poetryblog.php
on line
79
Warning
: include(poetrySideBar.php): failed to open stream: No such file or directory in
/home/domains/maryevans.com/docs/poetryblog.php
on line
81
Warning
: include(): Failed opening 'poetrySideBar.php' for inclusion (include_path='.:/usr/share/php') in
/home/domains/maryevans.com/docs/poetryblog.php
on line
81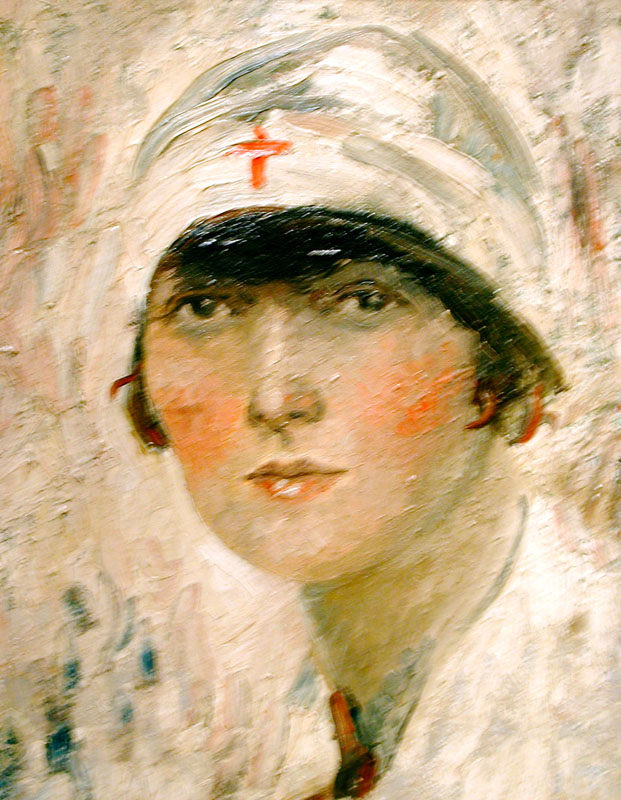 War Nurse
In the wagon she tears and folds
1234567by the light of a quivering candle.
Outside, soldiers surge and horses
1234567drop their dead and wounded
in the mud. The sound of shrieking
1234567splits the sky. Her eyes see nothing
but the place of return – the ground
1234567under her bedroom window
where dew-dropped roses wait,
1234567and only wasps disturb the morning.
© Valerie Morton
Picture 10726599, unattributed oil painting, circa 1915, image copyright Mary Evans / David Cohen Fine Art
Valerie Morton's work has been published in various magazines and anthologies, and has won or been placed in a number of competitions. She completed an Open University degree in 2011 and has taught Creative Writing at a mental health charity. Her first collection, Mango Tree, was published by Indigo Dreams Publishing in May 2013. Handprints, her second collection, was published in December 2015 by the same publisher. During 2016 she was Poet in Residence at the Clinton Baker Pinetum in Hertfordshire, running a series of workshops and publishing an anthology. She is a member of Ver Poets.