Open All Hours – 12 amazing shop front displays from history
by Lucinda Gosling August 25, 2017
We're all familiar with the closing credits of 'Open All Hours' when Arkwright, played by Ronnie Barker, goes through the daily chore of dismantling his display of wares before shutting up shop for the evening.  Image then, if you will, the hours it might have taken to put together – and then dismantle – some of these shop fronts?  While the art of retail display might still be seen daily on our high streets, very few can match the level of extravagance masterminded by some Victorian and Edwardian shopkeepers, whose penchant for fussy and highly populated displays mirrored conventional tastes in interior design and fashion.  Butchers and poulterers seem particularly prone to boastful displays, while grocers err towards carefully composed symmetrical layouts using boxes of tea and soap powder.  They obviously took pride in their creations as many photographs show employees, smart in long aprons, posed in front of gleaming windows or just visible among expertly butchered carcasses.
We've created a top 12 of our favourite shop front displays from history.  Scroll down to see who occupies the top spot.
12.) The shop window of Schmidt's famous German delicatessen on Charlotte Street, London, with a vast variety of tinned and preserved goods on display, a taste of 'Germany in London'.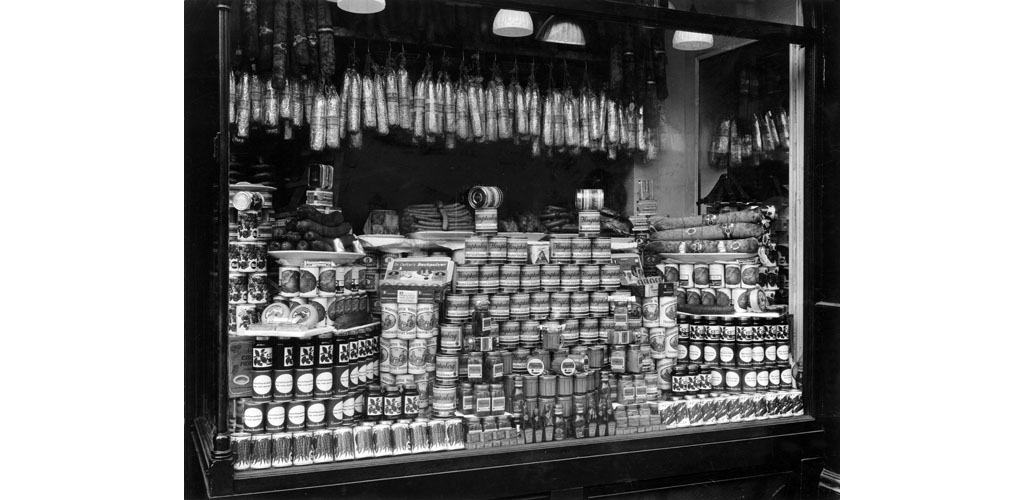 11.) Morecambe tourist shop selling everything from hoops to prams.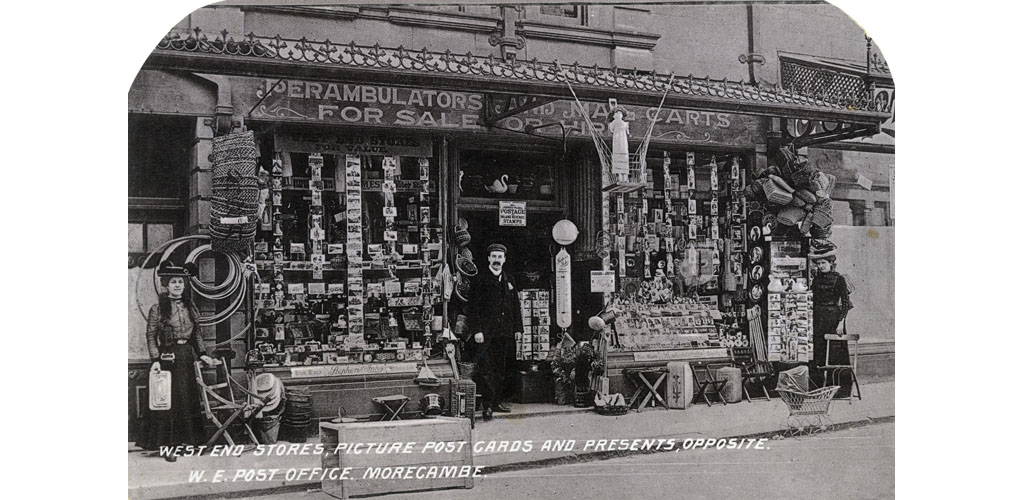 10.) Graham and Withers butchers shop, Bromley, Kent.  Definitely wins the prize for most grisly.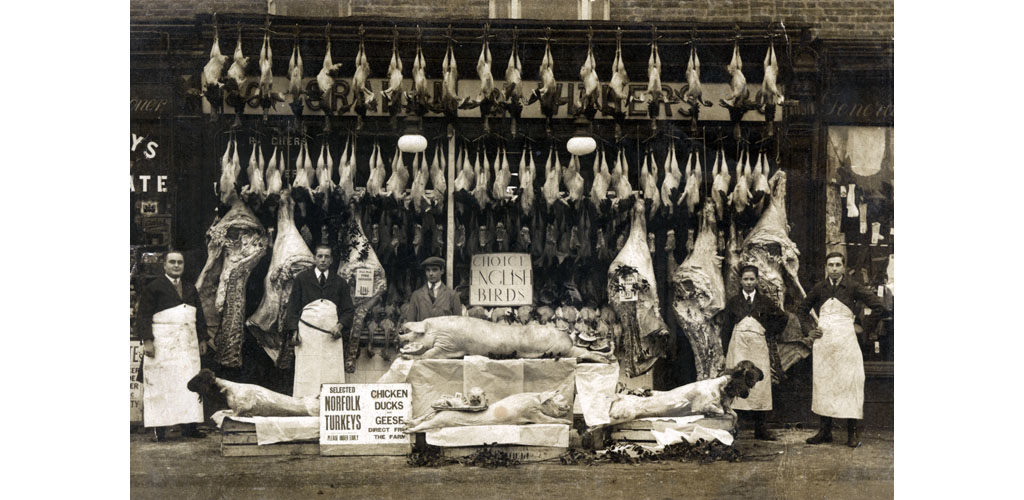 9.) Shop front in Malmesbury, Wiltshire.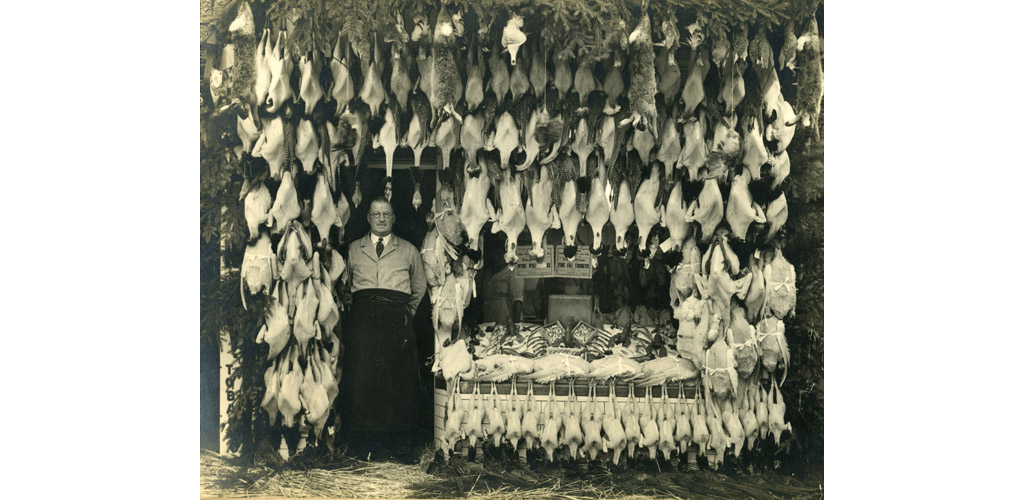 8.) Mr Horner the Butcher sitting proudly in front of his magnificent display of flesh and fowl waiting for the Christmas rush.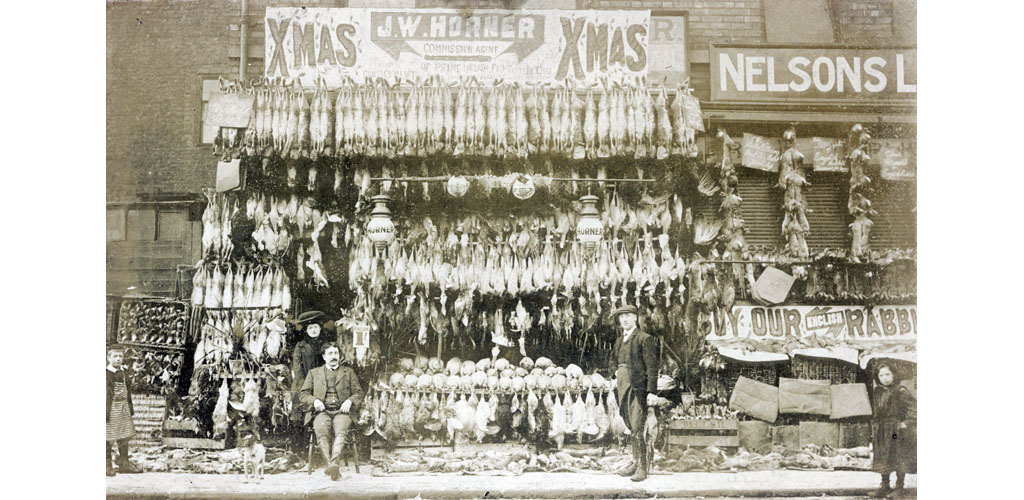 7.) A little OCD evident from the look of the window of the Maypole Dairy in Greenwich.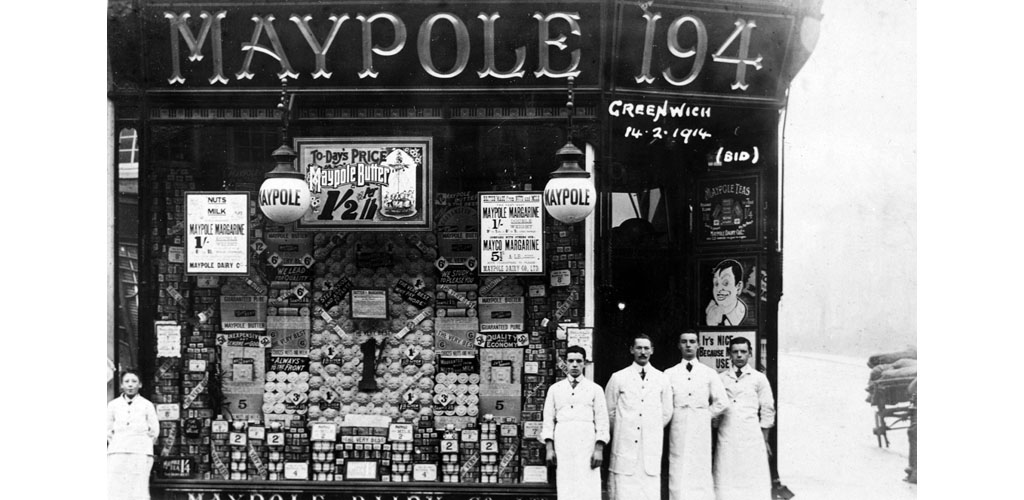 6.) Undies galore at the Parisian Corset Company Ltd.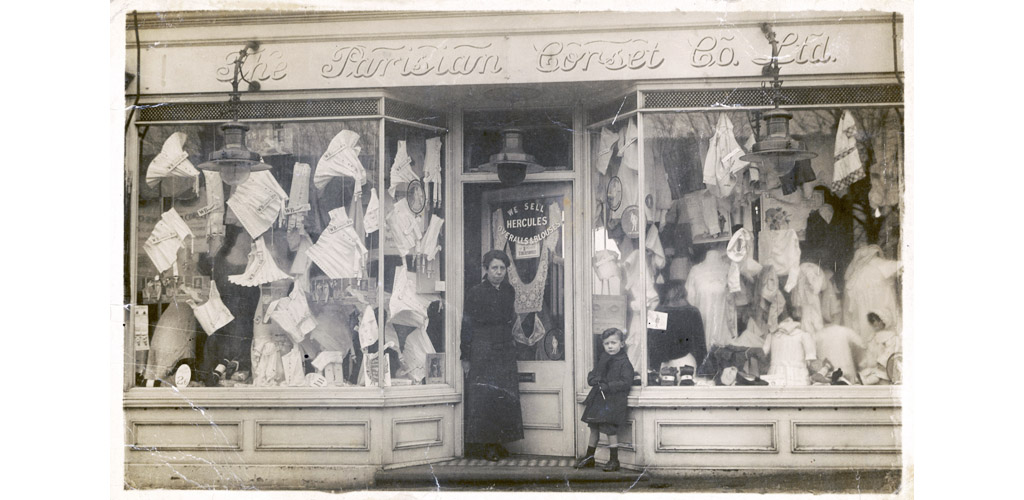 5.) Display of meat outside a butcher's shop (unidentified location) with butcher, centre, brandishing a knife in case we should be in any doubt who's responsible for all those first prize awards.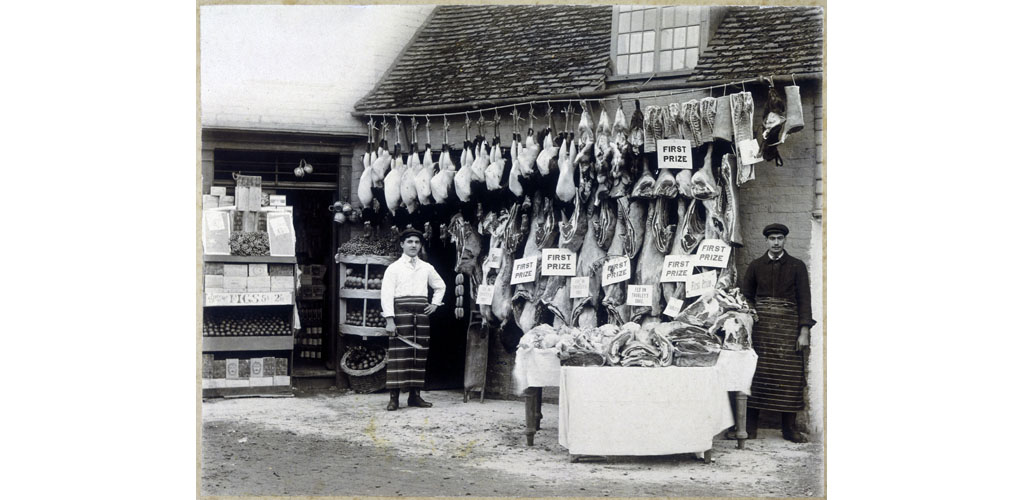 4.)  Luggage shop in Paddington, London.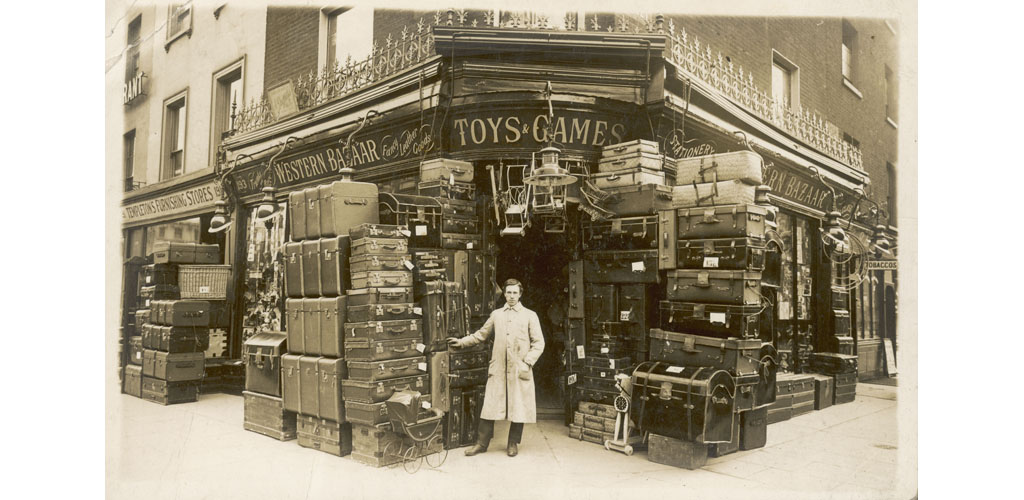 3.) Best foot forward. Cobbler's shop front, St David's, Pembrokeshire, South Wales.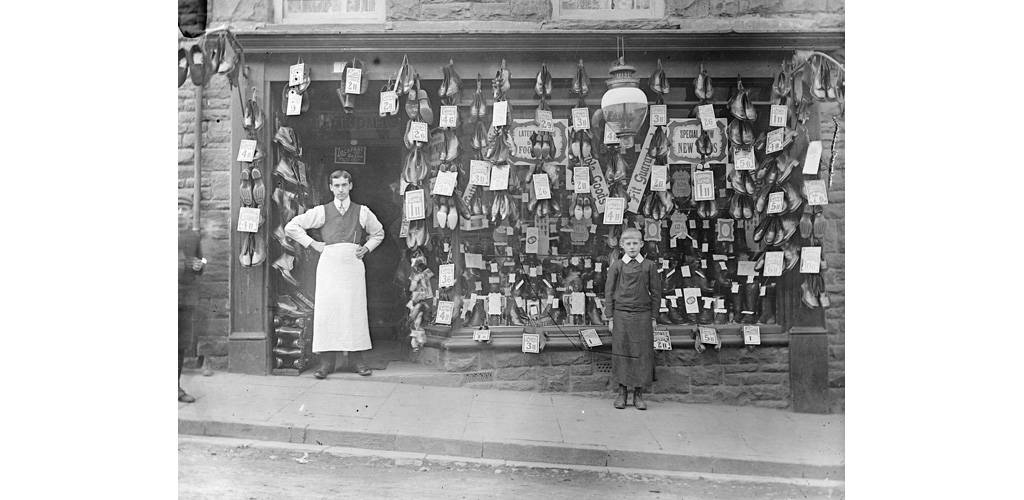 2.) Butcher's shop in High Wycombe, Buckinghamshire. The turkeys (joined by rabbits & a lone pig) are so numerous they literally cover the entire building.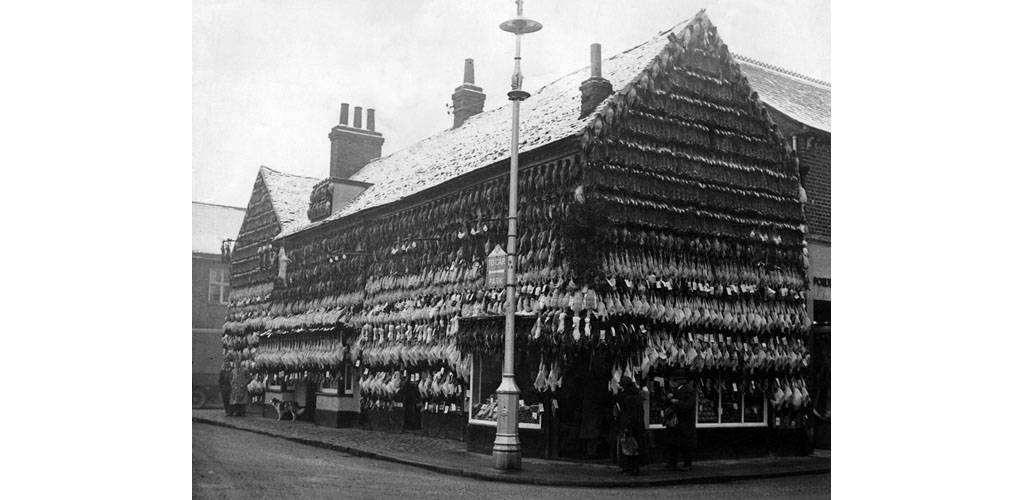 1.) Never knowingly underadvertised. The marvellously named Herbert Fudge, Newsagent, Stationer and Tobacconist of 313 Lee High Road, London.