Festive old Father Christmas
by Jessica Talmage November 9, 2017
Nowadays, Father Christmas and Santa Claus are a more or less interchangeable festive character, typifying the spirit of good Christmas cheer.
'Twas not ever thus however. In Britain, the 19th century Victorian revival of Christmas customs reinvigorated a folkloric figure of old Father Christmas that owed much to mummers plays, the Merry England of Walter Scott's 1808 poem Marmion, and Thomas Hervey's 1836 Book of Christmas. Hervey's Father Christmas is dressed in a long robe and wears a holly crown, while his followers include Roast Beef, Plum Pudding, Wassail, Misrule and the Lord of Twelfth Night.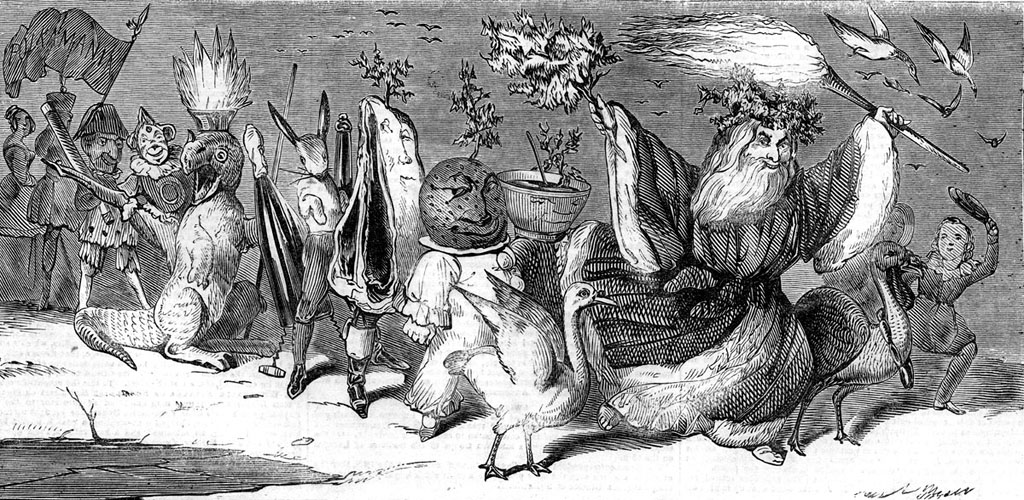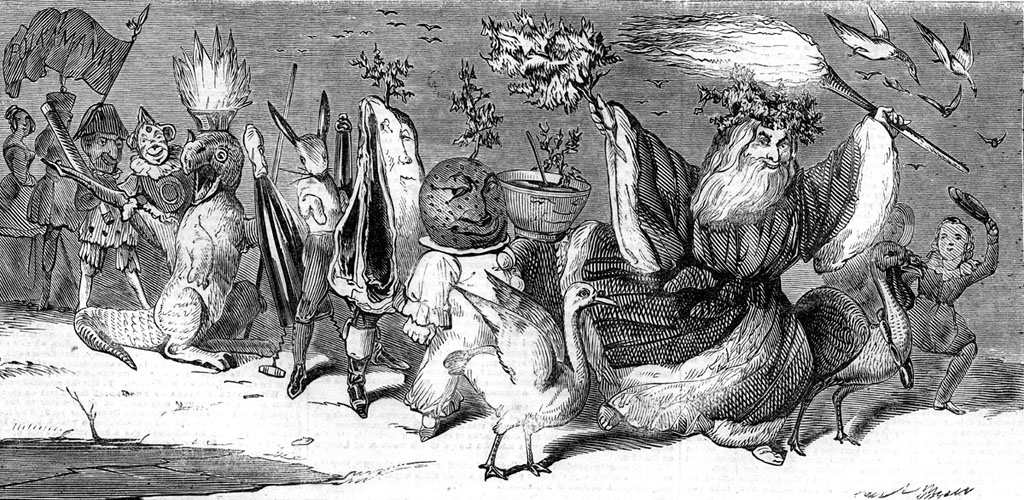 A Christmas Parade by Alfred Crowquill, from the Illustrated London News, December 1844, shows some of these characters processing through the snow.
We have other similar depictions of Father Christmas in the mid-19th century from the Illustrated London News and the Illustrated Times, which show the holly-adorned merrymaker having a pretty hedonistic time.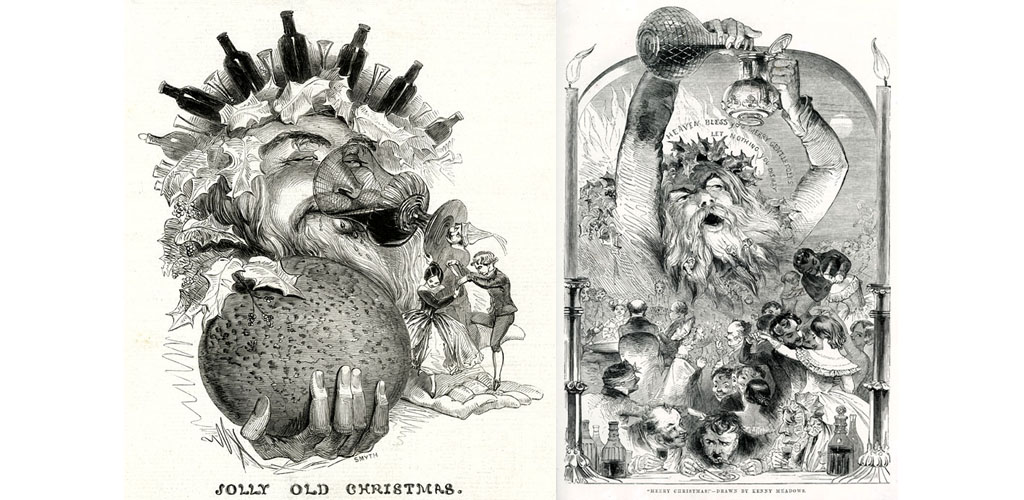 (Left) Jolly Old Christmas by Smyth in the Illustrated London News December 1844. (Right) Merry Christmas! by Kenny Meadows in A Holiday Book for Christmas and the New Year, 1840s
The figure of Santa Claus originated in the Dutch-American communities of the USA, with the 4th century Saint Nicholas giving us the name from the Dutch dialect word Sinterklaas. He was associated with the present-giving theme for good children much more than the English Father Christmas. Santa's character was developed by Clement C. Moore's 1823 poem A Visit from St Nicholas, otherwise known as 'Twas the Night before Christmas. Many familiar motifs appear in this poem, including Santa's sleigh and reindeer, his toys-via-chimney delivery preference, and his rosy cheeks, round belly and white beard. But his diminutive stature described in the poem (which logically he'd need for a trip down the chimney) hasn't survived to the present day.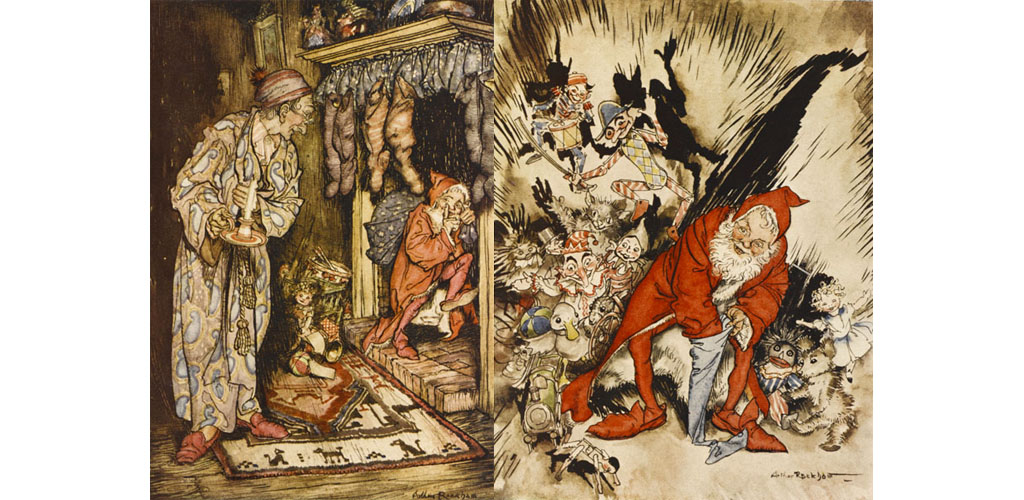 Arthur Rackham's illustrations of 1931 depict the 'jolly old elf' St Nick
The later 19th century started to see a blurring of distinctions between Father Christmas and Santa Claus, and the crown of holly was sometimes replaced by a hood. In 1879 the Illustrated Sporting and Dramatic News commented, "he is generally a rollicking, robust old gentleman, with a wreath of holly round his head, a warm robe of brown trimmed with fur…I have also seen him in the window of a sweet-stuff shop with a hood over his venerable head". In the States, caricaturist Thomas Nast's version of Santa in Harper's Weekly in the 1860s, further refined the image of modern Santa although it's notable he still has the holly crown.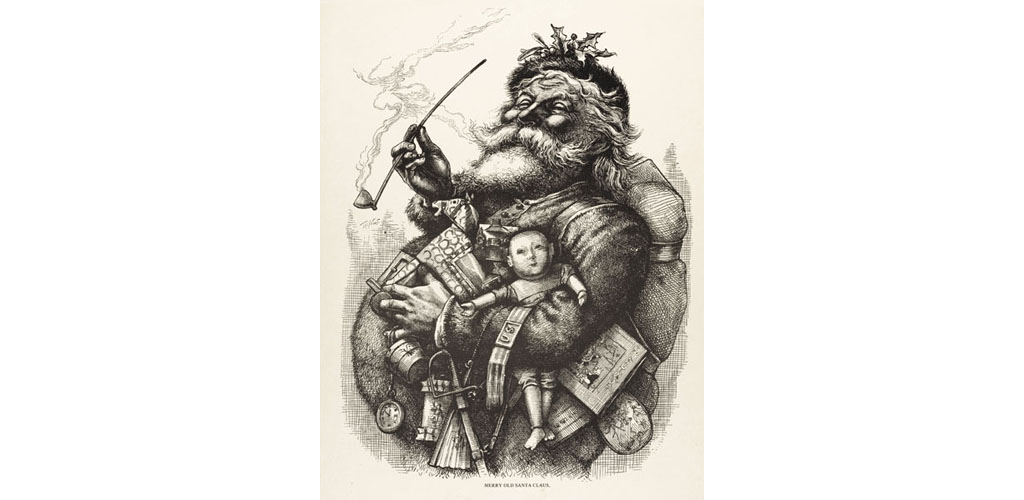 Merry Old Santa Claus by Thomas Nast in Harper's Weekly, 1860s
The vibrant red that Santa has worn exclusively since around the 1930s was not his sole colour choice in the late Victorian and Edwardian periods. Father Christmas on cards and scraps can often be found in a rainbow of colours from green to blue to violet, as well as in brown and white. Red, the colour associated with St Nicholas (and a Coca-Cola advertising campaign in the early thirties), won through convincingly in the end.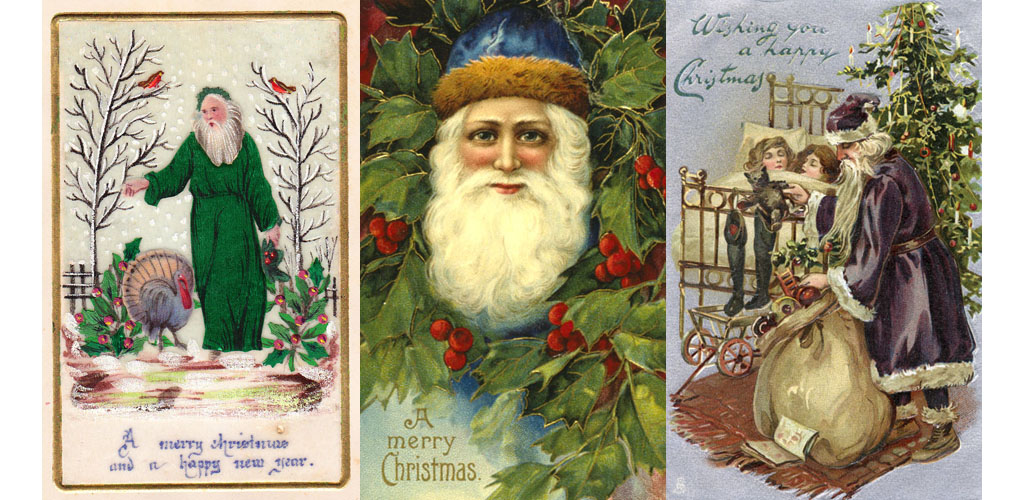 (Left) In green on a Christmas and New Year card, c.1890s. (Centre) In blue on a Christmas card with holly, C.1900s. (Right) In purple delivering presents on a postcard, 1908.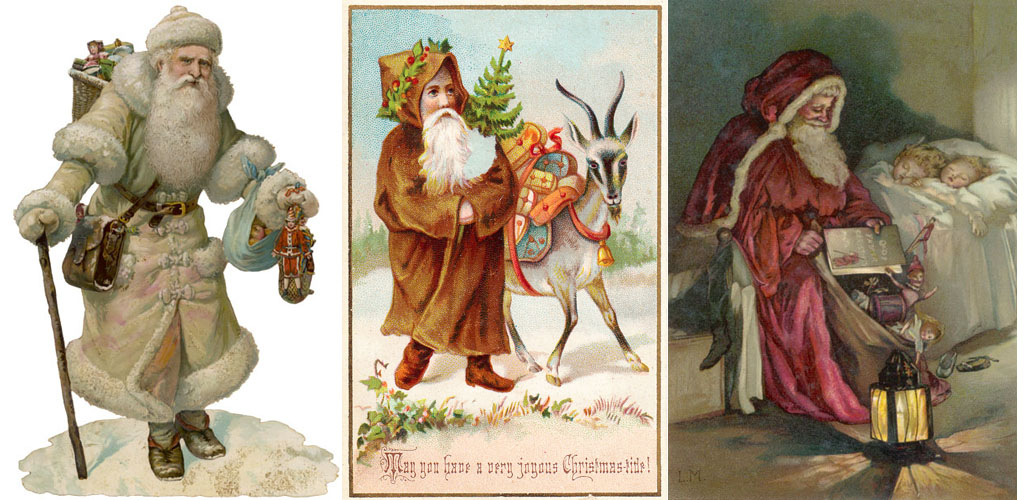 (Left) In white on a Victorian scrap. (Centre) In brown on a Christmas card, c.1890s. The goat is an interesting inclusion, chiming with Thomas Hervey's 1836 personification of Old Father Christmas riding a yule goat. (Right) In red delivering presents, Lizzie (Lawson) Mack in 'Old Father Christmas', 1889.