Sprucing Up – The History of the Christmas Tree
by Lucinda Gosling November 17, 2017

On 23 December 1848, The Illustrated London News published an engraving by J. L. Williams of Queen Victoria, Prince Albert and their five children gathered around a twinkling Christmas tree at Windsor Castle.  The publication of the picture was to mark the defining moment for the Christmas tree and within a short few years, it had, despite Dickens dismissing it as, "the new German toy," become a widely adopted and accepted part of festive celebrations in Britain.  But the history of the Christmas tree stretches far further into previous centuries.  Allow our timeline to take you on a pine-scented journey back in time.

8th century – European legend attributes the origin of Christmas trees to the English St. Boniface, aka Winfrid of Crediton, a missionary in Germany.  Its rather grisly genesis stems from Winfrid's chopping down of a tree before a crowd of barbarians, used previously as a site for human sacrifices.  According to legend, the blood-stained tree, "fell like a tower, groaning as it split asunder" but close by, a young fir tree stood miraculously unharmed leading Winfrid to lecture his audience, "This little tree, a young child in the forest, shall be your holy tree tonight"

1533 – There is a belief, particularly in Germany, that Martin Luther invented the custom.  One Christmas Eve he was so apparently moved by a firmament of shining stars that he recreated the spectacle for his family by standing a young fir tree in their darkened house and placing candles on its branches.
1605 – The earliest authentic record of Christmas trees as we known them today is in a manuscript in which a Strasbourg merchant wrote, "At Christmas, they set up fir trees in the parlours of Strasbourg and hang thereon roses cut out of many coloured paper, apples, wafers, gold-foil, sweets etc."
1737 – A member of the University of Wittenberg describes a country lady who distributed little trees bearing lighted candles to children, together with gifts laid beneath them.  Later in the century, Samuel Coleridge visited Germany and was intrigued by the delight his hosts took in their Christmas tree, which he described as, "a pleasing novelty".
1800 – Queen Charlotte, German wife of King George III, hosts a children's party at which a large yew tree is centre stage, decorated with, "bunches of sweetmeats, almonds, and raisins, in papers, fruits, and toys, most tastefully arranged, and the whole illuminated by small wax candles."


1820s – In the household of Queen Caroline, maligned consort of George IV, Germans set up Christmas trees bright with candles and hung with presents for English children of the palace.
1840 – A thriving market for pine-tops are sold at a market in Manchester by German immigrants.

1841 – Prince Albert introduces a bedecked tree into seasonal royal festivities writing, "Today I have two children of my own to give present to who, they know not why, are full of happy wonder at the German Christmas tree and its radiant candles."
1845 – First illustration of a Christmas tree in The Illustrated London News on 27 December 1845 accompanying a report on a celebration given by the London Mission Society at the Temperance Hall in Cripplegate for the benefit of 400 London children.  Their enjoyment "was crowned especially by the exhibition of a German Christmas tree, or Tree of Love, which was erected upon the stage of the Hall."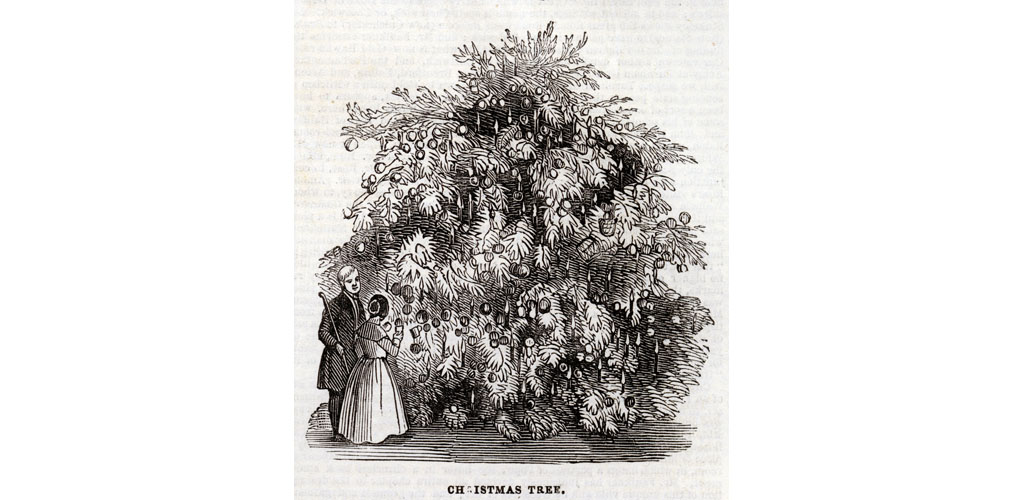 1848 – One of the ILN's most famous pictures is published in its 23 December issue and leads to the popularisation of the Christmas tree.  The engraving is accompanied by the following explanation of the tree as, "that which is annually prepared by her Majesty's command for the Royal Children.  Similar trees are arranged in other apartments of the Castle for her Majesty, his Royal Highness Prince Albert, her Royal Highness the Duchess of Kent, and the Royal household.  Her Majesty's tree is furnished by His Royal Highness Prince Albert, whilst that of the Prince is furnished according to the taste of her Majesty."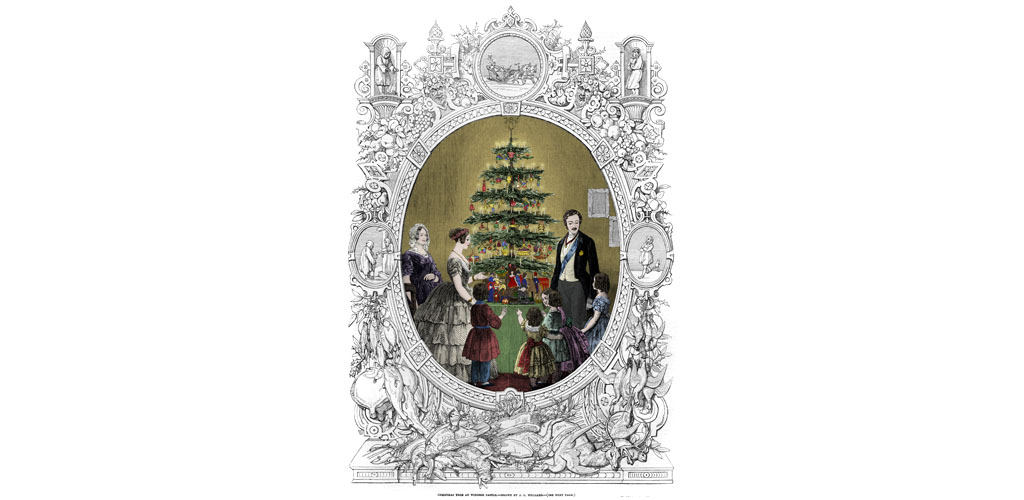 1851 – Although Christmas trees have been introduced to America by German immigrants in Pennsylvania, the tradition becomes widespread in this year when a woodsman called Mark Carr begins selling trees from Catskills at what will become Mark Carr's Corner in New York.
1854 – A giant Christmas tree is erected at Crystal Palace.  Christmas trees for sale in Covent Garden market pictured in The Illustrated London News.

1864 – William Chambers writes of the Christmas tree, "the custom has been introduced into England with the greatest success"
1914 – On the Western Front in December 1914, small decorated Christmas trees are used as signs of a temporary truce by German soldiers.

1930 – Artificial Christmas trees were made from dyed goose feathers in 19th century Germany, but in 1930 a British-based Addis Housewares Company created the first artificial Christmas tree made from brush bristles. The company used the same machinery that it used to manufacture toilet brushes.  (Aluminium foil Christmas trees appear in America in 1958).
1947 – A large Christmas tree is gifted to Britain by the city of Oslo as a token of gratitude for British support to Norway during the Second World War.  Given annually, the tree is the central focus of Christmas carol-singing in Trafalgar Square every year.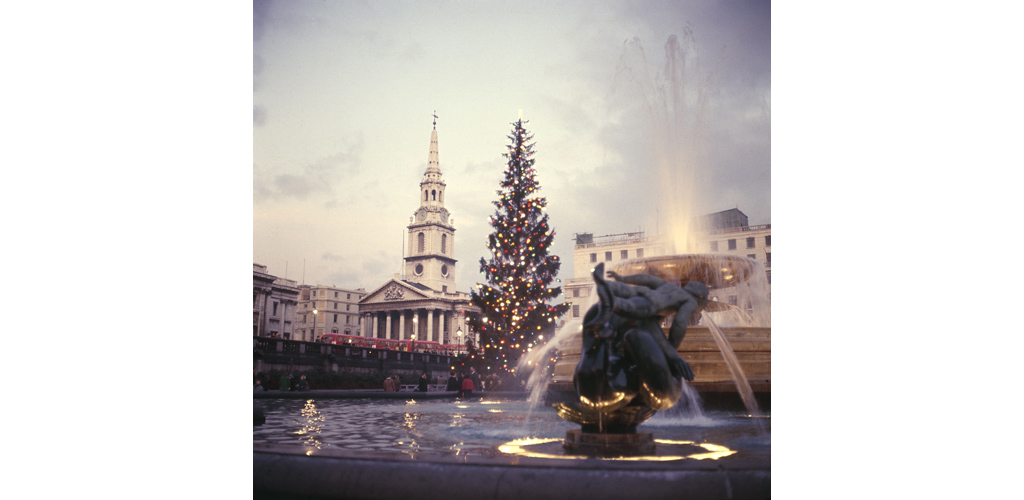 2017 – Mary Evans Picture Library has almost 2000 pictures on their website charting the legends and history of Christmas trees