The GREAT Mary Evans Christmas Gift Guide
by Lucinda Gosling December 6, 2017
Combing the archive to reveal this season's best buys for all the family.
We're sorry but it's becoming unavoidable.  There are just eighteen oh-so-short shopping days to go until Christmas.  As panic buying sets in the length and breadth of the country, FEAR NOT, for help is at hand.  Fling away those gift guides in Sunday supplements, forget about jostling for a parking space in Westfield, throw caution to the wind and CANCEL that Amazon Prime subscription. You don't need it.* We've trawled through history itself in order to help you solve any festive gift-giving dilemmas.  Read on for some vintage inspiration and watch your family's faces light up this Christmas.
*Did we mention you WILL need a time-travelling machine?
For discerning Uncle Jeremy, the ultimate in loungewear – a velvet smoking jacket from Peter Robinson with silk collar, cuffs and frogging.

For your tech-loving teenage son – the twin-lens artist hand camera from the London Stereoscopic Company.  He'll be extra-impressed that it's the same one used by the Princess of Wales.

Top of any little girl's wish-list – a toy roadside pub.  Yes, that's right.  Complete with beer pumps, ashtrays and pork scratchings , this boozer offers instruction in basic arithmetic courtesy of the darts board.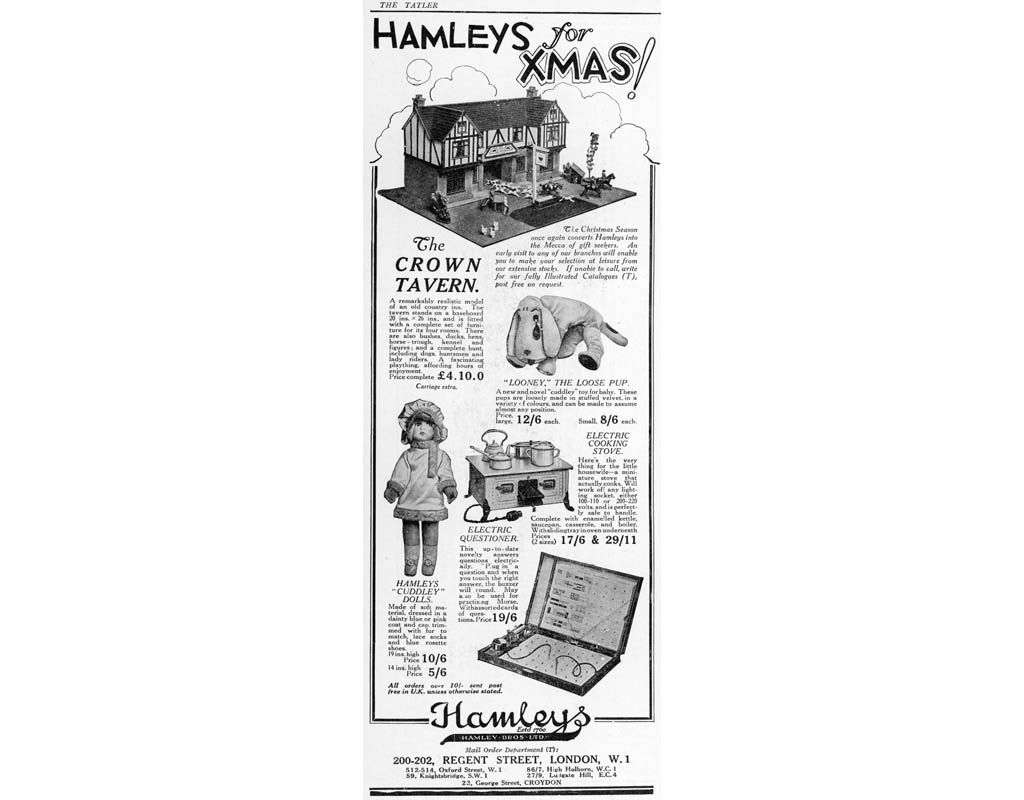 For dear mother, what can be more thoughtful than an electric vacuum cleaner or state-of-the-art Frigidaire?  No more daily shopping, no more drudgery of carpet beating.  Now she can clean carpets all day to her heart's content.  How kind of daddy.

Stumped again about what to buy Aunty Irene?  The answer is staring you (quite literally) in the face.  Who doesn't want a cat telephone cosy from Selfridges in their life?  Aunty Irene need fret no more about her phone getting chilly during those winter months.

For seven-year-old Nicholas, a Tri-ang model motor car is just the thing.  But how to choose between the Rolls Royce, the Brooklands or the Chevrolet Regal?  Buy all three (they're just £15 15 shillings each) and you needn't feel so guilty about packing him off back to Harrow on Boxing Day.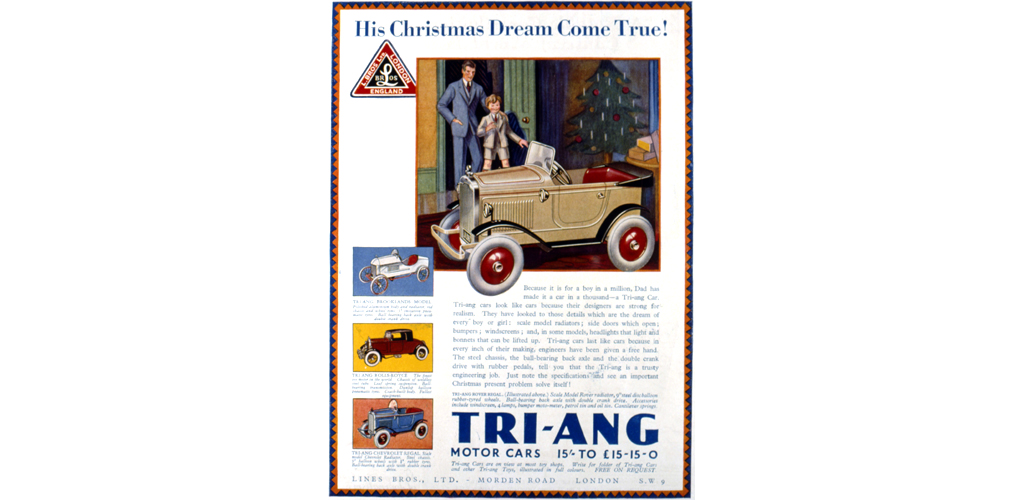 Ever since Grandpapa singed his moustache while using a toasting fork, the need to modernise has been apparent.  Treat him to this 1909 Elkington plate stand and lamp for making flame-free crumpets and toast at the breakfast table.

For that opinionated great-aunt you loathe.  Buy her a horrific dinner gong or match holder.  Do be mindful that these will be re-gifted back to you in her will when she pops her clogs.

Chain smoking Aunty Lil would love a new Ronson lighter.  And why not also buy her a Perfu-mist scent dispenser at the same time?  We can only hope she doesn't get the two muddled up after one too many gin and dubonnets.


For the newest member of the family, how about a winter bassinette or a wooden horse on wheels from the 1888 catalogue of Dunkley's of London and Birmingham?  Strictly no actual playing with them though; it'll seriously affect their valuation on Antiques Roadshow in 130 years' time.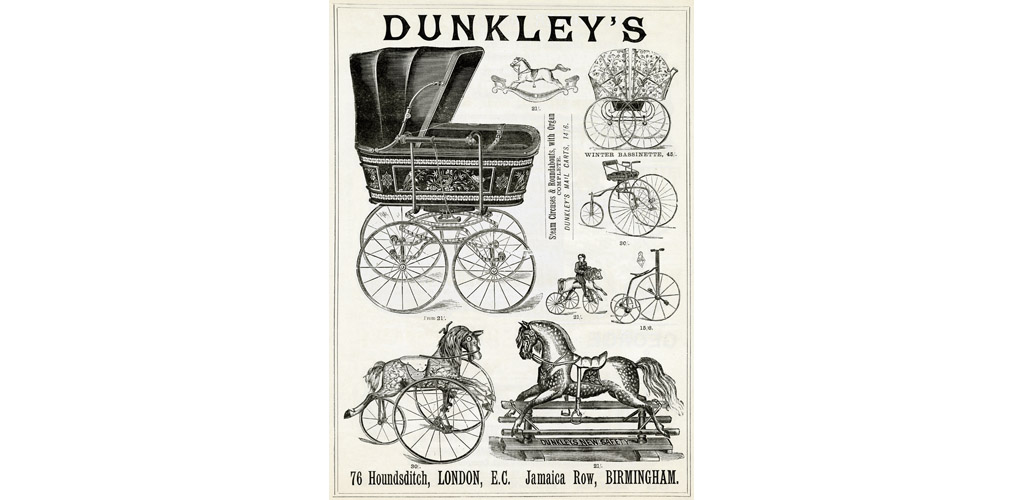 And finally, you know last year, when your sister bought you that Brian Connolly CD for Christmas and you vowed revenge?  Remember when you dreamed of finding a present that would give her nightmares at night?  Here you go.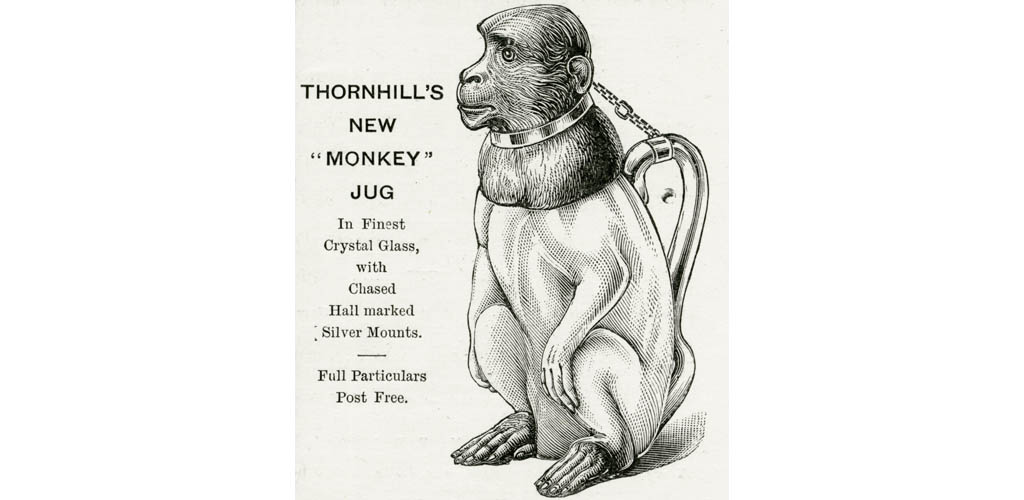 Pssst… for actual Christmas presents you can buy today featuring Mary Evans images, visit; Prints-Online.