Travelling in Style
by Martyn Pring July 17, 2019
This October sees the publication of a new illustrated book on luxury railway travel in Britain which features previously unpublished research material and rare archival images, many of them from the Illustrated London News collection housed here at Mary Evans. Luxury Railway Travel: A Social and Business History by Martyn Pring (Pen & Sword Transport, October 2019) chronicles the products and services shaped by railway companies and hospitality businesses for Britain's burgeoning upper- and middle-classes in the interwar years. For our latest blog, Martyn explores the connections between women's fashion and first-class travel.
At the 19th century's tail end, a marketplace for men's and women's fashion accessories evolved; for designers it was not just an opportunity to create new attire but the notion of selling a 'complete look' made up of hats and footwear, jewellery, scarves, ties, gloves and bags. Throughout the Edwardian period, interest in fashion gained momentum as women from higher social classes found new freedoms. Not only were restaurants and hotels deemed suitable for groups of women, but a state of independence developed surrounding early forms of a retail or shopping culture.
High-quality suppliers and department stores sprung up around city centres; special malls and arcades of individual shops appeared in prosperous districts of London, Paris, Milan, New York and Chicago selling a variety of high-end products especially women's fashions. Couturier and dress maker, Lady Lucy Duff Gordon, a female entrepreneur, was typical of the period trend setters. A Titanic survivor, she pioneered sexy underwear having established her credentials during the mid-1890s running a Mayfair shop selling (at the time) breath-taking lingerie. Courtesy of her investor husband, Sir Cosmo, she ran shops in several international cities. This was all part of the Edwardian garden party; historian Professor Bernard Rieger noted first-class passengers were 'part of an expanding market for luxury goods and services that, together with high-class hotels, spas and exclusive retail outlets catered for a clientele of aristocrats, members of the European haute bourgeoisie, and American plutocrats.' (Bernhard Rieger (2005), Technology and the Culture of Modernity in Britain and Germany 1890-1945, Cambridge, Cambridge University Press.)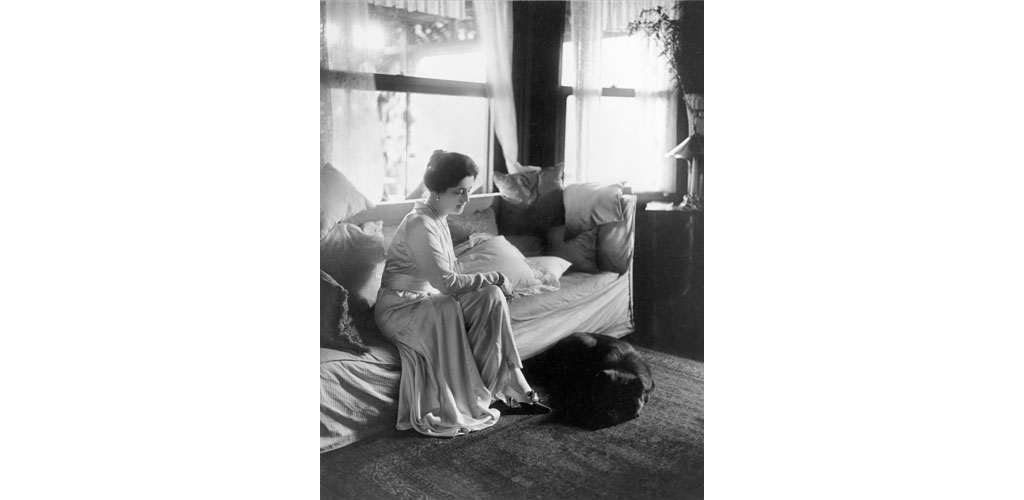 Hardly surprising the world of fashion increasingly occupied the minds of publishers who fine-tuned individual titles targeting particular groups of women. The idea of 'travelling in style' gained ground. What women wore mirrored the high-class environments of homes, hotels, ocean liners and the first-class train carriage, but for publishers, editorial and advertising appeared side by side with railway holiday arrangements and the special supplements celebrating London society's yearly sojourns to the Highlands for the grouse season and the mid-winter exodus to the French and Italian Rivera. The illustrated weekly titles were full of the latest fanciful frocks, advice on how to dress, the best possible dress for train travel, fashion tips and what to wear once madam had arrived at her intended destination.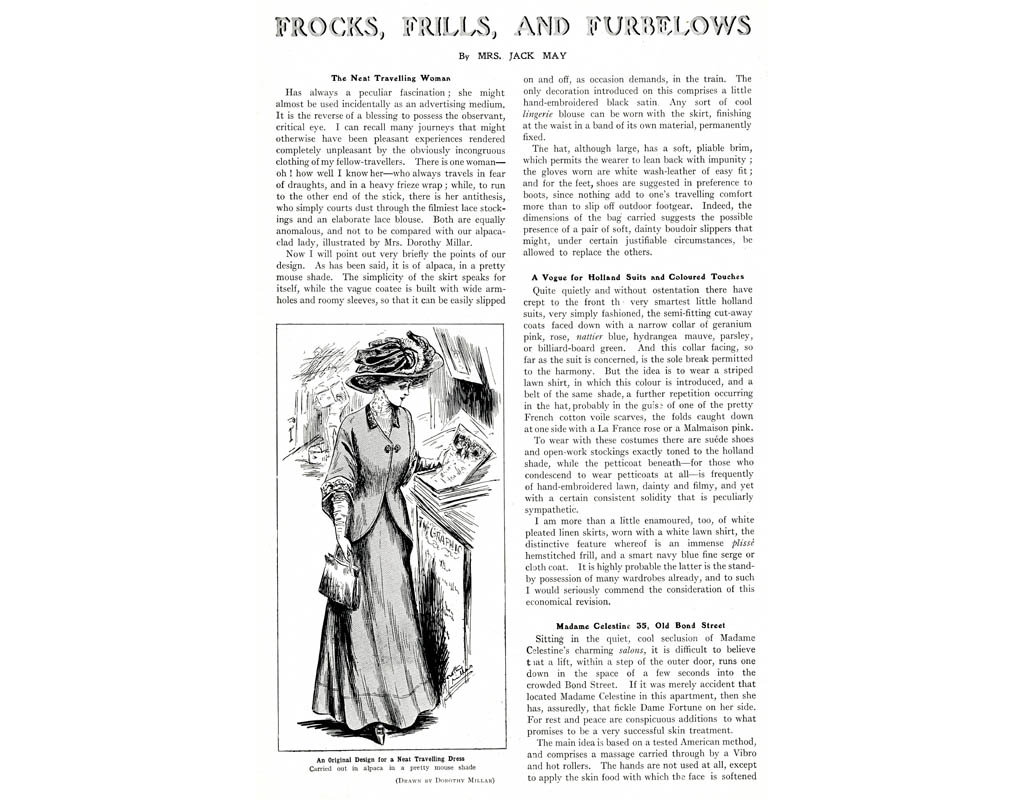 Planning for holiday breaks morphed into a veritable industry, as undeniably did the old-fashioned travelling trunk's replacement—the more modern suitcase reflecting the status of wealthy travellers. Trunks were once considered ideal since they could be stacked on top of each other in railway brake vans, but they outlived their use as they were heavy and cumbersome. By the end of the Victorian era, the suitcase acquired a luxury badge, and was considered as important as the designer outfits inside. For women, how they looked and arrived increasingly became benchmarks of civilized behaviour. The Great War put much on hold as country houses and estates were turned into convalescence homes. The McKenna duties of 1915 placed stinging duties on luxury product imports to fund the war effort. Likewise, the fashion industry took a back seat during troubled times.

Post-war, a new era was characterised by the dramatic lifting of ladies' hemlines, though the trend was in fact evident by the outbreak of the First World War. Fiona McDonald suggested the 1920s 'heralded in a shifting of attitude towards fashion that saw women being able to just about bare all and get away with it.' (Fiona McDonald (2012), Britain in the 1920s, Barnsley, Pen & Sword Books.) They were the decade's party face, but the main impact of changes for women (and men) was a trend towards looser fitting, more comfortable and casually styled clothes that made travelling so much easier. For ladies this meant an end to the squeezing and prudish fashions that had ruled Victorian and Edwardian lives.

In the inter-war years, long-distance train travel in Britain, Europe and America was de-rigueur, as up-to-the-minute new expresses were aided by railway company efforts to enhance passenger experiences with exciting ranges of on-board facilities. Travelling was considered a means to broaden minds and the opportunity to meet new people, providing the chance for railway operators to solidify a burgeoning luxury travel segment. By the end of the later 1920s fashion and luxury train travel were firmly embedded.
Women and their travelling experiences for the first time were put at the heart of much inter-linked marketing activity. LNER, a few years after its formation, ran a series of advertisements placing women on the centre stage of their promotion.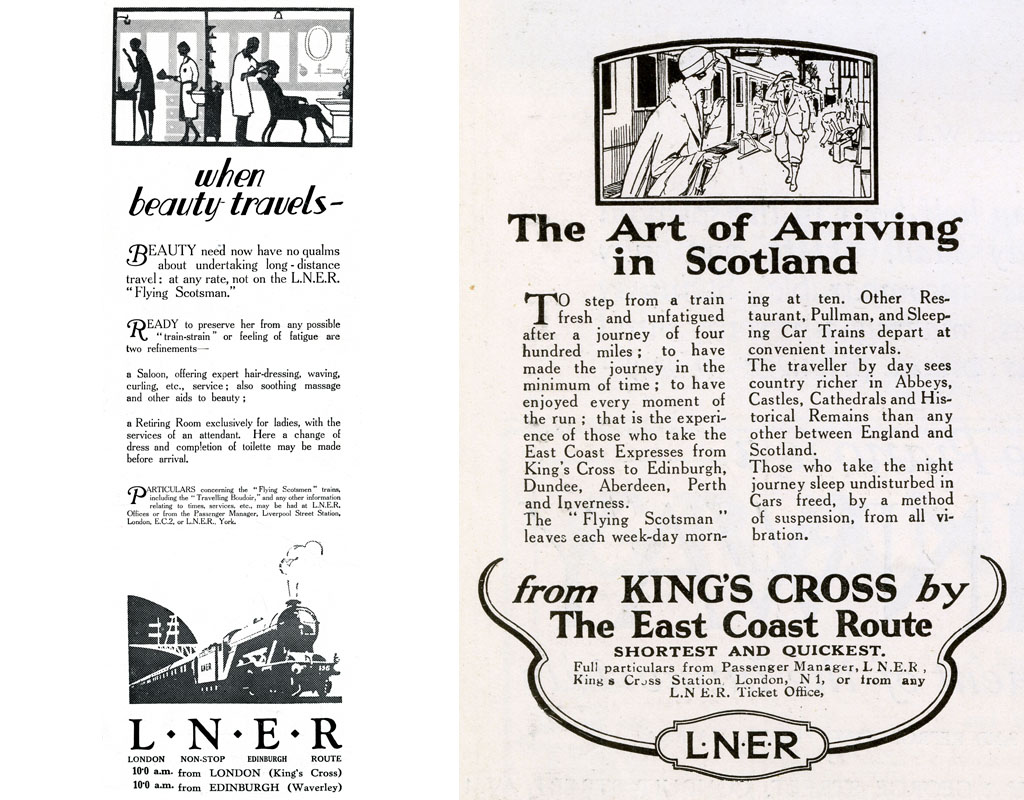 The company by the 1930s had introduced a raft of iconic travel posters featuring well-dressed women enjoying themselves at hotels owned by LNER as well as on their Anglo-Scottish expresses. Norman Hartnell in Spring 1930 launched a tweed outfit called the Flying Scotsman with matching tweed golf bag, hatbox and suitcase. In 1933 The Bystander ran a 12th August fashion feature for 'those lucky people who are about to board the Flying Scotsman on their way to moors and glens [who] would do well to visit the showrooms at Marshall and Snelgrove before they leave for the North.' Overseas travel mirrored changing fashion trends as cruising and partying created in today's terms 'celebrity destinations' where top fashion personalities such as Gabrielle 'Coco' Chanel famously made suntanning on the Riviera fashionable. Travelling and entertaining were features of upper middle-class life during the second half of the 1930s as glamorous trains, liners, and in time, aircraft played their part as essential film settings.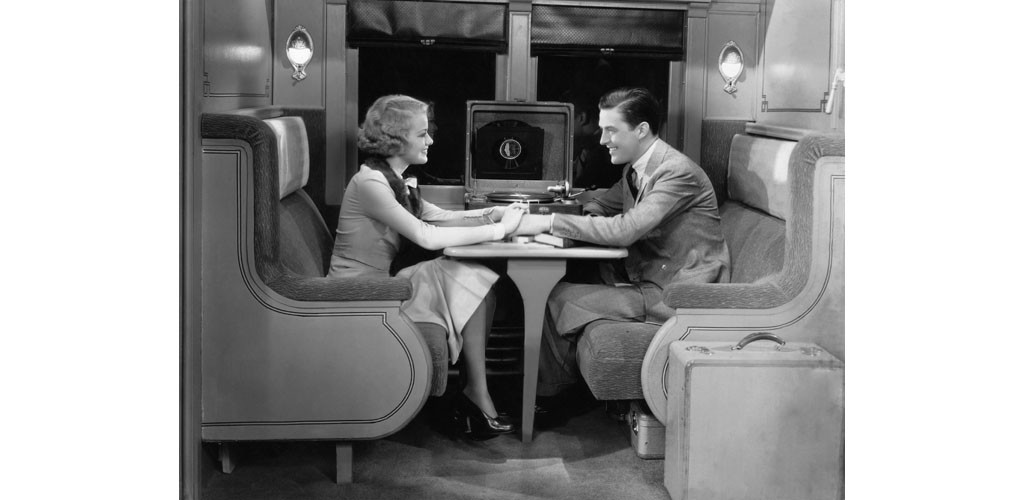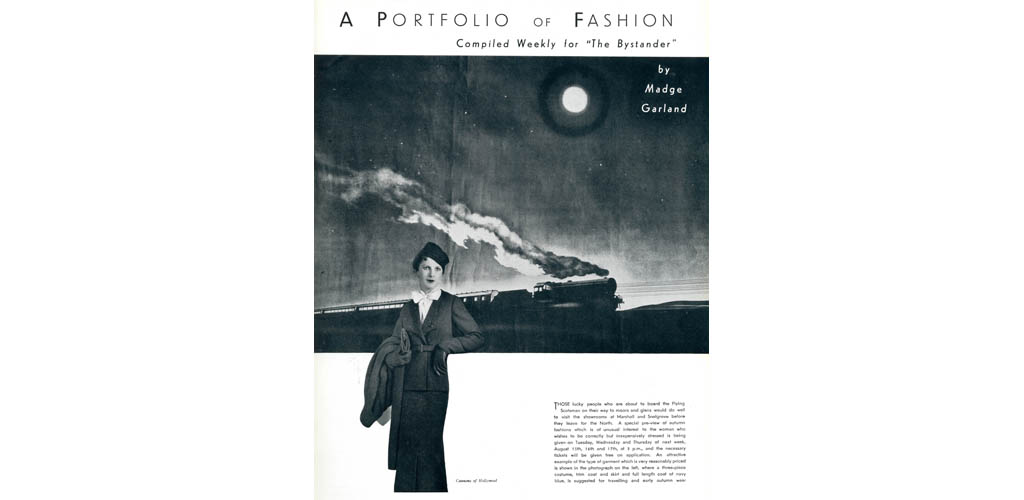 Cinema was the most potent image of the age as Hollywood and British film-makers satirised London life. Whilst society was seen to exploit media attention, it also worked the other way as by the end of the decade the media deployed its own agenda. As Dr Ross McKibbon advised 'the relationship between them and the wider audience for whom these glamorous rituals were intended was never stationary.' (Ross McKibbin, (2000), Classes and Cultures: England 1918-1951, Oxford, Oxford University Press.) Thus, a modern media celebrity industry was born driving a market for luxury consumer goods with vigorously protected brands for perfume, handbags, stockings and haute couture—fashion and luxury brands closely entwined.
Fashion impacted on other dimensions. Britain possessed a comfortable middle-class whose social horizons were similar to those of the upper-middle-classes but demonstrating growing occupational and residential mobility transforming society and the way one dressed. They bought property around Surrey's stockbroker-belt areas whilst Sussex and surrounding counties played host to many stylish architecturally designed houses with quick commuter access to the capital aboard Southern's new Electric Pullmans. Extensions beyond north London became home to John Betjeman's celebrated 'Metroland' living, maintaining standards in dress and diet as well as where people choose to live.
Little surprise inter-war trains, boats and planes and fashion played such a central role. Even by the early 1950s, the nationalised rail system was in on the act cultivating a 'travelling in style' fashion stage utilising its crack West Country expresses as a backcloth. A lot has happened in the intervening period, but most travel connoisseurs today would love to harken back to the days of civilised train travel for that long-awaited leisure trip. Not the onerous commuter jaunt, but a delightfully slow tempo (even if the modern train is speeding along at 100 mph plus), where the journey is the destination itself. Of course, the style of a train trip with those little luxuries has changed a little and would perhaps be characterised by mom jeans, esplanade sandals, a well-being book under one's arm, and a Burberry vintage check trunk in tow, not to forget the odd Instagram story!