Continental Travel: Luggage in Tow
by Martyn Pring August 28, 2020
A new well-illustrated book by Martyn Pring Boat Trains: The English Channel & Ocean Liner Specials explores how European travel in the railway era was conducted. The book uses much unpublished research material and rare archival images with many again taken from the Illustrated London News collection housed here at Mary Evans. Martyn's blog is a fascinating discussion of luxury travel where, increasingly from mid-Victorian times, looking good, the luggage you carried, and the fellow passengers you associated with were just as important as how you got there, courtesy of the various competing railway companies operating cross-channel steamer routes. Boat Trains is published this autumn by Pen & Sword.
Since the Victorian era, specialist boat trains were an everyday phenomenon. Though not timetabled, they served ocean-going steamers as well as more regular English Channel paddlers which in the early days were highly dependent on correct tidal conditions. But when railway companies were allowed to run their own steamer operations from the early 1860s, they quickly established themselves at the forefront of port and harbour expansion. Within a few years the introduction of fast, new turbine steamers particularly aided the development of Continental travel.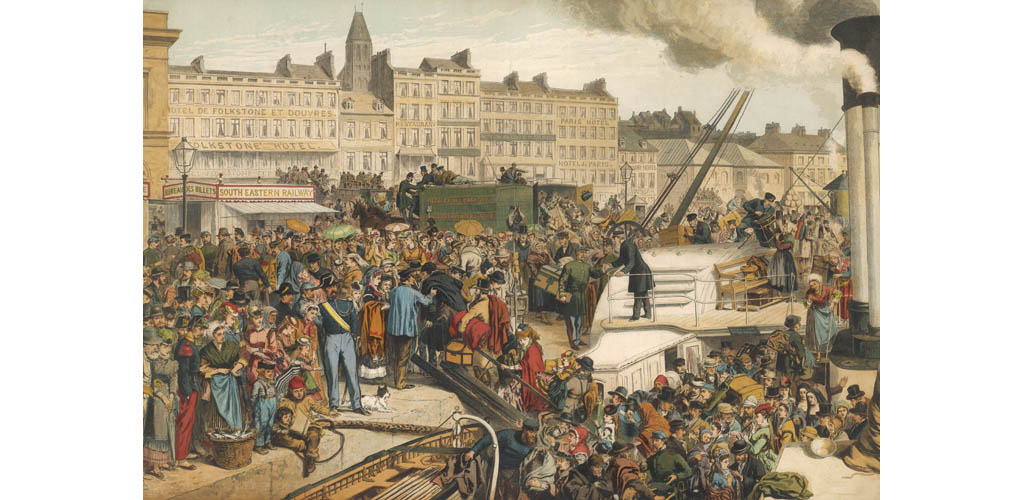 One set of travellers that did not worry too much about luggage was the day excursionist. With Europe a comparatively short hop away, a day-tripper market rapidly established itself. 'Trippers' as opposed to 'tourists' returned on steamers the same day; for travellers to be classified as tourists, they were required to spend at least one night away. Nevertheless, fast boat trains to Channel ports from both London and Paris delivered a burgeoning trade either way. And with this progress, fashionable resorts flourished in Belgium, France and the Channel Islands. More importantly, however, cross-channel traffic delivered a steady stream of prosperous Victorians with time on their hands and an eagerness to explore what the Continent had to offer. Apart from Paris, the captivating routes south to the Riviera and Italy summoned the affluent traveller.

European travel was progressively less irksome. But British visitors crossing the English Channel in mid-century were faced with a shock as French officials forced them to hand over luggage for examination. A 'baggage master' travelled with each train. Before railway journeys, luggage articles­­­­—the trunk or portmanteau—were handed over at an office from where the traveller was about to commence their journey with the intended destination clearly named. The baggage master strapped a brass disc to each piece, about the size of a penny-piece with a number engraved on it, handing to the owner of the articles corresponding discs, thus providing the passenger with complete confidence. The Railway Traveller's Handy Book of Hints, Suggestions and Advice of 1862 advised readers the process should be left to the hands of a servant! Despite railway company initiatives, luggage still occasionally disappeared.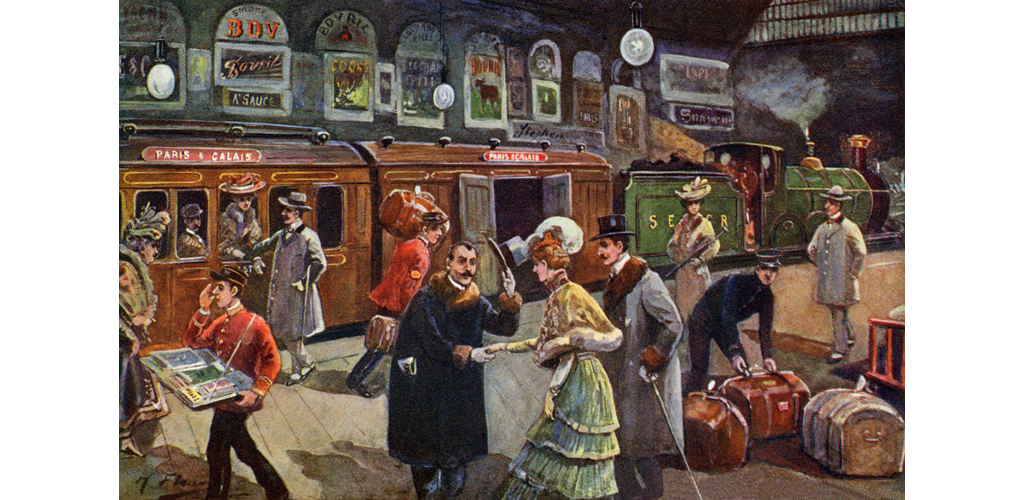 The Times during the summer season of 1872 reported on several incidents of luggage robbery citing the case of a family leaving Dawlish for Boulogne, travelling as far as Dover, over three different railway lines. On arriving at Boulogne, the keys of the boxes were handed over to a well-known and trustworthy commissionaire, when it was discovered the locks had been broken open and the cases ransacked; jewellery, silk dresses, and other articles had been stolen. The owner applied to the railway companies for compensation, all denied that the robbery could have been effected while the boxes were in transit on their respective lines. In a second case a robbed traveller gave his experiences of Germany, Belgium, and France. He advised travellers to examine their boxes before the commencement and end of every journey, and under no excuse permit their luggage to be left downstairs at hotels!
Leading French railway companies such as Compagnie des Chemins de Fer du Nord (Nord), who serviced the French side of the Dover Straights, and Chemins de fer de Paris à Lyon et à la Méditerranée (PLM) were mindful of the needs of prosperous customers. PLM and their Wagon-Lits partners were one of the first railway organisations to eradicate the process of examining luggage. Transfer to the train wending its way to the Azur coast became a little less arduous.

From June 1895 new developments involved the registering of railway luggage on the Continent based on the American system of registering and forwarding travellers' luggage so as not to encumber passengers with luggage on journeys. But it was not to everyone's taste as The Sphere rather tongue-in-cheek reminded readers:
'It is sheer nonsense to talk of the advantages that attach to the American "check" system, whereby a traveller is permitted to pay two or three shillings for the privilege of having his portmanteau "expressed" to his hotel, where it arrives too late to make dressing for dinner possible. Give me the good old British haphazard method, which allows a man to seize the nearest or newest Gladstone bag from the luggage van and bear it away in a taxi without suffering delay or incurring suspicion.' (1)
One regular British visitor who did not have problems of managing personal luggage was the Prince of Wales, later King Edward VII. In late Victorian times he could be seen regularly in France as his entourage could rely on the Prince's own railway carriage permanently parked up in Calais and available for travel at a moment's notice. By special instruction this could be attached to trains heading to Paris, Biarritz or the French Riviera. One firm, Allen's Portmanteaus, of 37 West Strand, London were one such organisation that carried a royal seal providing quality luggage fit for the well-heeled independent traveller. Whilst not exactly the shape of the modern suitcase, the company offered travellers sleeker portmanteaus constructed to a similar shape that could be placed under boat train seats or steamer berths and ideal for short trips. For travellers with an inherent dislike of water, one enterprising Liverpool steward came up with a portmanteau that was carried as a bag normally but could be transformed into a lifebelt in two minutes. The device even had secure compartments for wallets and other important personal possessions. In the normal course of events luggage restrictions had little impact on the combined rail and sea travel experience.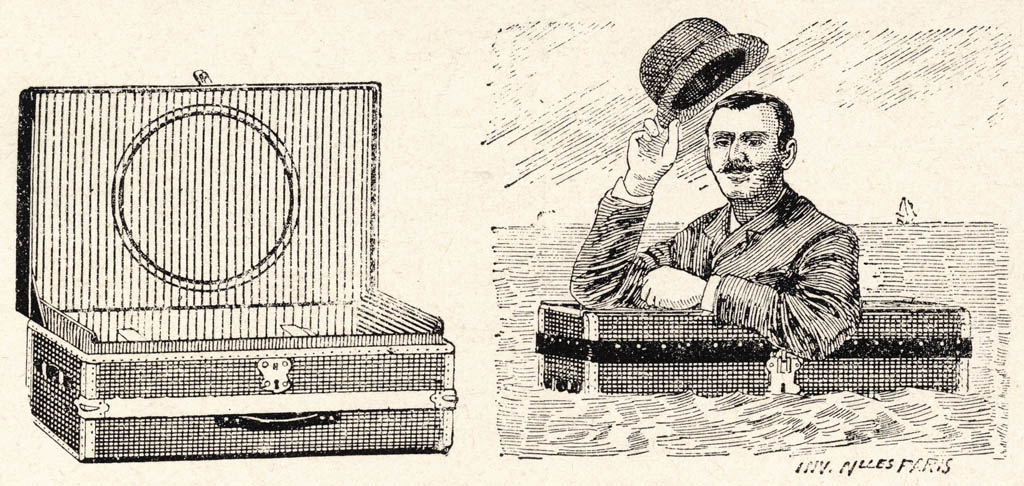 At the turn of the 20th century thousands of Americans crossed the Atlantic in the direction of the Old World. Philip Unwin writing in his 1979 book Travelling by Train in the Edwardian Age, (London, George Allen & Unwin) noted 'Nothing was too good for the richest visitors to England.' The London & North Western Railway Liverpool Riverside American Special boat train which surpassed all others in the luxury specification of the special stock, carried two luggage vans, 'essential to convey the huge wardrobe trunks without which no well-dressed lady could cross the Atlantic then.' (2) Paris was invariably included on the itinerary and practical solutions were always sought for the lady about-town seeking to make suitable Continental impressions.
By late Edwardian times smaller portmanteaus or suitcases—the word had started to creep into the lexicon—were designed specifically to cater for women's needs. The Sketch magazine considered 'The Gentle Art of Packing':
'We have grown infinitely civilised in our manner of carrying about our belongings. In the fearless old days people used to throw their clothes into a portmanteau and jump on them, or, at least, force far too many things into one receptacle than it could hold, so that frocks and skirts emerged crumpled, creased, and woebegone, and accounted largely for the strange appearance of the Victorian Briton in foreign parts. Then, again, they never took enough hats, and were apt to arrive at Boulogne on their return looking excessively odd about the head. But now we revel in all kinds of luggage, from the upright wardrobe in which the American girl hangs her dresses on a hook, to the neat suit-case or the narrow tin box, for all the world like a magnified sandwich-case, which is to hold our all on the motor-tour. Indeed, so convenient are all our travelling impediments nowadays that good temper, suave gestures, and much tissue-paper are now all that are necessary for us to look as neat as the proverbial pin, even on a rush across Europe.' (3)
The Graphic even suggested 'a professor of packing' should be appointed whereby students undertook a curriculum that embraced proper packing from the smallest handbag to the largest portmanteau!
The South Eastern & Chatham Railway introduced a four carriage Continental Pullman boat train on the Dover-Calais route in 1910. Paris and Riviera bound travellers and their accompanying luggage were looked after with a certain degree of panache. After the Great War, first-class travel slowly recovered and by the early-1920s boarding London-Paris premier Pullman services, newly commissioned cross-channel ferries, and staying at Europe's leading hotels became deep-rooted conversations especially amongst England's chattering-classes. And little surprise there should be innovations and developments to aid the travel process. Practical and lighter-weight wardrobe-trunks became de rigueur with some reduced in size to fit easily in car boots, attached to the rear of a sports car or simply placed more easily on luggage racks in railway carriage compartments. As The Sphere noted 'Fashion and the motor car…have reduced the luggage of both sexes to a minimum.' (4) By this time there was an undoubted fusion between ladies' luggage and fashion. Where ladies' handbags ended and the specially designed travelling carrying bag started, occupied important news by the mid-1920s Riviera Seasons. The illustrated weekly titles were now increasingly supported by the inclusion of fashion photography. With these developments the proverbial hatbox was no longer the important item that it had once been in Victorian times.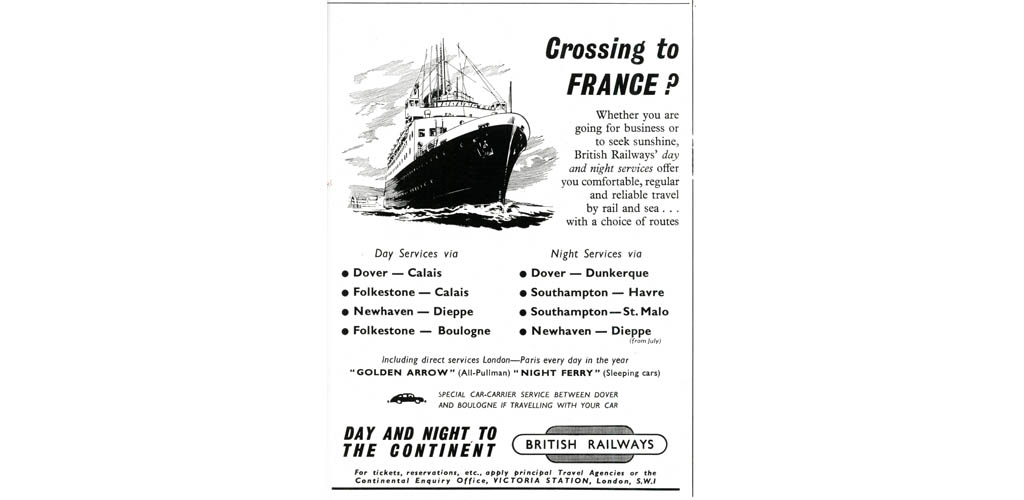 Such travelling accoutrements symbolised holiday escapes, winter warmth and escaping the predictability of Britain's everyday life. The Blue Train/Le Train Blue and the Golden Arrow/Flèche d'Or and Night Ferry/Ferry du Nuit boat trains summoned distinct images of glamorous travel. Hardly surprisingly pictures of luggage (their labels marked for the Promenade des Anglais) and their owners were added to highly refined travel promotion; the journey became an inspirational element of the total travel experience. Posters showing period travellers wrapped around their stylish luggage became familiar icons to British, Continental and American travellers, and indeed the general population who could only dream of such possibilities.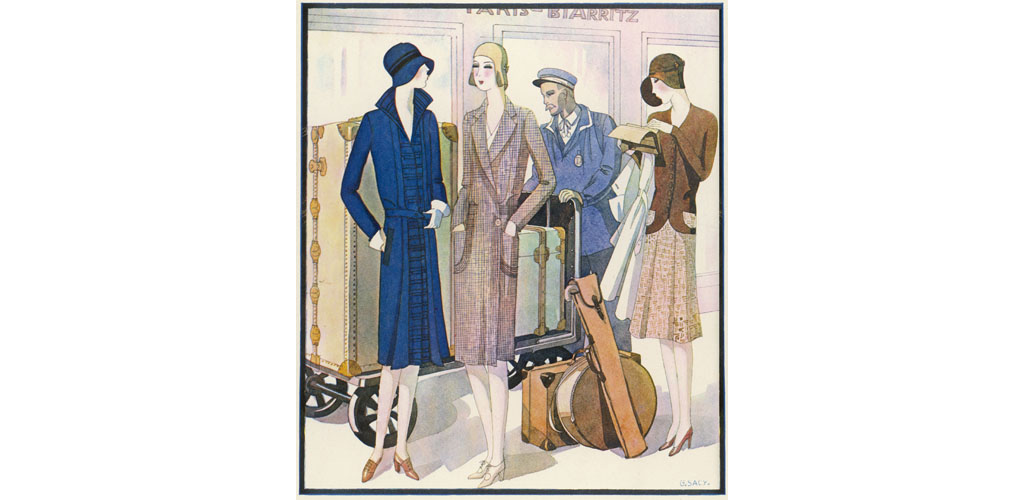 The Sphere, 7 March 1914 p.26
Unwin, p.93/94
The Sketch, 27 July 1910 p.29
The Sphere, 27 July 1935 p.156