Handsome Chaps from History – A Valentines Top 10
by Luci Gosling February 10, 2016
Valentine's Day is this Sunday and with love in the air, and romance on the breeze, how could we not dedicate our latest blog post to the enduring theme of 'amour'? To be perfectly honest, perhaps the theme is more lust than love. Let me explain. Over the last year, TV viewers have been treated to a feast of lavish historical drama, with, for some of us, characters who remain indelibly stamped into our consciousness forever more. Damien Lewis gave us a simmering alpha male Henry VIII in 'Wolf Hall', fans of the epic 'War & Peace' may have fallen for the proud and troubled Andrei (though personally, I rather preferred the sexy swashbuckling arrogance of Dolokhov), and need we say any more about Poldark's scythe or Philip Lombard's towel in 'And Then There Were None'?
Inspired by such a parade of historical and fictional romantic leads, we thought it would be fun to share with you a top ten of handsome chaps from history, illustrated, of course, with images from our archive. Here's our rundown of who we'd like to share an intimate Valentine's dinner with. And before we're accused of sexism, we plan a similar list of ladies the minute we find an excuse!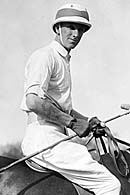 10. Captain Leslie St. Clair Cheape Cheape (1882-1916). We always promise the obscure as well as the well-known at Mary Evans, and Leslie Cheape may not be a familiar name but in his day was hailed, 'England's greatest polo player' – playing for England in the Westchester Cup three times in 1911, 1913 and 1914. He was pivotal in bringing the cup home in 1914 despite a ball breaking his nose during practice just a couple of days earlier (what a hero). Seated here on his polo pony, with, thrillingly, the hint of a tattoo on his muscular forearm, he's the very essence of the upper class sportsman, many of whom lost their lives during the Great War. Unfortunately Leslie was one of them. He was killed on 23 April 1916 while commanding a squadron of the Worcestershire Yeomanry in Egypt.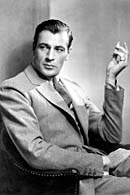 9. Gary Cooper (1901-1961) There are so many movie stars from Hollywood's Golden Age to choose from but Gary Cooper made the top ten because lurking behind those chiselled good looks, is the sense of masculine potency and seductive promise. Talullah Bankhead said there was only one reason she accepted a role alongside Cooper in the 1932 film, The Devil and the Deep, but you'll have to look it up as it's unprintable here.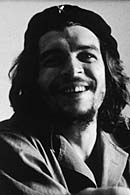 8. Ernesto 'Che' Guevara (1928-1967) As Cuban revolutionaries go, Che had his fair share of good looks, and excellent facial hair to boot. Surely not everyone who wore a T-shirt with his face on it did so purely out of political empathy?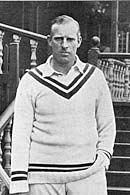 7.
Anthony Wilding
New Zealand tennis player Tony Wilding reputedly caused lady spectators at Wimbledon to faint when he made an appearance and it's easy to see why. Tall, blond, a dedicated athlete and with matinee idol looks, he won Wimbledon four times between 1910 and 1913. He was also romantically linked with the actress Maxine Elliott, his elder by some fifteen years. Contemporary accounts testify to him being a proper gent and thoroughly nice chap – an ideal Valentine's dinner companion. He was killed during the Battle of Aubers Ridge in 1915.  Read more about him on our WWI blog
here
.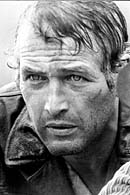 6. Paul Newman Undeniably, dazzlingly, perfectly handsome, Newman once joked, "I picture my epitaph: 'Here lies Paul Newman, who died a failure because his eyes turned brown.'"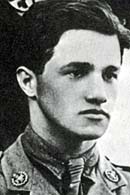 5. British WWI flying ace  Captain Albert Ball (1896 – 1917) was our highest scoring fighter pilot during the conflict. Combining heroics with aerial wizardry and devastating boyish good looks, Albert was something of a pin-up but, like so many heroes of the skies, died tragically young, just before his 21st birthday. Special mention must also go to Manfred von Richthofen (1892-1918) whose cheekbones were as finely honed as his cockpit skills. May we recommend Michael Fassbender for any forthcoming biopic?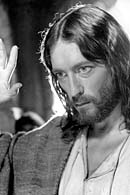 4. Robert Powell as Jesus of Nazareth (7–2 BC to AD 30–33). We should point out that Mr Powell remains hale and hearty but his portrayal of Jesus in Franco Zeffirelli's 1977 film saw him give a mesmerising and swoonsome performance as the son of the Lord. Those rippling locks, those piercing eyes…it's enough to convince the most ardent atheist to attend a Last Supper.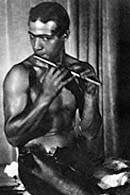 3. Rudolph Valentino (1895-1926). If anyone has any doubt over why the greatest movie idol of the early C20th attracted such global adulation, then this photograph of him in the character of the faun for a proposed film version of the erotic ballet, L'Apres Midi d'un Faun, might prove to be that moment of revelation. Valentino's sensual on-screen seductions were enough to make millions of women fall under his spell. Here, with oiled limbs and smouldering gaze as the priapic faun, the world may have quite simply imploded with unsuppressed lust had this film ever made it into cinemas. If the Internet had existed nine decades ago, Valentino would definitely have broken it.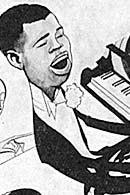 2. Leslie Hutchinson (1900-1969). Better known simply as Hutch, clubland crooner and serial womaniser Leslie Hutchinson numbered Edwina Mountbatten, Tallulah Bankhead (and Ivor Novello!) among his many conquests. Suave, sophisticated and a talented tickler of the ivories, Hutch was not only the biggest cabaret stars of the 1930s, he was also rumoured to possess a member of legendary proportions (Sir John Mills once witnessed him in the shower in a men's changing room and confirmed the rumours by simply commenting "What a man,"). Locker room secrets aside, being serenaded by Hutch might just have been the perfect Valentines treat.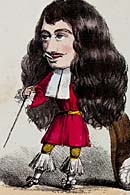 1. King Charles II Claiming the top spot is the Merry Monarch himself, whose lust for life and bawdy bedroom antics marks him out as the king to have a fling with. Swarthy and sensual, he famously stood six feet two inches tall, an impressive height in the C17th. Lavishing apartments, jewels and other gifts and money on his succession of demanding mistresses while the kingdom went to pot, John Evelyn commented that the libidinous Charles would have made a good ruler, "if he had been less addicted to women". More interested in fleshy delights than government business, the King might not have been the most dedicated ruler, but who wants sensible when it's Valentine's Day? Ruled by love, rather than duty, Charles II is our naughty but nice choice for a Valentine's dinner companion.