Going for Gold – Britain's sporting ambitions and the 1916 Berlin Olympics that never was
by Lucinda Gosling August 18, 2016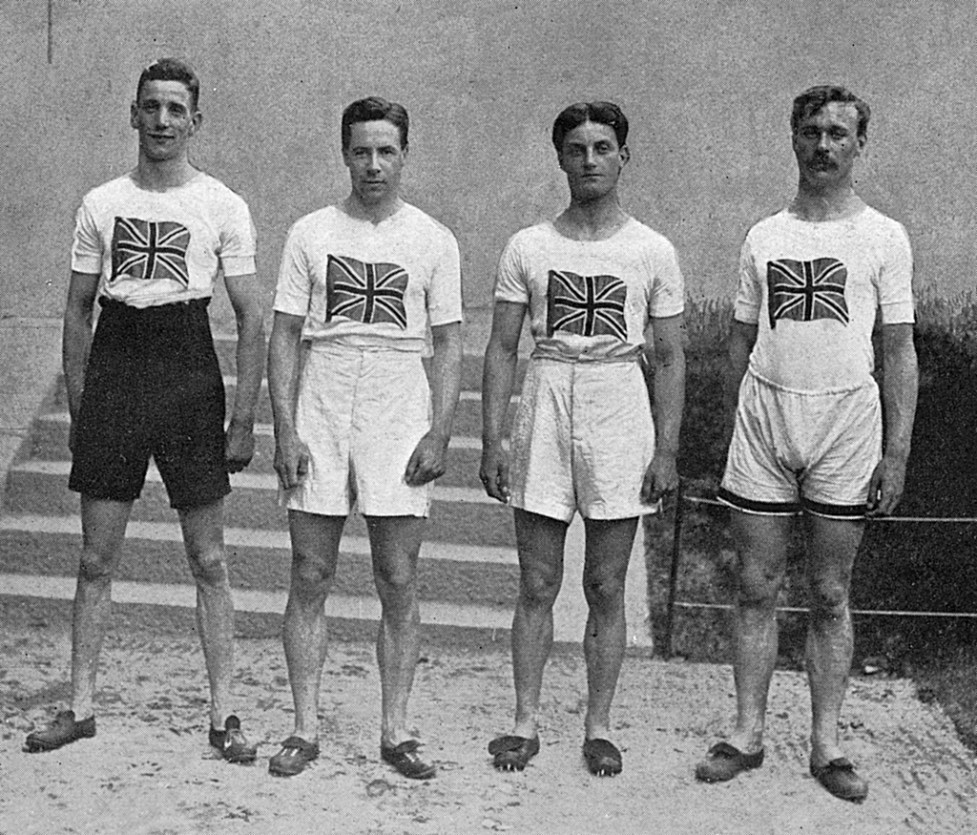 We are living through a gold rush.  At the time of writing, Team GB has scaled the Olympic Games medal table to reach the dizzy heights of second place.  We've dominated the rowing and cycling; there have been medals in track & field, equestrian events and sailing.  More have rolled in from gymnastics and diving – sports where we were once, if not the underdog, then barely a contender.  We can boast Goliaths of sport – Farah, Kenny, Trott, Murray, Ennis-Hill – sports men and women who are the ones to beat, not those who might be in with a chance.  For those who remember Atlanta (one lone gold – Redgrave and Pinsent in the men's coxless pairs), the Rio Olympics is watched from sofas around the country with a mix awe, nail-biting anticipation and a faint nervousness that we might wake up and find it is all a dream.  Whatever our final position, Britain's athletes have kindled a renewed sense of national pride.  But while nobody can deny their achievements, there is one factor that has enabled and then assured success – money.  After Atlanta, funding for elite sports increased ten-fold, a long-term investment that has paid off.  Talent has been nurtured and enhanced with the best that money can buy.  It has been estimated that each British medal win costs £5.5 million.  Funding is withdrawn from sports that fail to 'medal'.  Behind the scenes, it's a brutal business, but when a Brit wins gold, we are all reaping the feel-good rewards. Perhaps it's easier to feel the Olympic love when Team GB is excelling?
Away from the Olympics, the media are already declaring that 2016 is one of the worst years in recent times; terrorism, political instability, the displacement of millions of people fleeing war, all this and more have made our modern age seem much less safe than it was twenty years ago.  And yet this exhibition of human endeavour, the greatest sports show on earth, presents the world at its very best and, for one fortnight at least, gives us all a glimmer of hope.  Another year considered the worst of times was 1916.  A century ago, nobody gave much thought to the Olympic Games, which would in fact have been held that summer in Berlin.  Looking through our archive, there is some fascinating commentary on the Olympic phenomenon in The Bystander magazine.  Launched in 1903 as a sister paper to The Graphic, The Bystander was a society magazine featuring a mix of cartoons, political satire, society gossip, travel, transport – and sport.  In August 1914, just a fortnight after the outbreak of war, The Bystander was commenting on the irony of an Olympics held in Germany.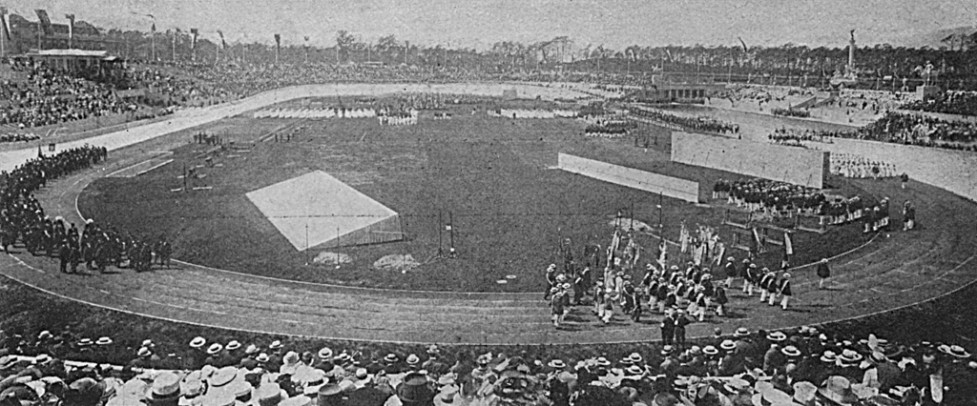 'In the light of what is happening now it is almost comical to reflect that not so many weeks ago preparations were on foot for the holding of the Olympic Games in Berlin.  I can picture the cynical smile with which those "in the know" in Germany must have watched these preparations.  It is quite conceivable that they were allowed to go on as part and parcel of a gigantic scheme of bluff.  We may even derive some comfort from the reflection that bad as the war is for everybody it will do sport at least one good turn by putting a stop – perhaps for good and all – to its chief bugbear.
The Bystander has always been a consistent scoffer at the Olympic Games, and in sticking to this attitude it has in reality voiced the opinion of the majority of British sportsmen.   The Olympic Games were going to do all sorts of things; in particular they were going, through the medium of sport, to bind the nations of the world together in indissoluble ties of friendship.  It looks like it doesn't it?  When the British Olympic council in its preliminary report on the Games at Stockholm lamented pathetically at thefailure of the general public of the United Kingdom to take the Olympic Games seriously, it was unconsciously paying a well-deserved tribute to the sagacity of the said general public.'
The general public, not being so blindly optimistic as the British Olympic Council saw that these games, so far from leading up to good fellowship, seemed peculiarly adapted for the production of bad blood and bickering even between countries possessing a common language and origin, and whose athletes are normally upon the best of terms with each other.'
The Bystander's unusually virulent opinion about the Olympics can be traced back to beyond the hostilities of 1914.  The Games of 1912, held in Stockholm, were a disaster for Britain.  After topping the medals table at the 1908 London Olympics, bagging three times as many medals as the runner-up, the USA, 1912 saw Britain drop to third.  It may sound like a good effort to us today, but USA and Sweden dwarfed Britain's medal tally.  The USA gained 25 golds to Britain's 10. While Britain's total medal haul was 41, Sweden won 65 and the USA won 64.  What followed was a sporting post-mortem in The Bystander more akin to the football punditry we see decipher England's failures after each international tournament today.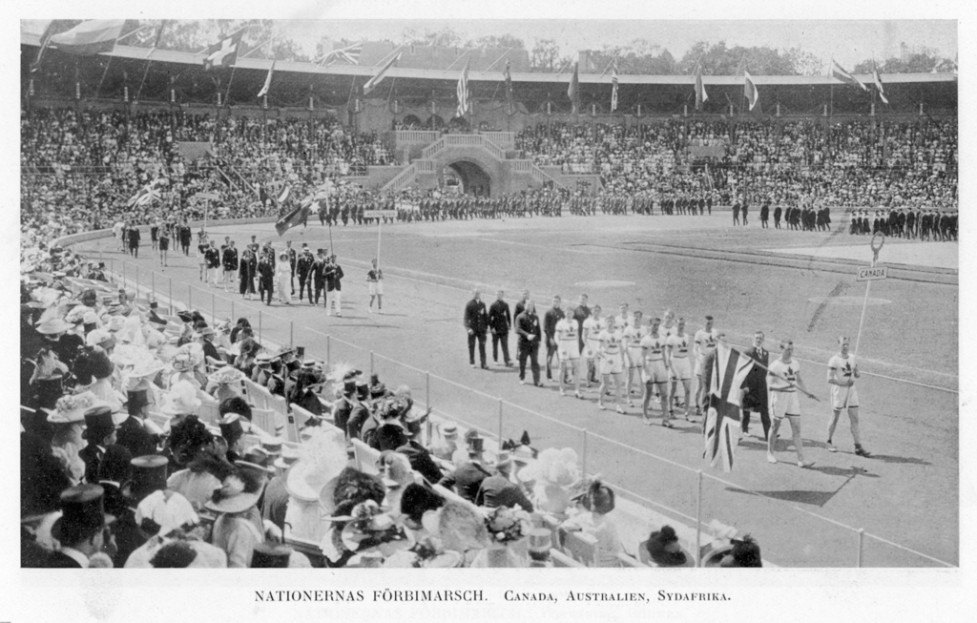 In its 12 February 1913 issue, F. A. M. Webster, Founder and Honorary Secretary of the Amateur Fields Event Association, picked apart the reasons in an article entitled, 'Why We Failed At Stockholm'.  The programme of events was a major issue with emphasis on field events and the deletion of cycling (an omission that would certainly affect our medal tally today).
"The real reasons why we do not excel in these particular sports," admitted Mr Webster, "are, firstly, because they are in most cases very difficult to learn, requiring a deal of practice and unlimited patience, and the young Englishman of to-day prefers sprinting, which is easy to learn; secondly, and, I think principally, because for years the sports-promoting bodies in this country have rigidly set their face against field events on the ground that they take up too much time and the public do not care to watch them."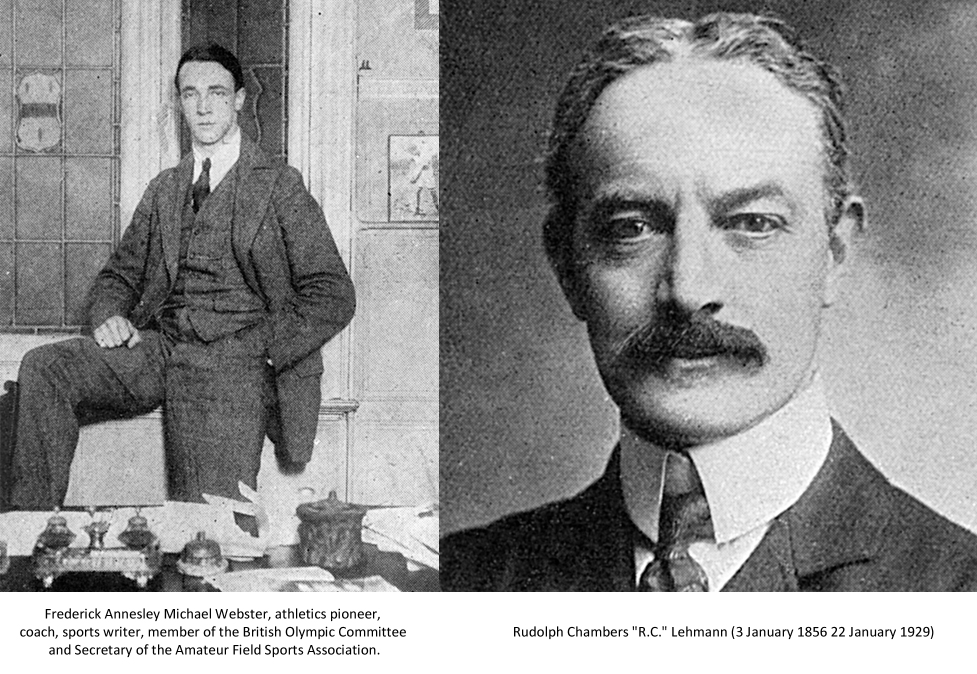 Frederick Annesley Michael Webster was in fact, one of the great pioneers of 20th century athletics, writing numerous books on sport, coaching, becoming director of studies at Loughborough School of Physical Training and tirelessly campaigning to have field sports given equal recognition.  His son, Dick Webster, would become a successful pole-vaulter who competed at the 1936 Berlin Olympics. Webster senior had a fight on his hands to encourage interest in field sports.  The response to Britain's poor performance at Stockholm had led many to suggest they withdraw from the Games completely – that competing but then losing was 'beneath our dignity.'  Britain's Olympian representatives had exposed a chink in their country's armour and that wouldn't do.  In 1912, Britain still had its Empire.  Its greatness was nurtured on the sports fields of its public schools.  For British sporting prowess to be exposed as so seriously lacking was, in the minds of many, an embarrassing reflection on the country's diminishing national virility.  It was probably too much to bear for some.  However, the reactions generated seem closer to those of a spoilt child.  The Bystander, following the conclusion of the Games wrote in August 1912:
"Thousands of English sportsmen will thank Mr R. C. Lehmann* heartily for his spirited suggestion that we should withdraw from future participation in the preposterous Olympic Games.  The attempt on the part of Sir A. Conan Doyle and others to make the Olympic Games the test of our sporting efficiency, and to impose the Olympic standard upon our athletes, will be resented as tyrannical. We want only one standard, and that is the British one, in which the thing to be done is not merely to win the game, but to play it like a gentleman.  If we cannot impose our standard on the rest of the world, then let the rest of the world make its own."
* Liberal M. P & secretary of the Amateur Rowing Association, who had written an article in the same magazine calling for withdrawal from the Games

Such spoilt, elitist thinking makes uncomfortable reading.  The Bystander, which rarely reined in its strident opinions, supported the unflinching assumption that Britain SHOULD win; that everyone else should play by British rules, and play sports that the British traditionally were good at.   Rather than playing 'like gentlemen' these forthright views serve only to expose some British enthusiasts as bad sports.   Thankfully, its views on the subject were often more light-hearted.  F. A. M. Webster himself was given towards a more balanced diplomacy:
"How can we possibly withdraw from these great international gatherings, following upon our disgraceful performances at Stockholm?  Moreover, is there not also a certain political significance attaching to the next Games at Berlin?  Surely the German people would look upon it as a direct affront if we held aloof from the Games for which they are making such strenuous preparations.  Also, it will not do for us to be beaten again as we were beaten last time, especially in Germany."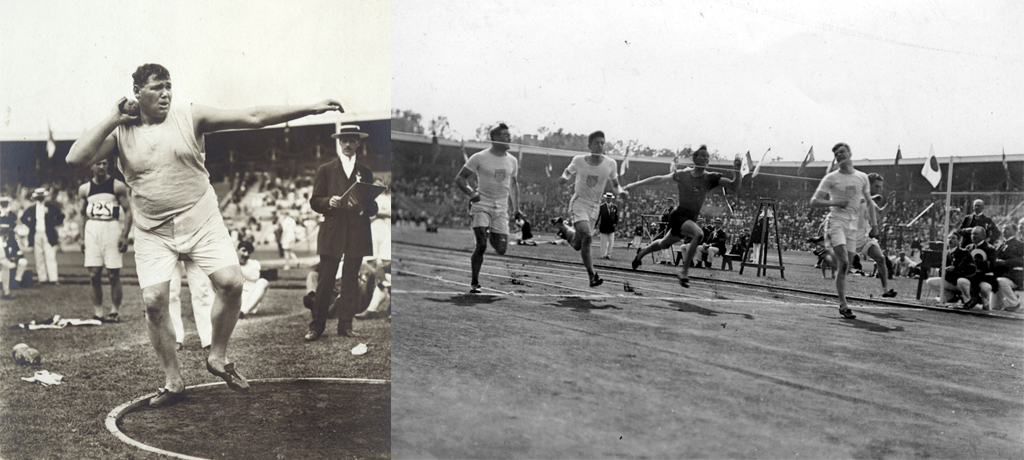 His concerns over the Games in Berlin were tied in tightly with the belief that Germany, along with the USA, was beginning to compete with and in some instances, overtake Britain on the world stage in manufacturing and trade.  The naval arms race that had been building between Britain and Germany in the years leading up to the First World War only made the restoration of national prestige via a display of renewed sporting vigour all the more essential.  Britain's closest sporting rivals were the USA, Sweden and Finland.  Germany, at the time didn't come close.  Here was an opportunity to trounce the opposition and prove national potency.  A special committee, including among others, staunch patriot Sir Arthur Conan Doyle, was formed to raise funds and steer a co-ordinated training programme for the next Olympic Games in Berlin.  Several aristocrats were roped in to add their voices in support including the hugely wealthy Duke of Westminster who was nominated as chief fundraiser. The notion of a team incorporating all countries in the British Empire was mooted but eventually dropped and an appeal for subscription to raise £100,000 to train a British team worthy of the Berlin Olympics was greeted with derision in some sections of the press.  The Bystander for instance, a champion of sports in which the 'gentleman amateur' took part, would have sneered at the idea of trying to buy victory.  Others viewed specialisation as the antithesis of British sportsmanship.  Being a good 'all-rounder' was a quality most admired.  But for many, the restoration of British sporting pride was more important.  The Telegraph wrote, 'it is an affair of honour for this country,' adding of the 'deplorable effect' failure would have.  Nevertheless, the British public failed to support the appeal.  By September 11th 1913, only £7000 of the £100,000 target had been raised.  Today it is difficult to understand such apathy, especially when we know how essential Lottery funding and government grants have been in enabling British athletes to devote their time to training.  But it is worth remembering that Britain's own sporting calendar in the years leading up to the First World War included fixtures such as Wimbledon, rowing at Henley and cricket at Lord's which were far more deeply entrenched in the British psyche than the Olympic Games.  The latter was regarded by many as a new-fangled gimmick dreamt up by a Frenchman (albeit based on the games of ancient Greece).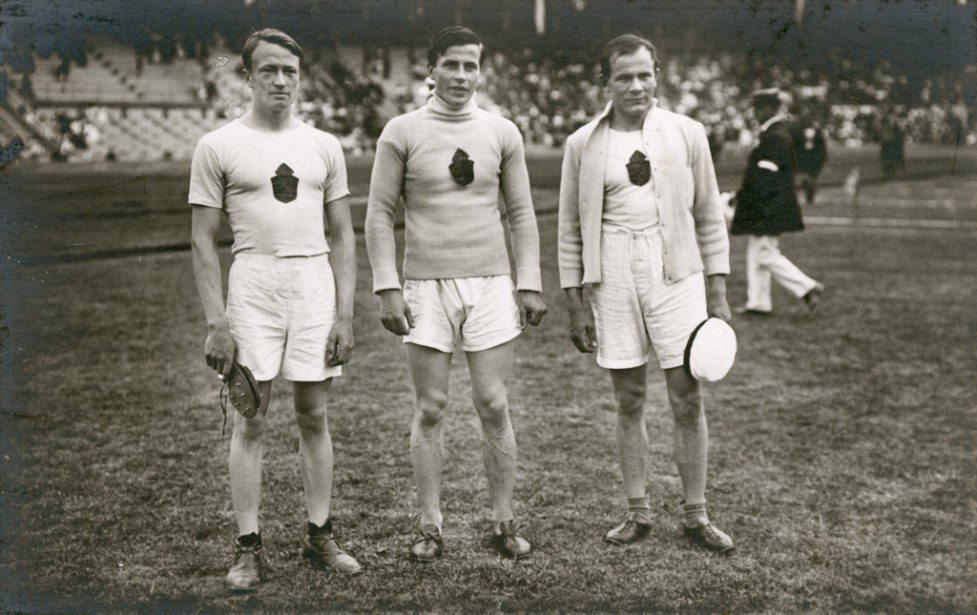 Of the fund's failure, The Bystander wrote in its best 'told you so' tone in September 1913:
'Heartiest congratulations to the British public on their latest use of the gift of Apathy.  Never has it been shown in a better cause than in the contemptuous refusal to subscribe the hundred thousand demanded – rather inconsiderately, if I may say so – by the Duke of Westminster and others for the Olympic Games.  The habit of rushing into the Press for public money had previously aroused protest in a number of quarters, even when, as in the case of Capt. Scott, there was public interest in the background.  In the case of the Olympic Games, there is not only no interest, but there is general sentiment against.  If the national athletes are not fitted, of their own accord, to make a proper show in Berlin or anywhere else, then let us lose the pots and be done with it, or withdraw like gentlemen.  There may be a case for the subscription of public money to the general cause of promoting an athletic renaissance, but such a proceeding will take a very much longer time than lies between us and the next Games.  Any success "bought" at Berlin by mere money will morally not be worth the paper on which the cheques have been written.'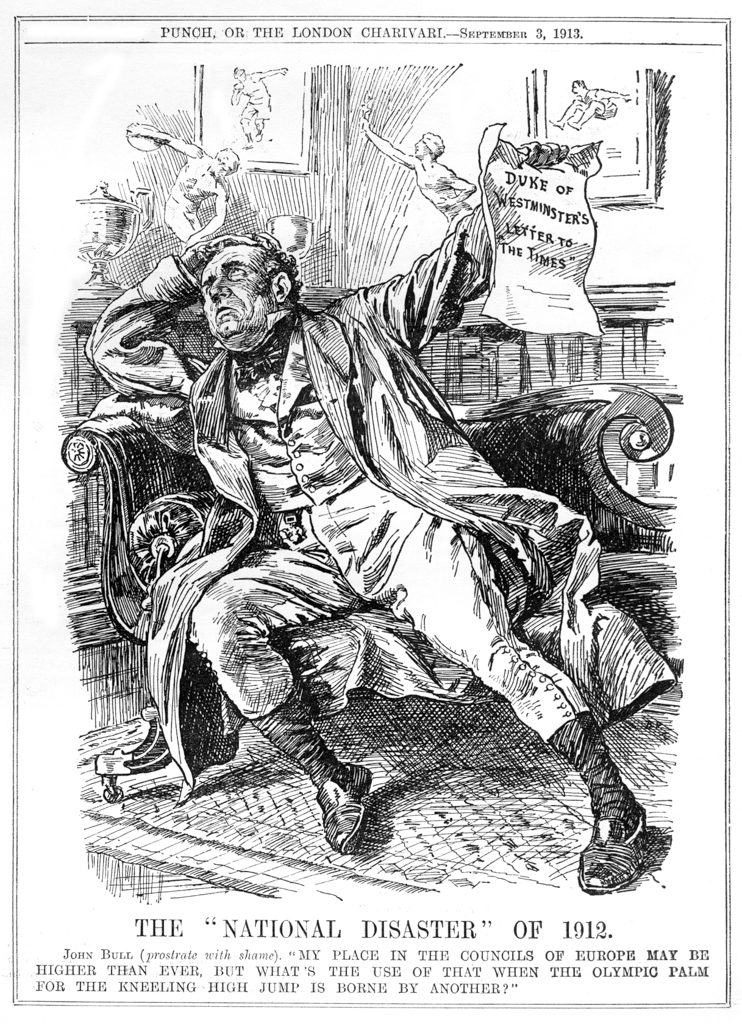 The idea of paying to win seemed to particularly irritate.  What would they have made of today's shameless injection of cash into British sport?  But the irony that most sportsmen in Britain a century ago were those who had the financial means and leisure to spend time participating was lost on The Bystander which went on to claim ardently:  'The whole idea is not only wrong-headed, but sweepingly pernicious, and one to be fought tooth and nail by those who have any desire or hope of keeping English sport clean and undefiled.'
By January 1914, the Special Committee, having singularly failed in their fundraising, was disbanded.  And by July that year, with the heightening crisis in Europe, it was becoming increasingly uncertain that there would be an Olympic Games in Berlin at all.  Instead of proving their abilities on the sports field in Berlin in 1916, thousands of British (and German) sportsmen found themselves playing the so-called 'Greater Game'on the battlefield.  The fierce debates and efforts towards Olympic reform were rendered pointless and proving national superiority through sporting prowess had quickly become an inconsequential notion.  There were bigger battles to win.