Cream of the Crop – the Pond's Society Girls
by Lucinda Gosling September 7, 2016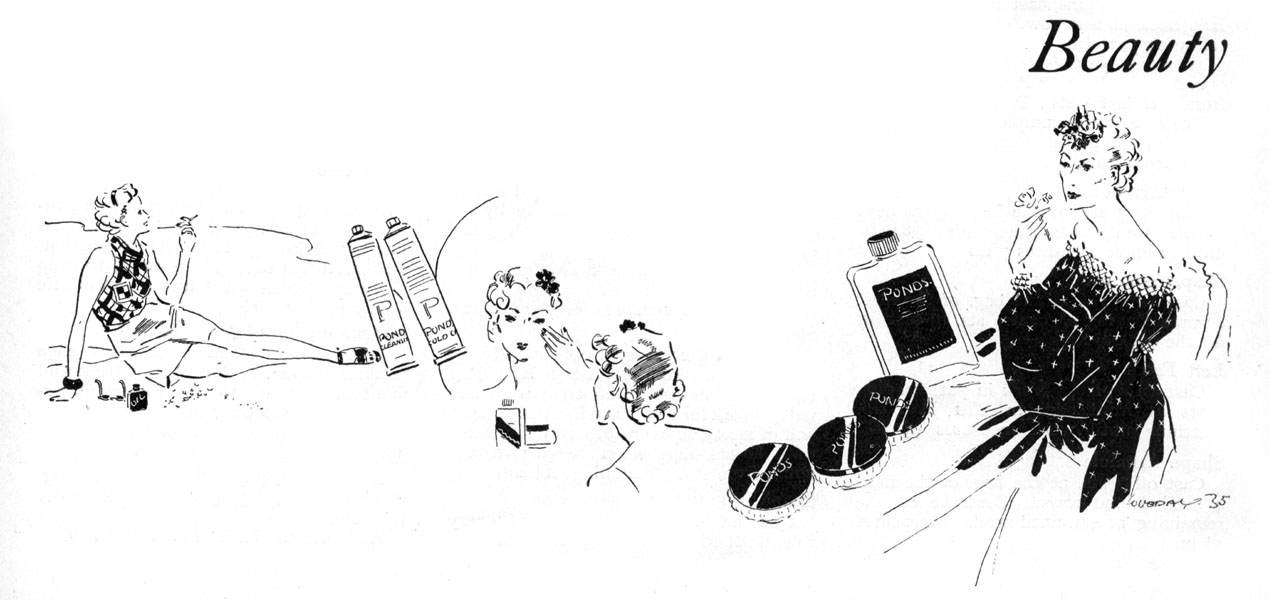 Buy a glossy magazine today and you'll be guaranteed to find at least a third of its pages are given over to advertisements.  But this is nothing new.  Advertising have kept the wheels of magazine publishing turning for over 150 years.  Some titles in the ILN archive, particularly The Tatler, are bulging with hundreds of ads in every issue, and in many cases, they're just as fascinating as the features and photographs in the main body of the magazine, offering an acute, in-the-moment snapshot of readers' interests and aspirations.  Many of the most successful brands are still going, testament in part to their canny marketing campaigns through the years.
 One of the beauty brands with remarkable longevity is Pond's Cold Cream, the origins of which stretch back to the mid-19th century when an American pharmacist, Theron T. Pond developed Pond's Extract, containing witch hazel, which claimed to act as a panacea against all manner of ailments from haemmorhoids to painful feet.  By 1904, the company had created a beauty product, Pond's Cold Cream, designed to cleanse the skin, and an accompanying Vanishing Cream to soften and ward against the dire effects of cold or hot weather in equal measure.  It was a two-step skincare regime that formed a blueprint for skincare systems developed by countless cosmetics companies since.   The company would also introduce a 'freshener' (toner), vitamin cream and powder to complement their flagship lotions.
Pond's face creams enjoyed a steady success until the 1920s when increased competition from expensive brands launched by Helena Rubinstein and Elizabeth Arden caused Pond's to re-think its low-key advertising campaign. The solution was to embark on a testimonials campaign that was to rally (with, presumably, substantial cash incentives) the support of firstly stage actresses, and then well-known, wealthy socialite beauties of the 1930s.  If economical, fuss-free and effective Pond's was good enough for the blue blooded ladies of the land it was good enough for anyone.  As a marketing premise it was remarkably effective but did not come cheap; Pond's regularly spent three times as much as Elizabeth Arden on its annual advertising.
Every week during the 1930s The Tatler carried an advertisement for Pond's, with most of the personalities endorsing the creams already familiar faces in the magazine's society pages.  We hold alternative portrait images of many of these women at the library, if not from the ILN archive, then through the pictures taken by society photographer Madame Yevonde whose archive we represent.
The accompanying copy is flattering to the point of obsequiousness.  Each lady, countess or duchess is lauded for her sportiness, busy lifestyle, her jet setting or exquisite beauty.  Their personal anecdotes are laughably old-fashioned as they witter about how Pond's helped to fix ruddy cheeks after exertion on wind-swept hockey pitches, or helped them achieve a vision of loveliness for their first debutante ball.
The Duchess of Leinster (the Duke's second of four wives), American socialite Agnes Rafaelle, recounted her girlish worries about her first Yale University Ball:
"If you knew how much American girls long to go to Yale University Dances – or 'Proms,' as they call them – you'd realise my excitement at receiving an invitation to the midsummer prom. I'd never been to one before but I knew it was necessary to look your very loveliest if you were to win the approval of critical college boys!
I found myself muttering 'Pond's, Pond's, lots and lots of Pond's' over and over again. Even more than a smart frock I had to get a smart face!
There was a fortnight to do it in. Each night I cleansed with Cold Cream. And during the day I smoothed on Vanishing Cream to ward off roughness and lines.  You should have seen the difference in my skin the night we motored out to Yale!  No blemishes, no dryness – soft as velvet!  The 'prom' proved gayer than my wildest dreams – everyone 'cut-in' on my dances.  I'm sure I had the best time of any girl there."
The sporty Countess of Warwick relied on Pond's to maintain her 'flawless skin' at all times whether 'At Cannes or Cowes, Goodwood or Gleneagles,' while Lady Smiley, the former Nancy Beaton, sister of Cecil, tells of 'what a marvellous time I had' at a Christmas party aged sixteen, all because of Pond's. "I'm sure that's why I've kept my skin free from dryness and little worry lines – the curse of a fine skin like mine," she modestly confided. "People tell me my skin still looks as young as it did at sixteen."  Lady Marguerite Strickland, just back from a sporting holiday of walking, golfing and riding was relieved to find her 'dazzling' skin had survived due to Pond's.  Lady Bridgett Poulett made no apologies for her views on the importance of appearance:
"To be successful socially or professionally depends not only on one's brain but on one's looks," she lectured, "There's no excuse for an 'ugly duckling' in any family… The first essential to beauty is a fresh , clear youthful complexion and I've no patience with the woman who doesn't make the best of her looks when it's so simple."
Woe betide anyone who had a bad skin day and ran into Lady Bridgett, who, despite her strident views on cosmetic slovenliness, was hailed by Pond's as a, 'brilliant, young favourite in London society…likened to a famous painting by Sir Joshua Reynolds' (though the advert declined to elaborate further on which particular painting).

If Lady Bridgett's sharp observations, no doubt delivered in a cut-glass accent, are not enough to make us cringe then let me share those of Constance, Lady Moon who, in her Pond's advertisement, found her creams a godsend while big game hunting in Kenya.
"We had gone hundreds of miles off into Kenya for elephant hunting. In my small mirror I saw my face getting rougher and drier every day.  Then I found – packed away in the luggage by a thoughtful person – several jars of Pond's Creams.  How my skin changed when I started using them!"
Thank goodness Lady Moon's maid had the foresight to send her mistress off with a secret stash of Pond's. And thank goodness Lady Moon's complexion was restored despite all that strenuous elephant slaughtering.
Upper class stereotypes abound, as well as the peddled rule that social advancement, in the form of engagement and marriage, could only be achieved by looking one's best. One article in The Tatler around this time instructed women, 'Beauty is the passport to happiness and all that it signifies, including romance.'  These are adverts that convey despairingly short-sighted ambitions for women of the era, though plenty of beauty adverts of recent times might be accused of the same.  But what is particularly intriguing is that many of the privileged women behind these endorsements led fascinating lives, often a far cry from the polish and poise projected in Pond's advertising.
Take Lady Milbanke for instance ('Vivid, gay, utterly charming'). Born Sheila Chisholm in Australia, she met the dissipated Lord Loughborough while nursing in Cairo in 1915 and married him later that year.  'Loughie' was a compulsive gambler, to the point where his father the Earl of Rosslyn, put a notice in The Times declaring he would not be responsible for his son's debts.  While her husband gambled away their money, Sheila was free to enjoy high society and soon came into the orbit of the Prince of Wales and Bertie, his younger brother – the future King George VI.  For a time, Sheila and Bertie enjoyed a romantic affair, forming a partnership with his brother and his mistress Freda Dudley-Ward.  They dubbed themselves, 'the four 'do's'.   When George V got wind of the romance, he put a stop to it but the pair continued to enjoy a close, platonic relationship.  Sheila married twice more – to Lord Milbanke and then Prince Dmitri Romanoff.  It's unlikely she ever came close to marrying the future king of England but there was no doubting his feelings about her.  In one letter he wrote, ""Whenever I go into a ballroom I always look around the room hoping to see you, as I know there is somebody missing, and it is so sad not seeing you, and I do so miss you."
Another Pond's Cream girl who did marry her Prince was Princess Marina of Greece ('seen at the smartest functions in London'), who posed with her sister Elizabeth for a 1933 advertisement. A year and a half later, Pond's had worked its magic.  She walked down the aisle of Westminster Abbey with Prince George, Duke of Kent, younger brother of David and Bertie.  George was killed in a plane crash in Scotland during the Second World War aged 42 when their youngest child, the present Prince Michael of Kent, was just a few weeks old.  Marina never remarried.  Her eldest son is the present Duke of Kent.

Rose Bingham was hailed as one of the prettiest debutantes of 1931 an accolade which, in this case, was probably true. With Bambi eyes and rosebud lips, Rose was a media darling, frequently photographed for the society pages.  Not only was she a Pond's girl, but she also appeared in a full page advert for the prestigious Hotel George V in Paris declaring she stayed there because 'only the best' would do.  Hollywood came calling and she dabbled in film acting, appearing in 'The Black Sheep' in 1935 but not before she had married the 7th Earl of Warwick in 1933.  He too was a keen actor and the couple erected a cinema screen on the roof of Warwick Castle where society mingled with the Hollywood set.  If Rose had been alive today, L'Oréal would definitely have her whispering, "Because I'm worth it," from our TV screens.  Rose and Fulke Warwick divorced; she lost custody of their son and in 1938 married Billy Fiske, an American bobsled Olympic champion instrumental in developing Aspen as a winter sports resort.  The pair were introduced to each other by David Niven who had starred alongside Rose's ex-husband Fulke in Paramount picture, 'The Dawn Patrol'.  The couple's marriage was happy but tragically short-lived.  A speed freak with lightning reactions, Billy Fiske's abilities made him a perfect fighter pilot and he became one of just seven US aircrew personnel who fought in the Battle of Britain.  On 16 August 1940, Fiske's RAF squadron was scrambled to intercept German dive bombers over southern England.  After fifteen minutes in the air, the fuel tank of Fiske's Hurricane was hit by a German bullet.  Despite suffering severe burns he managed to land his plane but died in hospital two days later aged 29.  Rose married twice more; to Lt. Col. Sir John Lawson in 1945, and, after divorcing him five years later, to Theodore Sheldon Bassett in 1951.  That marriage also ended in divorce.  She died in 1971 aged 59.

Lady Alington, the former Lady Mary Ashley-Cooper, eldest daughter of the Earl of Salisbury, was the essence of the classic upper crust gal. Tall and sturdily built she was hailed as, 'the best swimmer in London' according to The Times, winning numerous prizes at the prestigious Bath Club in London.  Indeed, we have several examples in our archive of her swimming prowess including one page featuring her playing a part in a Royal Life Saving Society film featuring a number of well-known society women. According to a profile in The Bystander in 1936, part of a series entitled, 'Popular Women,' she was 'striking in appearance…keen on hunting and racing and an exponent of physical culture that she particularly excels.'  She was also a 'splendid hostess' who really knew how to throw a party. 'Hula' as she was known to her friends, married Napier Alington, the 3rd Baron, in 1928.  They had one daughter, Marianna (Mary Anna Sturt Marten 1929-2010), but just a few years later the couple had separated.  Napier Alington presented a respectable façade in public, running as a candidate for Parliament, but in private was bisexual, indulged in drugs and had a love affair with Tallulah Bankhead which may or may not have ended by the time of his marriage to Mary.  In any case, the outdoorsy, head girl-like Lady Alington and the louche Napier seemed rather mis-matched.  Lady Alington appeared in a 1931 Pond's Cold Cream advert (found in a copy of Miss Modern magazine here).   In April 1936, she was featured in The Bystander in a stunning Vivex colour photograph by Madame Yevonde, but just four months later, Lady Alington – fit-as-a-fiddle, swimming supremo, Amazonian Lady Alington – underwent an operation for acute appendicitis and, to the shock of everyone, died.  She was just 34 years old.  Napier was killed four years later on active service with the RAF.
Beauty, wealth, privilege – and Pond's Cold Cream. None of it, it seems, could protect from the tragic hand of fate.
Follow the link to see more on Pond's and the women who endorsed it http://www.maryevans.com/lb.php?ref=36706