Designing the Jazz Age – Gordon Conway & Mary Evans at the Fashion & Textile Museum
by Lucinda Gosling October 6, 2016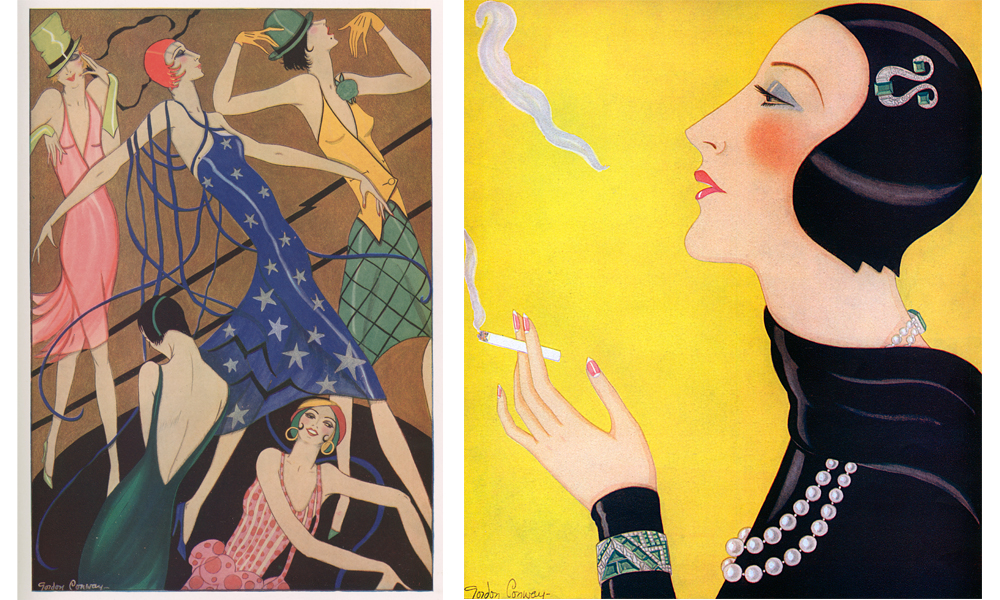 The Fashion and Textile Museum, a flamboyant landmark on London's achingly hip Bermondsey Street, has been a mecca for fans of fashion history ever since it was opened by designer Zandra Rhodes in 2003. Now part of Newham College of Further Education, the hot pink and orange building, a former warehouse, does not own a permanent collection, nor is it particularly large compared to behemoths like the V&A, but it packs a punch with continually crowd-pleasing exhibitions complemented by a creative and engaging programme of talks and workshops. In the last couple of years, exhibitions have celebrated the history of swimwear, Liberty of London and Italian knitwear brand Missoni. This autumn, the museum has turned its attention to the glittering, glamorous Jazz Age combining exquisite original garments from the collection of Mark and Cleo Butterfield with photographs of the era's icons by American photographer James Abbé, curated by Terence Pepper.

Not only that, we were delighted to be invited to curate a display of fashion illustrations for the exhibition, bringing an important facet of the 1920s fashion industry into focus. The pictures selected were all full-colour illustrations by American designer, Gordon Conway, who was commissioned by The Tatler and Britannia & Eve in the late 1920s to produce a series of designs, most of which were published under the simple title of 'A Tatler Fashion'. Both magazines now form part of The Illustrated London News archive housed and managed here at Mary Evans, and are an authentic reflection of the tastes and aspirations of a widening class of consumers who were keen to try new fashions and sample modern freedoms that had previously been beyond the reach of their mothers and grandmothers. Conway herself was the epitome of the stylish, modern girl – very much practising what she preached.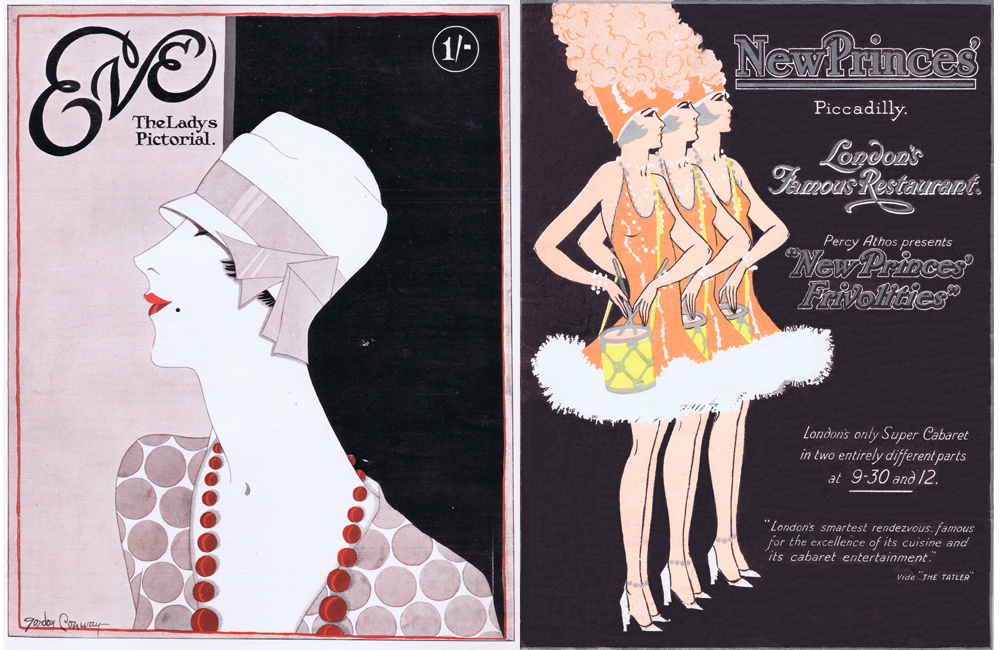 Born 18 December 1894 in Cleburne, Texas, USA, Gordon Conway (1894-1956) was the only child of John Catlett Conway and Tommie Johnson. Educated in America and at finishing school in Switzerland, she showed a special talent for drawing and it was at a dinner party in 1915 that her doodles on a menu card impressed the writer Rufus Gilmore, who recommended her to Hepworth Campbell, art director of Vanity Fair. Though she lacked any prolonged formal art training, Campbell was struck by the fresh and modern linearity of her drawings. Fearing that further art lessons might dilute her distinctive style, he commissioned her to provide artwork for the magazine, where her designs, drawn from imagination, led her to be described as, 'the artist who draws by ear.'

Having launched her career in America, by 1921, she had travelled to Europe with her new husband, businessman, Blake Ozias, where she divided her time between London and Paris, keeping studios in both cities. Tall, red-haired, sophisticated and stylish, Gordon Conway personified the svelte flappers she drew, and courted publicity – alongside her famous pet cat, 'Mr Fing' – as part of an effective marketing drive that was to lead to multiple commissions during the 1920s period. She provided designs for theatre posters and programmes for productions in London and Paris; sketched for a number of well-known couturiers and, championed by Edward Huskinson, editor of The Tatler, contributed original designs to his own magazine and other titles in the same 'Great Eight' publishing group – Eve: The Ladies' Pictorial and The Bystander. She also excelled in costume design for cabaret and theatre, dressing performers The Dolly Sisters, Gladys Cooper and her good friend, Dorothy Dickson among others. Towards the end of the decade she became more heavily involved in costume design for the British film industry, establishing the first autonomous in-house costume department at the Gaumont-British Picture Corporation studios where, as executive dress designer she produced costumes for a succession of pictures including the futuristic 'High Treason' and 'There Goes the Bride', starring Jessie Matthews.

Gordon Conway worked hard, refusing to ever miss deadlines set by her demanding clients, while also maintaining a hectic social life. Overwhelmed by such a schedule she suffered a heart attack in late 1933 which was to curtail her output. Plagued by ill-health, she divorced her husband and retired in 1937, returning to the USA to live with her beloved mother Tommie at Mount Sion in Caroline County, Virginia, an eighteenth century property inherited from her father's family.
We were able to see the Gordon Conway display in place for the first time at the opening night of the exhibition, which also allowed us a sneak preview of the breath-taking clothes on display. Jazz Age is a pure delight, its disparate elements pulled together with such a deft touch by curator Dennis Nothdruft and exhibition designer, Bethan Ojari that it feels cohesive and thoroughly steeped in 1920s atmosphere. Themed around the silent screen, this common thread is reflected in two opening tableaux – a cinema (complete with usherette uniform), flanked by a coven of twinkling black flapper dresses. Following this, the first display in the main area offers a mouth-watering array of evening coats and opera cloaks mirroring an illustration on the wall of theatre crowds in London's West End, painted, coincidentally, by Fortunino Matania for The Sphere, another magazine held in the ILN archive. A set of wispy pastel coloured dresses and tennis costumes, contrast with the sexy frivolity of boudoir fashions and the sophistication of beaded and embroidered evening dresses on the upper level, while a wedding party in delicious, soft, orchard colours surround a shimmering Medieval style bridal gown. The most heavily sequinned dresses were displayed flat in glass cabinets to ward against the inevitable stretch and sagging that would occur should they be hung from a mannequin. Other than that, all clothes, which are in astoundingly good condition, are shown unconfined by glass cabinets, with each vignette scene, ranging from cocktail hour to Chinatown after dark, quietly enhanced by superb background paintings (the work of Paul Stagg and his team, carried out in Sanderson paints and strongly reminiscent of A. E. Marty or Georges Barbier in Gazette du Bon Ton). A display of occasional and dressing tables covered with period objects and artefacts provide a nostalgic narrative to the rapid social change undergone from the closing of the First World War to the dawn of the Second. Who knew Mum deodorant was already a thing in the 1920s? And presiding over all these fabric treasures is a chorus girl swinging from a suspended, glittering crescent moon. Should one's mind wander back to the present day, a large screen playing a flickering 1920s dance routine on an endless loop reels us back in.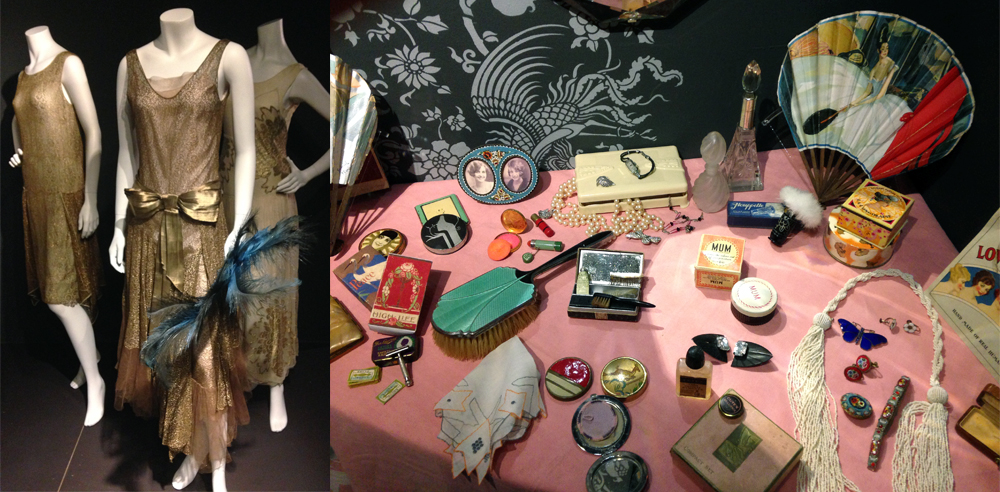 The photographic element of the exhibition includes a wall of female icons from the era most captured by equally famous snappers from Cecil Beaton to Man Ray. The James Abbé exhibition in an adjoining upstairs room, brings together some of the most glamorous stars of the period from the Dolly Sisters to Dolores, Mary Pickford to Rudolf Valentino. Abbe's carefully constructed images convey the iconic status of his sitters, and the bold, sexually-charged confidence of this new age. To browse this gallery is akin to walking into a temple of assembled gods and goddesses.
The following day, with the exhibition officially open, I went back to the museum to take part in a panel discussion alongside the other contributors, Cleo & Mark Butterfield, Terence Pepper, Jenny Abbé, and curator Dennis Nothdruft . Talking about the genesis of the library, I also explained how fashion, as a barometer of social change, was a real strength of the library and that seeing the beautiful dresses and clothes on display brought the magazines and other fashion ephemera in our archive to life. There seems to be much cross-pollination and synergy in this collaboration. Pictures by James Abbé for instance, were frequently published in The Tatler, and Mary Evans contributor Gary Chapman, expert on the Dolly Sisters, assisted with the exhibition and will giving talks as part of its accompanying lecture series. With so many connections, we are proud to be associated with the museum's 1920s Jazz Age. Furthermore, we feel our involvement would have delighted our founders Mary and Hilary Evans, who were always keen to share their passion for history with others. We hope Gordon Conway too would have been pleased to have been part of an exhibition that celebrates this dazzling period in fashion history – and the part she played in it.

Jazz Age at the Fashion & Textile Museum runs until 15 January 2017 http://www.ftmlondon.org/
Prints and cards featuring Gordon Conway illustrations are available to buy in the museum's shop.
To see more Gordon Conway images click here