Ladies to Love – A Valentines Top 10
by Jessica Talmage February 13, 2017
Those who remember our Valentine's Day blog post of Handsome Chaps from History from last year (if not, refresh your memory here), will recall that we promised a similar list of ladies the minute we find an excuse. Well, that excuse has finally arrived, so on Valentine's Day 2017 let's kick off our Top 10 of Charming Chapesses with…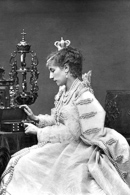 10. Sarah Bernhardt (1844-1923). Born in Paris to a courtesan mother and unknown father, Sarah Bernhardt rose to become the greatest star of the 19th century theatre, earning the nickname 'The Divine Sarah'. Although not a conventional beauty, she had talent and charisma in abundance, and was equally at home in both tragedy and comedy. She didn't shy away from roles such as Hamlet usually reserved for male actors, and was not averse to scandalous productions either, performing in John Wesley De Kay's 'Judas' in New York in 1910. Mary Magdalene, a lover of Pontius Pilate, then of Judas Iscariot, moves on to Jesus whereupon Judas betrays him to the Romans in a fit of jealousy. Even more shockingly, Bernhardt was cast in the title role.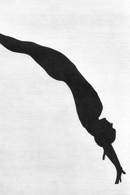 9. Annette Kellerman (1887-1975) Australian professional swimmer Annette Kellerman was once dubbed 'The Perfect Woman' for her body's closeness to the measurements of the Venus de Milo. She discovered a love of swimming in childhood when taken by her parents to the local pool to help the muscles develop in her painfully weak legs, and rapidly progressed to giving swimming and diving exhibitions. Her prowess did not go unnoticed by Hollywood, helped greatly by her provocative championing of a new tight-fitting swimming costume for women. It was so shocking that in 1907 Kellerman was arrested on a beach in Massachusetts for indecency. In 1916 she scandalised further by appearing fully nude in 'A Daughter of the Gods', the first million-dollar film production.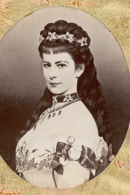 8. Elisabeth, Empress of Austria (1837-1898). Elisabeth stands out in the roll call of European royalty as unusually beautiful. At 5'8" she was tall, and maintained a strict exercise and beauty regime. She was an impressive horsewoman, riding for hours every day, and drilling on balance beams in front of huge mirrors. Her beauty cult transformed her into an icon. Unhappily, Sisi's life with the Emperor Franz Joseph was a tragic one. She was stifled by rigid court rules and tyrannised by her mother in law who prevented her having any say in the care of her own children. Her only son died in a suicide pact, an event Sisi never recovered from. She was assassinated in 1898 by an Italian anarchist, ensuring her place in the myth of doomed beauty.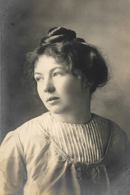 7.Christabel Pankhurst (1880-1958) Intense, dynamic, radical and beautiful, militant suffragette and women's rights campaigner Christabel Pankhurst inspired complete devotion from her followers. While this no doubt sprung from a shared desire to bring about a state of female emancipation, Pankhurst's striking good looks and passionate nature can't have been too much of a turn-off.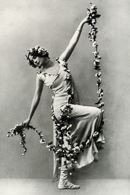 6. Cleo de Merode (1875-1966). Cleo de Merode combined talent as a ballet dancer with glamour and stunning good looks to become one of the most famous and imitated women of the Belle Epoche. Born in Paris, she was painted, sculpted and photographed by the pre-eminent artists of the day, including Toulouse-Lautrec, Giovanni Boldini and Felix Nadar, but her reputation was sullied by the public admiration of King Leopold II of Belgium. Salacious gossip spread that she'd become mistress to the 61-year-old, unwanted rumours which Cleo was never able to shake off.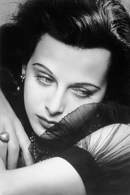 5. Hedy Lamarr (1914-2000). Hedy Lamarr, the Austrian and American film star, was not only exceedingly beautiful, but also a brilliantly talented inventor. On screen her sparkling sexuality riveted audiences. Off it, she helped to develop a method of transmitting radio signals by frequency hopping that many years later became an important element in modern communication technologies such as Wi-Fi and Bluetooth. Brains and beauty – what more could one desire in a dinner companion?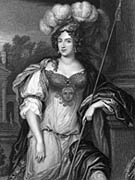 4. Frances Stuart, Duchess of Richmond (1647-1702). The great 17th century diarist Samuel Pepys called Frances the greatest beauty I ever saw. While at court as lady-in-waiting to King Charles II's new bride Catherine of Braganza, she caught the eye of the Merry Monarch who became infatuated with her. To avoid becoming another of Charles's mistresses, she eloped with the Duke of Richmond, an injury that wounded Charles deeply. He forgave her, and later commissioned a medal of Britannia modelled upon her profile that came to adorn British coinage for centuries.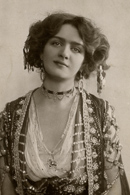 3. Lily Elsie (1886-1962). Edwardian singer and actress Lily Elsie caused a sensation with her starring role in operetta 'The Merry Widow' in London in 1907, and became one of the most photographed women of the Edwardian era. Once again, the Venus de Milo was invoked as the perfect standard of beauty with whom Elsie compared admirably. The Atlanta Constitution newspaper writing in 1915 went on to say that, "everyone agrees that Lily Elsie has the most kissable mouth in all England".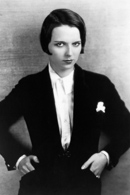 2. Louise Brooks (1906-1985). Compared with some, Louise Brooks' film acting career was relatively short, lasting from 1925 to 1938 with four of those years absent from the screen. Her early retirement from film preserved her sleek, glamorous, stylish image as an icon of the Jazz Age. Today, her role as Lulu in German silent film 'Pandora's Box' in 1929 is her most well-known. The film is a dark, lurid tale of seduction, murder and downfall with a lesbian fling thrown in for good measure. Although poorly received at the time, it was rediscovered in the 1950s to great acclaim, with French film archivist Henri Langlois famously commentating that, "there is no Garbo, there is no Dietrich, there is only Louise Brooks".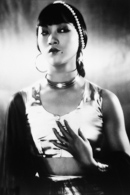 1. Anna May Wong (1905-1961). Actress Anna May Wong had star quality in abundance but as a Chinese American woman in the overtly racist climate of twenties and thirties Hollywood, she was never going to be allowed to play the happy romantic lead opposite a white actor, and discriminatory casting denied her major roles even when the characters themselves were Chinese. But she had an exquisite, elegant beauty and a screen presence in which she radiated exotic sensuality, outshining Gilda Gray in 'Piccadilly' (1929) and matching headliner Marlene Dietrich in 'Shanghai Express' (1932) arched eyebrow for arched eyebrow. Our top Valentine's Day date.