From Dagenham to Savile Row – Royal Couturier Hardy Amies
by Lucinda Gosling February 28, 2017

I was fashionably late to Valence House Museum on Saturday, arriving about an hour and a half before their 12-week Hardy Amies exhibition drew to a close.  This small, but perfectly formed show in an impressive local museum, has been celebrating the achievements of a man who was not only one of British couture's finest exponents, but also one of Dagenham's most famous sons.  Looking along the plain, identikit post-war houses lining the roads in this part of outer East London – the Becontree Estate was once the largest council housing estate in the world – it is difficult to imagine the area spawning an individual of such style, panache and ambition as Amies. Born in Elgin Avenue, Maida Vale, London in 1909, Edwin Hardy Amies had no fashion training, but was influenced by his mother who had worked as a dressmaker, and then vendeuse at several court dressmakers before the Great War.  He gained valuable business experience working in France and Germany after leaving school and was a salesman for the Avery weighing-machine company when contacts from his mother's old job recommended him to fashion house Lachasse, previously headed by the designer Digby Morton.  He began initially as business manager but his interest in fashion led him to begin designing, producing his first collection in 1934.  During the Second World War, Amies served in special operations, rising to the rank of Lieutenant-Colonel as head of the Belgian section of the SOE.  After the war, he went on to set up his own Savile Row salon and began to design clothes for the then Princess Elizabeth in 1951.  He was appointed as royal dressmaker to H.M. the Queen in 1955 and knighted in 1989, the year he retired.

In fact, it was Amies' father, a resident agent for London County Council, who helped to map out the Becontree Estate streets.  His young family moved to The White House after the Great War, a building recently developed into a community arts centre, and the young Hardy Amies went to Brentwood School, an institution he kept a connection with throughout his whole life, even designing the school's uniform.  A rather battered looking school cap in the exhibition was representative of the designer's roots on the borders of East London and Essex, and although the exhibition was limited, there were some key highlights that did justice to his illustrious career.  These included his famous 'Made in England' tailored woman's two-piece suit from 1940, the lapels patriotically trimmed (Amies would always be renowned for his impeccable tailoring for both men and women) as well as the pink outfit worn by the Queen for her 1977 Silver Jubilee together with its matching Freddie Fox hat.  Also on display were suits designed by Amies for the menswear retailer, Hepworths.  Designer collaborations with the high street might be commonplace today, but Amies' side step away from the hallowed salons of Mayfair, was ground-breaking and just one of many commercial and branded ventures he carried out with success.


Unfortunately, photography was not permitted at the exhibition ('due to lending agreements' I was told) but the link here gives some good views – http://createlondon.org/event/hardy-amies/  For a comprehensive and visually rich history of Hardy Amies and his career, I'd highly recommend 'Hardy Amies' by Michael Pick, published by ACC Editions.

We have represented the Hardy Amies archive for some time at Mary Evans, and the book carries many images we hold here including scores of his original designs made for the Queen as well as excellent photographs of Hardy Amies himself and his salon.  We're sharing some here – as well as a hit parade of royal designs.  Hardy Amies once said of his royal patron, "The Queen has the most perfect manners. She gives you her undivided attention and never makes a critical remark. The only sign of disapproval is a raising of her eyebrows…But you get the message."  He understood that while the Queen's wardrobe could faintly echo prevailing trends, she herself had to project an image that rose above fashion.  This intuitive understanding of his client, coupled with his timeless, tailored designs ensured his long tenure as the Queen's designer of choice.  Not bad for a boy from Dagenham.
1. Fitted dress with belt and button detail designed for Princess Elizabeth to wear on her Royal Tour of Canada in 1951.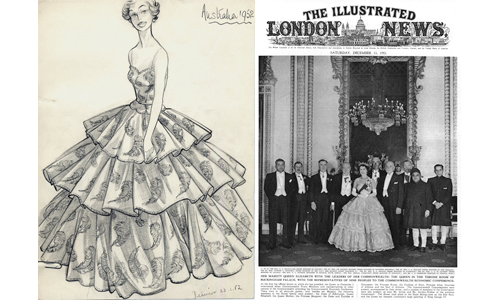 2. A multi-frilled spagetti-strap evening gown with feather pattern and three flounced tiers, designed by Hardy Amies for Princess Elizabeth to wear on the royal tour of Australia in 1952. The tour was postponed due to the death of King George VI.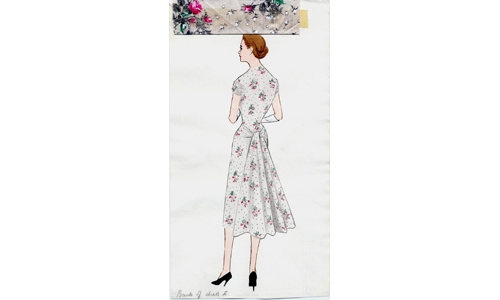 3. Another dress designed for the 1952 royal tour, together with a swatch of the pretty floral fabric.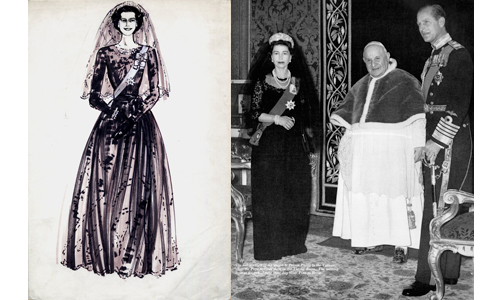 4. Black long sleeved lace evening dress with bow at the waist and matching train, designed by Hardy Amies for Queen Elizabeth II to wear on a State Visit to the Vatican in 1961.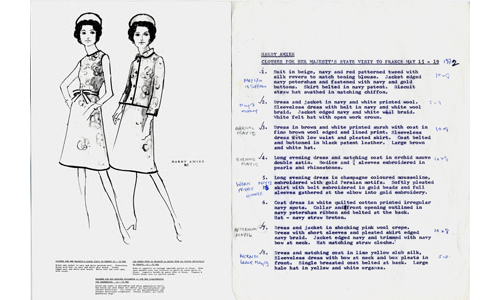 5. Open coat with 3/4 sleeves and day dress with printed skirt, designed for the Queen's state visit to France, May 1972. Dress and jacket in navy and white printed wool, sleeveless dress with belt in navy and white wool braid, jacket edged with navy and white wool braid, white felt hat with open work crown. This outfit offers a nod towards the simpler silhouettes and shorter hemlines of the 60s and 70s.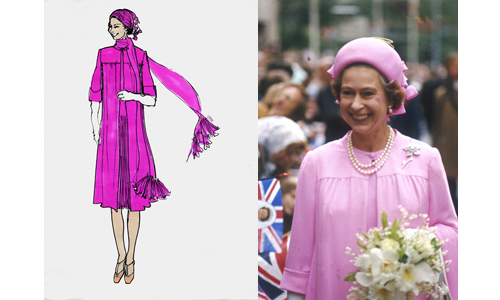 6. Pink overcoat with one button at the neck and short sleeves. With matching scarf and hat with hanging blossom. Outfit worn on a walkabout in the City of London to celebrate her Silver Jubilee in 1977. Hat designed by Frederick (Freddie) Fox.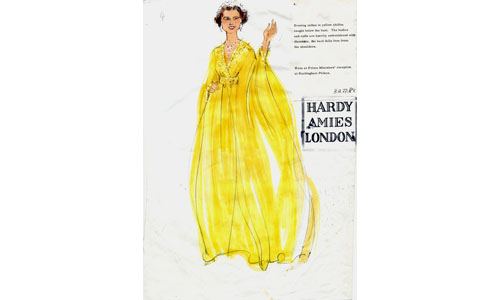 7. Yellow chiffon evening dress in kaftan style, caught below the bust, bodice and cuffs heavily embroidered with diamante, back falling free from shoulders. Designed for the Queen to wear at a Prime Ministers' reception at Buckingham Palace, 1977.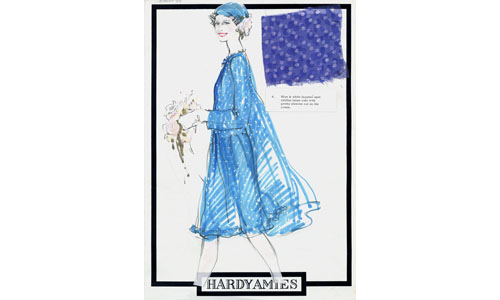 8. Blue and white faconne spot chiffon loose coat with sleeves cut on the cross; matching head scarf with flower detail.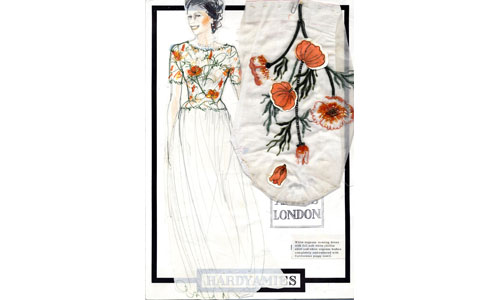 9. Sketch and swatch of an evening dress worn by Queen Elizabeth II to a reception in California during an official visit to the USA and Mexico in 1983 (the poppy is the state flower of California).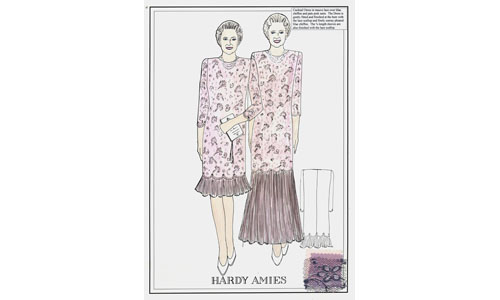 10. Cocktail dress in mauve lace over lilac chiffon and pale pink satin, gently fitted and finished at the hem with a lace scallop and finely sunray pleated lilac chiffon. The 3/4 length sleeves are also finished with a lace scallop. Knee length and floor length versions (the second version was worn to Prince Edward's wedding on 19 June 1999).
A selection of Hardy Amies designs and images on the Mary Evans Picture Library website can be viewed
here
.