North Korea
A selection of images of North Korea, the demilitarised zone and social scenes.

New fine art from Iberfoto
We have received a fantastic new collection of fine art images from Iberfoto to complement our existing collection. See a selection here.

Retro
Some find them tacky, some think they have a charm all their own, but 40s, 50s and 60s scenes of daily life are great ways to illustrate today's lifestyles with a twist.

Holiday posters
Fed up of the bad weather and need a holiday? We have gathered together some of our beautiful holiday posters promoting destinations at home and abroad.


Retro TVs and Radios
Check out this wonderfully nostalgic and kitsch collection of radios and TVs and see how people found entertainment before the iPod.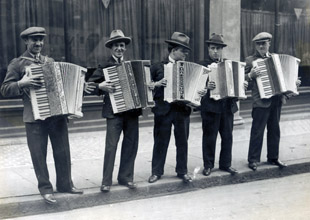 The patent for the accordion was granted to Cyrill Demian in Vienna on 23rd May 1829. Read more...
Things you should know about ...
Latest Newsletter
Read our May newsletter: Natural History Museum, Coronation anniversary and Baden-Powell House.
ME & You magazine
Download and read ME & You, our new magazine with news about the library, fascinating features and project ideas.
Anniversaries
Important dates from history and inspirational ideas and images to illustrate your stories.
Mary Evans is on Twitter
Get picture updates and the latest news from the library by following our daily tweets at Twitter.